Jewelry Buying In Dubai
by Ruchi Sarawagi
(Mumbai, India)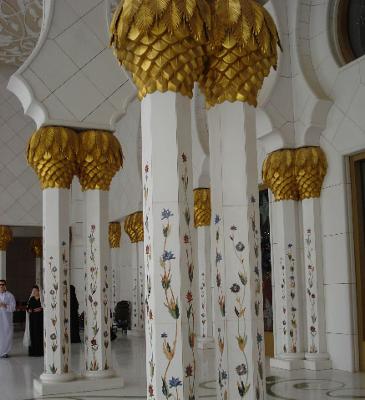 Gold in a Dubai's Mosque
Hi Friends,
This is an interesting incident which happened with me when we went to Dubai. We had gone to Dubai Gold Soak - a famous place to buy gold and diamond jewelery.
You will be amazed to know that in Dubai, "making charge" of any jewelery is just 1 Dirham/gram which is equivalent to Rs 12.5/gram whereas in India we pay approx Rs 350 to Rs 450/gram. Then I inquired where is this jewelery made and to my surprise all jewelery is imported from India. Isn't it an irony!
Great! jewelery made in India is expensive in India but cheaper in Dubai. Also, in Dubai quality assurance is guaranteed because if they say purity of gold is 22 carat then actually it is 22 carat. Because, if they cheat and anyone complains to police, then has to pay a penalty of 1 million Dirham and shop is closed for next 6 months.
On the contrary, similar laws are not in India. Here jewelers have taken people for granted. They say it is 22 carat gold, but there are chances that they may give us only 18 carat or 20 carat jewelery.

Hope such laws are there in India and we can save our hard earned money.
You must also read Jeweler's Profit to to understand the different modes through which jewelers usually earn profit.
Thanks
I hope you'll not mind sharing this on Twitter, Facebook and with everyone else :)
Feel free to share if something is in your mind and want it to be covered on this site.