<!- google_ad_section_start ->
Handcrafted Designer Jewelry - Does it appeal Modern Buyers?
Handcrafted Designer Jewelry - Competition with Technology
Ask admirers of traditional artifacts, and you will know how much they cherish handmade jewelry. They simply love the detailing and intricate work (the main feature of a handcrafted piece which requires skills of an experienced craftsman).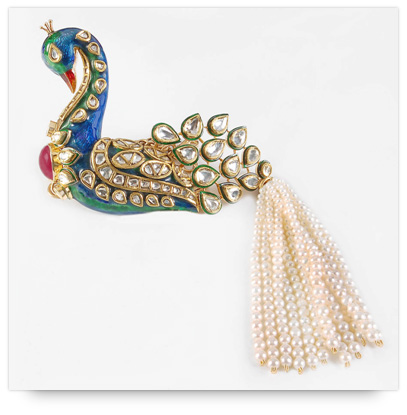 <!- google_ad_section_end ->
For them it's not about just gold and diamond. They understand and appreciate the value of handcrafted design.
However the question arises, in this fast-paced technology-oriented age, does traditional method of making jewelry stands any chance in comparison to jewelry produced by machine on a large scale?
Is there any relevance of handcrafted jewelry with new-age buyers? Are modern customers - with taste for minimalistic designs - ready to embrace intricate-designed handcrafted jewelry?
So, in this article, with answers to above questions, I will explain you where exactly handmade jewelry stands vis-a-vis machine-made jewelry and is there really any craze among modern buyers for handcrafted jewels.
Market Demand of Handcrafted Jewelry
You may not disagree with me if I say, everyone wants to be one step ahead of peers when it comes to fashion and style. Everyone wants to sport something exclusive to stand-out from crowd. It's all about individuality with that distinctive spark to stand-out.
It's this love for exclusive fashion merchandise - which people are so fond of these days - that has made handcrafted designer jewelry the buyers' choice.
Unlike previous generation, for today's jewelry buyers, jewelry is not just for investment. For current generation, jewelry is not just for being kept in safe. New-age buyers have appreciation for designer pieces and for them jewelry is the reflection of what they are.
It's for this reason designer handmade jewelry is so sought-after world over. In fact, most of the designer jewels are created by hands. This is because when it's "designer" then it has to be unique, and a hand-made piece will always be unique.
Do you know, no two copies of handmade pieces are same? Yes, your heard it right. Actually, even a same craftsman can never reproduce exact replica of the same design. There will always be some difference. On the contrary, machine-made jewelry is made in multiples of same design.
Relevance of Traditional Craftsmen
Many people are of the view that traditional craftsmen have lost their relevance in modern age of automation. They think that going forward conventional methods of making jewelry will become obsolete.
However, you'll have to understand that not all types of jewelry can be made by machine. Because, when it comes to designer jewelry with detailing, then it requires manual skill of an adept craftsman.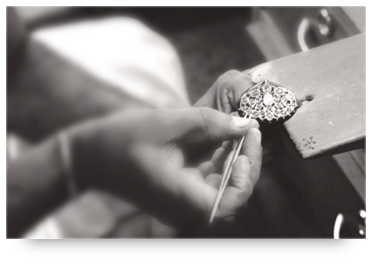 Therefore, with ever-rising demand for handcrafted designer jewelry, traditional craftsmen still have a very important role. So, assuming that traditional craftsmen have lost their place in jewelry industry will not be correct - although it's big concern of non-emergence of new breed of skilled craftsmen.
Due to the mix of many factors like low compensation and improper working condition, more educated children of craftsmen are no longer willing to do this labor-intensive work.
Future of Designer Handcrafted Jewelry

No one can deny that mechanization has eaten up the space of manual work, because of the requirement of large scale production and higher accuracy which is not possible with latter.
For example, when a jewelry with regular design has to be produced in multiples and certain consistencies, then it can be done only through machine. This is because with handwork, it's not at all possible to create consistently same piece. As I mentioned earlier, no two copies of handcrafted jewelry is exactly same.
While, you many think above point as disadvantage of hand-made jewelry, let's not forget, with handcrafted piece you can carry out creative experiments at all stages of production. For example, a piece with intricate work - like kundan jewelry - cannot be created just with the aid of machine. It requires elaborate craftsmanship that can be done only by hand.
If it's the work of an experienced and skilled craftsman then it's just impossible to not applaud the masterly-crafted handmade piece. The sheer magnificence can never be achieved by a machine-produced piece, and this is what makes the fans of detailed artwork enamored by fine-crafted handmade jewelry.
So, although technology has certainly improved the efficiency of jewelry manufacturing process and reduced the time-to-market, traditional handcrafted designer jewelry still has its own place. In fact, both styles of jewelry have their ardent-lovers, and it will be injustice to both if they are pitted against each other.
Return from Handcrafted Designer Jewelry to Indian Jewelry page
Return from Handcrafted Designer Jewelry to Diamond Jewelry Homepage
I hope you'll not mind sharing this on Twitter, Facebook and with everyone else :)
Feel free to share if something is in your mind and want it to be covered on this site.

My Newsletter

Did you liked this article? Sign-up my FREE weekly newsletter and I'll send you more awesome new additions on this website along with latest jewelry happenings around the world, and download my Jewelry Design Album for FREE!