<!- google_ad_section_start ->
Diamond Settings - Decoration with Protection

The term "diamond settings" refers to the way the diamond is featured and secured in a piece of jewelry. Being one of the most challenging and technically difficult tasks in the jewelry making, setting of stones is often the final step in the entire process of making a piece of jewelry.
<!- google_ad_section_end ->
The objective of any setting is to hold the diamonds securely in the mounting without impacting its dazzle. This requires great deal patience and practical experience of the craftsman who holds the key to perfect setting. As with most other aspects of jewelry making, caution and patience are the artist's most reliable companions.
A well designed setting must achieve these goals simultaneously:
It must secure the stone.
It must enhance the beauty of diamond and metal.
Types of Settings
Each setting technique creates a look that becomes a part of the overall style of the jewelry. The type of setting has an enormous impact on the beauty of a stone. Following are the widely used jewelry settings. You can go through individual links to know in more detail about respective setting process: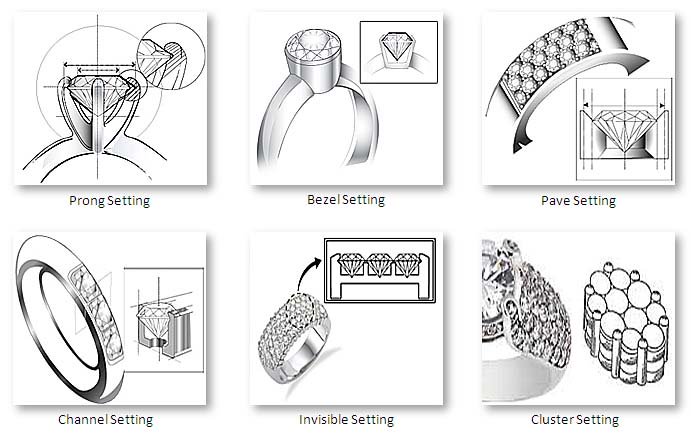 Pre-requisites of Diamond Setting Process
Before starting with setting process, it is important to understand the basic properties of diamond. This will allow you to select the best suitable tools for the job and protect the stone from any breakage. Diamonds are extremely hard but also brittle, because of which it can break by a single blow. So, special care should be taken while setting diamonds.
By hardness we mean resistance to scratching. On Mohs Scale diamonds hardness is valued as 10 (1 is the softest grade and 10 is hardest grade). Read more about Hardness of Diamond.
Following factors determine the diamond setting to be chosen:
Having prior knowledge of these aspects helps the craftsman to finalize the setting so that it hides the flaws present in diamond and enhances its sparkle.
Which is the Best Diamond Setting for You?
When choosing an engagement ring setting, there are several things that you should keep in mind so that you can make an informed decision:
Do you want accent stones to the center diamond? Small round shaped diamonds set in channel or pave or prong complement the core fancy-shaped diamond (marquise, pear, princess or oval) and make it look bigger.
What is your style of living? If you have an active lifestyle, then high settings like prong or cluster may snag and loosen the diamond. So, you can choose a bezel ring or a flush ring, because it holds the diamond closer to your finger. On the other hand, if you will be occasionally wearing it, then go for a more elaborate setting.
The quickest way to tell which setting looks best on the hand is to try different styles. A bulky setting may not look good on slender finger, whereas a delicate setting may be too fine for a thick finger. Diamond shapes and carat weight of diamond affects the setting. A small diamond will disappear in bulky setting and a too fine setting will not do justice to a big diamond.
So, choosing the right setting is paramount as it not only enhances the beauty of diamond, but will be the reflection of your personality as well.
Return from Diamond Settings to Diamond Jewelry Homepage
I hope you'll not mind sharing this on Twitter, Facebook and with everyone else :)
Feel free to share if something is in your mind and want it to be covered on this site.

My Newsletter

Did you liked this article? Sign-up my FREE weekly newsletter and I'll send you more awesome new additions on this website along with latest jewelry happenings around the world, and download my Jewelry Design Album for FREE!