<!- google_ad_section_start ->
Your Proposal Stories

Every proposal is special in its own way as it leads to the decision of togetherness for lifetime. Isn't it that every one of us secretly dream of a romantic proposal with a diamond ring?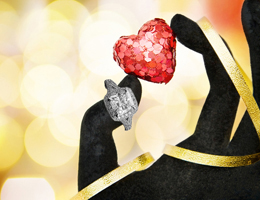 <!- google_ad_section_end ->
If your love had proposed you, then I am sure it would have made you really touchy and made you say "Yes". So, why not share your story with us!

Even if you haven't come across this memorable moment in your life, you can still tell us how you would want a guy to propose you.

Guys don't be nervous thinking whether she will like your choice of diamond engagement ring or not. Don't get overwhelmed by technicalities like - diamond setting, metal type, etc. You can read proposal stories of other folks and get an idea before you purchase.
In your story, you may want to describe:
How you first met.
How you dated and became familiarized with each other.
If there was any roadblock in your relationship building.
Event(s) that led to marriage proposal.
You may upload a photo (it can be a photo of you both as well) to illustrate your story.

We suggest that you tell your story in minimum 300 words. After all, readers will like to hear other proposal stories in detail :)

Want to narrate your Proposal Story?
Everyone is invited to share his/her proposal story.
No Membership/Registration Required.
Read Other Visitors' Proposal Stories
Click on the links below to read some great proposal stories. These were all written by other visitors to this page.
Return from Proposal Stories to Diamond Jewelry Homepage
I hope you'll not mind sharing this on Twitter, Facebook and with everyone else :)
Feel free to share if something is in your mind and want it to be covered on this site.

My Newsletter

Did you liked this article? Sign-up my FREE weekly newsletter and I'll send you more awesome new additions on this website along with latest jewelry happenings around the world, and download my Jewelry Design Album for FREE!