<!- google_ad_section_start ->
Earrings - The Popular Styles

Earrings are something that have always remained in style and terming it as staple for any woman's fashion statement will not be an overstatement. Best part about earrings is, being versatile it can be paired with anything and everything - be it your designer clothes or classic wear, ear jewels can accessorize all.

<!- google_ad_section_end ->
Depending on your taste and preference, you will get plenty of styling options to choose from. You can pick earrings based on metals - like gold, silver, platinum etc. - or if color is something that captivates you, then are always gemstones and colored diamonds - like ruby, sapphire, pearl, black diamond or blue diamond earrings - that can add colorful mood to your ears.
If you have stone setting as well in mind, then there are always options to pick from settings - like bezel, prong, pave etc.
I have listed below some of the most popular styles of earrings that will I am sure raise your glamor quotient instantly setting hearts aflutter!

Stud Earrings
This style features solitaire pieces or small gemstones design that fits on the earlobe. Stud earrings are small, delicate and suitable for daily wear, and among all earrings styles, can be said to be the safest that look good on all face types. Its another variation is "cluster stud", highlight of which is combination of small stones capturing elegance and class.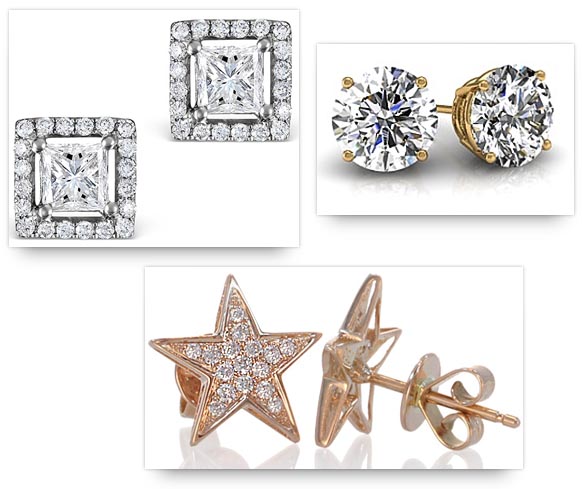 Hoop Earrings
This retro style goes from the front to the back of earlobe and is quite in vogue these days. Having trendy and young feel to it, you can find so many celebrities sporting hoop earrings. Being available in various styles, sizes and metals, you can easily find perfectly round, oval, square and even star or heart shape hoops in gold, silver and platinum.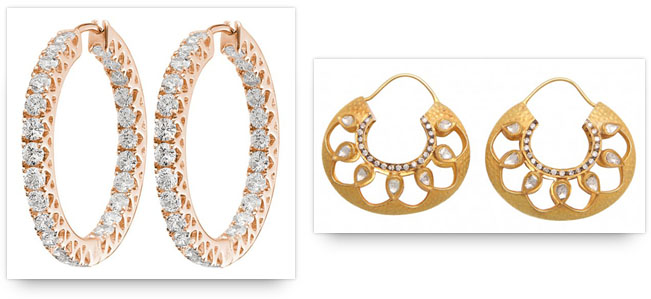 "J" shape earrings or "Huggie" earrings are one of the smaller versions of hoop earrings. These normally have full or half small hoop that clamps onto the ear with a post or clip-on mechanism. J-hoops look graceful and easily blend with all face-types and are a good option for day-to-day wear.

Dangling Earrings
This style usually comprises two parts - top stud part that sits on earlobe and bottom part that dangles just below the earlobe. Big gemstone dangling earrings in both wide and narrow styles is very much in trend nowadays.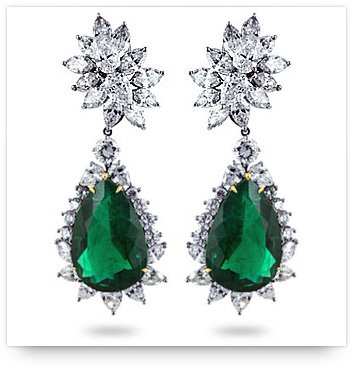 Chandelier Earrings
This is the most elaborate of all earring styles available in variety of styles and designs - for both traditional and contemporary lovers. These earrings generally widen below the earlobe and then taper back to a small point to give a balanced look.
However, before finalizing chandelier earrings, consider your face type first. A wider face combines well with sleek linear earrings while someone with slimmer face should go for wider options.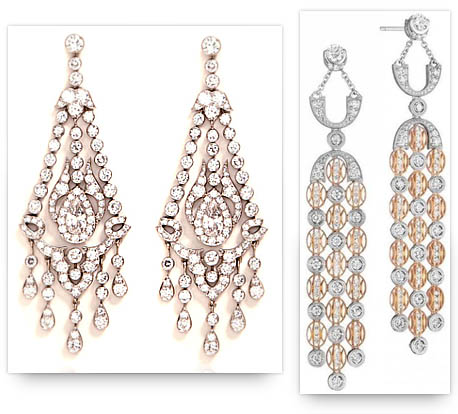 For Men
With the changing times, men are no more wary of experimenting and wearing earrings along with wedding bands. A man not hesitant of sporting jewelry decorative, will undoubtedly love to explore earrings. For these men, round and princess stud earrings are the safest bet. Even black diamond stud earrings offer masculine look, and go down very well on men - Justin Biber has been spotted adorning the same.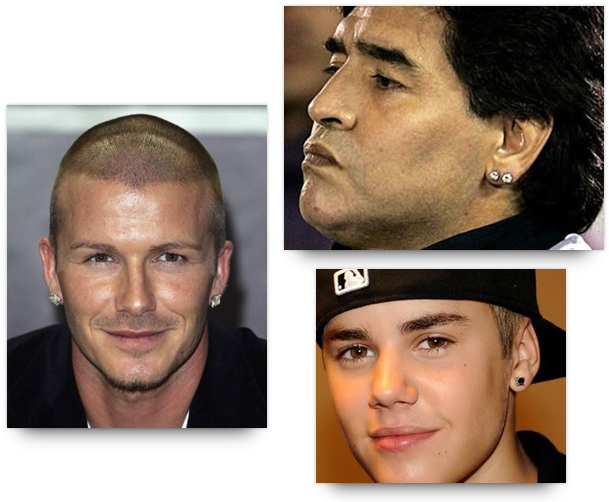 Having said that, always stay away from anything too fancy and flashy, because simple solitaire studs blend best with masculine charm.
Be it contemporary hoop earrings or antique diamond earrings - like old European diamonds earrings - ear accessories will always brighten up your face and add a finishing touch to your dressing while completing your whole look. So, go ahead and try out the wide array of earrings and grab a lovely pair for your ears.
Return from Earrings to Diamond Jewelry Homepage
I hope you'll not mind sharing this on Twitter, Facebook and with everyone else :)
Feel free to share if something is in your mind and want it to be covered on this site.

My Newsletter

Did you liked this article? Sign-up my FREE weekly newsletter and I'll send you more awesome new additions on this website along with latest jewelry happenings around the world, and download my Jewelry Design Album for FREE!