<!- google_ad_section_start ->
Black Diamond Earrings - Will it suit me?

Black Diamond Earrings - For Swanky You!
Gone are the days when black diamonds were associated with gloom and negativity. Today black diamond jewelry boasts of power and boldness while offering deviation from regular white diamonds. You may also like to read about black diamond engagement rings.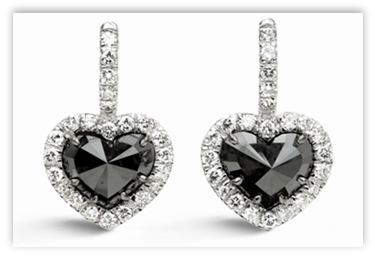 <!- google_ad_section_end ->
Beautiful pair of earrings are always wanted, and do you know it can cultivate style to even the most casual and ordinary outfit. Trendy yet classic black stone earrings are very much in fashion these days - from comfortable and daily-wear studs to dressy eye-grabbing long danglers to super stylish black diamond hoop earrings.
Just like a little black dress has become a necessity for every girl, days are not far behind when pair of earrings with black diamonds will become a must-have jewelry piece for every trend-savvy girl.
However, do you know there are so many people who are quite apprehensive of donning black diamonds. They are simply not sure if earrings with black diamonds will befit their overall personality and lifestyle.
But let me tell you, this is a very genuine concern, because after all a jewelry piece should be the reflection of "you". It must have power to unveil your identity, and you must be able to carry it confidently.
I have listed below some of the most-asked questions related to black diamond earrings. These may be the common questions, but answer to these will surely go a long way to clear doubts that you may have about suitability of black diamonds in earrings.
Will black diamond earrings suit me?
Yes of course, if you are fearless and self-assured of your sense of styling and don't require anyone's approval for it. If you love experimenting with your fashion ways and are always in sync with today's trends, then black stone earrings will undoubtedly go with you. If statement pieces define your style quotient and if you believe in minimalistic dressing with philosophy "less is more", then also these earrings will be perfect for you.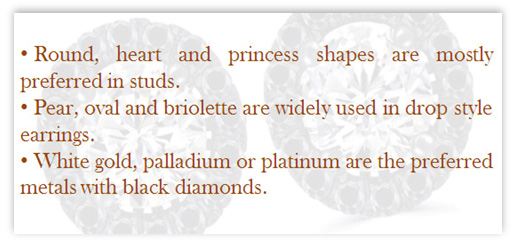 I had a crush on black diamond earrings during my student days. But, now I am into serious profession, so will it suit me?
Why not! It's suitable for all age-group from bubbling teenager to smart working professional. However, keep in mind it should blend with your personality and you must have the capacity to carry it with confidence and grace.
Remember, a piece of jewelry should not just be taken as an item of adornment. It is something that will add to your character and self-hood, so always choose wisely considering what will suit you and not what others are buying.
I have a busy lifestyle and it's not at all possible for me to change earrings every day, so what do you suggest?
Black diamond studs can be worn 365 days, round the clock and with almost any outfit - from formal to casual outings. For example, you can sport these black diamond drop earrings (image below) to the party with your long floral dress, and the next day you can carry the same to your work without worrying to switch to something sober.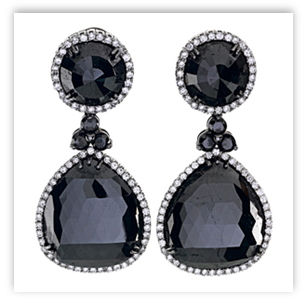 Black Diamond Drop Earrings

You can effortlessly mix it with smart formal dressing too. So, if you are always on the move managing career and social life, then black diamond earrings can be your constant companion.
All my friends have white diamond solitaires, Will i be the odd-one-out?
So, what's there to worry about! Irrespective of whether you'll be walking with the crowd or choose your own path, go for it if you really like black diamonds and can carry it with assurance. There is nothing wrong in mixing with crowd, but then being a trend-setter among your family and friends will altogether be a different feeling. Sometimes listen to your heart as well!
My boyfriend has been talking about black diamond studs but I'm apprehensive. Won't it have the feminine feel?
Relax! Black diamonds are suitable for both genders. When set delicately, black jewels throw a ladylike semblance, otherwise they gel really well with masculine personality. You can choose square-shaped stone - like princess cut set in palladium or platinum - for your boyfriend. However, avoid yellow gold as it has a womanish touch to it. Also, stick with studs only, as hoops and large diamond earrings don't suit men.
Are black diamonds durable enough for every day wear?
Certainly! Although, black diamond is more brittle than a colorless diamond, but it is durable enough for everyday wear. However, make sure your black diamond earrings are accompanied with certificate from a reputable diamond grading lab.
If price is something that is giving you sleepless nights then don't worry. Black diamond earrings are high on style and low on cost, and won't dent your pocket as much as their white diamond cousins.
Also, what are the jewelry designers for! Inflation has forced them to work hard to not only to create beautiful pieces but also affordable ones. Intelligent and practical designs can bring to life both stunning and economical jewelry piece.
So, throw away the uncertainty towards black diamonds in black garbage bag, and walk the path to become a style innovator.

Return from Black Diamond Earrings to Earrings page
Return from Black Diamond Earrings to Diamond Jewelry Homepage
I hope you'll not mind sharing this on Twitter, Facebook and with everyone else :)
Feel free to share if something is in your mind and want it to be covered on this site.

My Newsletter

Did you liked this article? Sign-up my FREE weekly newsletter and I'll send you more awesome new additions on this website along with latest jewelry happenings around the world, and download my Jewelry Design Album for FREE!