<!- google_ad_section_start ->
Wedding Ring - Less Elaborate with Deeper Meaning

An engagement ring represents the present relationship of a couple while a wedding ring is symbolic of a lifelong alliance. Wedding ring is the testimony of couple's love reminding of vows taken by them at the time marriage. It's the gesture of constant commitment towards each other.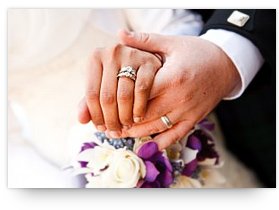 <!- google_ad_section_end ->
How and when to wear a Wedding Ring?
Usually, before the actual wedding ceremony, a bride places her engagement ring from her left-hand ring finger to right-hand ring finger, so that her groom can slip-on the wedding ring in her left-hand ring finger. And after the ceremony, the engagement ring is replaced back to left hand on top of the wedding ring.
Therefore, it has become a typical practice of placing the wedding ring first followed by the engagement ring. You may also like to read engagement ring rules.

However, this is more of a tradition and etiquette, and as such there is no written rule. It should be your prerogative to choose the order of rings.
Does it make sense to buy engagement and wedding ring sets?
When couples are confident of their relationship and are sure that they'll marry each other, they often buy matching wedding rings together with their engagement rings. In fact, to add a personal touch, they can also get their wedding rings customized in accordance with their engagement rings.
This practice makes sense as it enables people to allocate budget for wedding ring too. Otherwise, buyers spend lavishly for engagement rings without giving enough thought to wedding rings.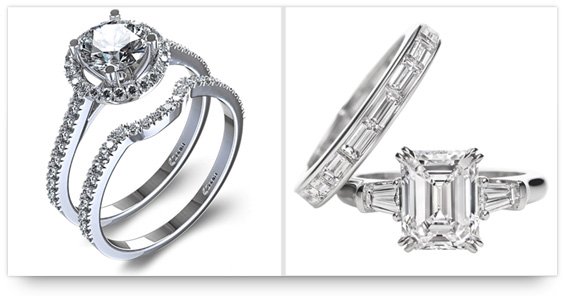 Engagement and Wedding Ring Sets

However, a wedding ring can be bought later on too with a design different from engagement ring. Generally, if both the rings are matching style then can be worn together in the same finger, otherwise should be worn in different fingers.

Nonetheless, even if one is wearing engagement ring and wedding ring in different fingers those should be in sync. For example, it doesn't make sense to wear an art deco engagement ring and Edwardian wedding ring. It is important to note that two rings should have something common in appearance, be it same metal color or style.
In addition to matching engagement and wedding rings, many couples also go for paired wedding rings for themselves.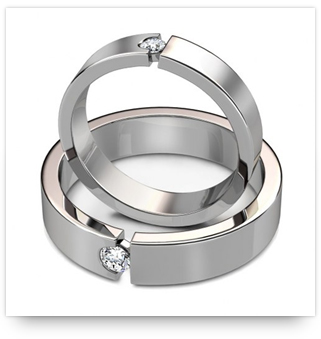 Wedding Rings for Him and Her

Wedding Rings vs Wedding Bands
I'm often asked what's the difference between a wedding ring and wedding band. Although both have the same associated meaning, dissimilarity lies in their shapes. Ring is more elaborate with highlighting center (usually solitaire diamond), while band is usually a plain metal (like gold or silver) ring which is preferably worn by men.
Nevertheless, people often use these terms interchangeably. But in my opinion, by above definition, one should not term ring as band. It's completely wrong. However, technically speaking terming band as ring is OK.
Wedding Ring Styles
Mostly, wedding rings are simpler than more elaborate and extravagant engagement rings. However, don't think this to be a mismatch. It's important that both rings should complement each other.
For example, even if you have a solitaire rose gold engagement ring, it will seamlessly blend with a plain rose gold wedding ring. Wedding bands can be of gemstone studded or only of metal without any gemstone, both styles equally look good. A filigree wedding ring also looks beautiful and can be worn separately in different hand to justify its beauty.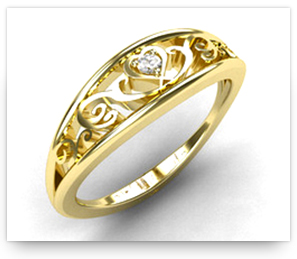 Filigree Wedding Ring

Your Lifestyle
One should consider buying wedding ring keeping their lifestyle in mind too. It's a piece of jewelry that means lifelong commitment, so you would like to wear it for the rest of your life.
Therefore, if your profession requires to remove it often or your work involves lot of hand work, then what's the point of buying an expensive vintage wedding ring! Instead, it's appropriate to go for a simple metal wedding band without gemstones.
So, give proper consideration - from budget to utility - before buying your wedding ring, as it's a jewelry that you would like to cherish forever.
Return from Wedding Rings to Diamond Jewelry Homepage
I hope you'll not mind sharing this on Twitter, Facebook and with everyone else :)
Feel free to share if something is in your mind and want it to be covered on this site.

My Newsletter

Did you liked this article? Sign-up my FREE weekly newsletter and I'll send you more awesome new additions on this website along with latest jewelry happenings around the world, and download my Jewelry Design Album for FREE!