<!- google_ad_section_start ->
Rose Gold Wedding Rings - Charm of Rose without its Thorns
Rose Gold Wedding Rings - Fragrance of Love that will stay forever!
Rose gold is so very elegant, classic and looks so passionate. Look around and you will notice the presence of this color everywhere. Weddings are planned with shades of rose as theme - be it wedding cake or decorations or even wedding gowns.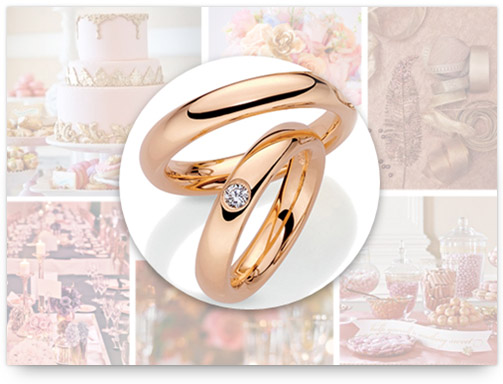 <!- google_ad_section_end ->
So, doesn't it make sense to consider rose gold wedding rings! After all, it's this rose (gold) on your finger that will last forever, with rest of the roses of your wedding day drying up!
Usually, yellow gold wedding rings have traditional look while white gold and platinum wedding rings have more of a modern feel.
Therefore, if you want to move away from the beaten path and want to play with a unique metal for your wedding ring, then the enchanting rose gold (increased percentage of copper-colored alloys with reduced proportion of silver-colored alloys in pure gold) should be your choice.
However, do you know one of the main reasons for rise in prominence of rose gold ring is its popularity among brides who are increasingly opting for rings inspired by vintage wedding rings with floral motifs, filigree, miligrain and beading. And rose gold certainly adds to and blends beautifully with these vintage styles.
This is the reason, contemporary and innovative jewelry designers are using their creativity to bring out rose gold vintage-inspired wedding rings in variety of styles. However, rose gold is not just about re-visiting old memory lane. Rose gold rings with modern designs look equally brilliant and classy, and capable enough to mesmerize any bride-to-be instantly.
Plenty of Designs
Most of the jewelers these days have rose gold wedding rings in their list of offerings. So, you may not find dearth of designs and options to choose from - be it rose gold and white diamond wedding rings or rose gold wedding rings with pink sapphire, morganite and pink diamonds.
If you have your partner in mind as well, then you can even choose matching rose gold wedding ring for him/her.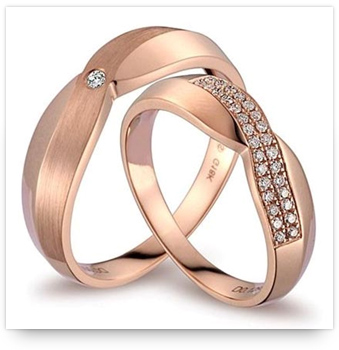 Just loved the style and beauty of this diamond Couples Wedding Ring bands by Jewel Ocean

What attracted me most in this vintage rose gold ring on allurez.com is its fine detailing.

Center of the band is embellished with woven design pattern while miligrain effect on the edges imparts it the true vintage look. It can be also custom-made which means you can easily order two rings of different widths to make it matching wedding rings for him/her.

There are many people who are of the view that a wedding ring should be stunning in its simplicity while elaborateness must be left for engagement ring. However, I simply don't second this thinking. My personal opinion is that it should be a personal choice, and all must be left on wearer's taste and comfort.
Therefore, if you are on a hunt for a unique looking rose gold ring, then I am sure this glamorous and stylish wedding ring by Tacori will be the perfect stop.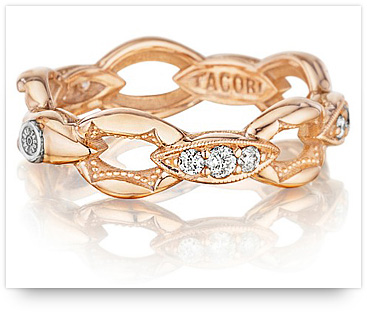 Tacori signature crescents - engraved on rose gold - are beautifully interlinked with diamond-decorated connectors giving one-of-a-kind feel to this ring. In short, it's an elegantly stylish piece.

Have a look at this lovely rose gold wedding band from etsy.com - very raw and organic!

Named "Vertical Wheat Ring", this totally hand-made ring is must for someone looking for an extraordinary and unique wedding ring

If you have an active lifestyle and your work involves lot of hand work, and looking for comfortable wedding ring that can be worn at workplace too, then this rose gold pink sapphire wedding ring from Gemvara.com with its soft curve profile and comfort fit will just be perfect for you.

Stars are etched on the upper surface of the ring with just two pink sapphires to add sparkle to stars

However, if you are in doubt that rose gold wedding rings may go out of fashion, then let me tell you this is not going to happen in near future. Having said that, why at all this talk about fashion and trend! It's your wedding and your life. Why to bother unnecessarily about it being in trend or not! It's better to pick a piece that you will like to appreciate and revere forever.
Return from Rose Gold Wedding Rings to Wedding Rings page

Return from Rose Gold Wedding Rings to Diamond Jewelry Homepage
I hope you'll not mind sharing this on Twitter, Facebook and with everyone else :)
Feel free to share if something is in your mind and want it to be covered on this site.

My Newsletter

Did you liked this article? Sign-up my FREE weekly newsletter and I'll send you more awesome new additions on this website along with latest jewelry happenings around the world, and download my Jewelry Design Album for FREE!