<!- google_ad_section_start ->
Indian Bridal Jewelry Trends

Indian Bridal Jewelry - Splendor, Grandeur and Luxury
When it comes to Indian brides, there are so many things to talk about. However, without the discussion on jewelry - from classic to modern - you may not find story of Indian bride complete.
<!- google_ad_section_end ->
The modern Indian bride who is well-traveled and well-versed with latest global trends, is no more hesitant in experimenting with her choice of jewelry and loves trying different stuffs.
She wants her every jewel to be exclusive, unique and stand out. Call it Instagram or Facebook fever, she wants to add an international touch to her overall styling.
After all, daddy's princess is graduating to groom's queen of hearts, so why dress-up any less than a queen!
For example, why not complete the empress-look by sporting a sensational raani-haar along with gold choker, jhumkhas and kadas.
So, going by the choice of new generation, jewelers and designers are also coming up with variety of options in Indian bridal jewelry. They are launching special bridal collections keeping in mind the taste of present-day edgy and fashion conscious brides.
Don't Mix Different Styles
In my opinion, when it's about Indian bridal jewelry there shouldn't be an in-between path. Either it should be totally traditional or completely contemporary.
For contemporary appearance, diamonds and colorful gemstone jewelry are perfectly suitable while adding drama and sparkle to your overall look. It gives an elegant and stylish presence with the touch of refinement. But, remember to follow minimalistic approach while treading the contemporary path.
If you want to stick to traditional course, then go for evergreen heirloom pieces with cutting-edge styles in kundan or gold. With contrasting gemstones and uncut beads revoking old world charm, it will certainly dress you up with air of royalty.
OK, coming back to bridal jewelry trends, check the following for what's in fashion in individual pieces of Indian bridal jewelry:
Head Jewelry
Nowadays, hair accessories have become a must-have for brides. With lot of options to choose from, just make sure what you are most comfortable with and pick the piece that will match the length of your hair.
Ethnic choti (braid) decorated with gold jewelry or jooda (bun hairstyle) accessory looks really well while imparting traditional flair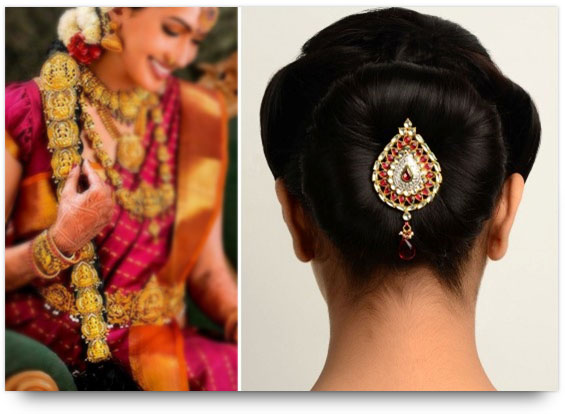 Choti (left) and Jooda (right) accessories

If necklace is not very heavy then mathapatti - consisting of many chains attached to the tikka in center - can help give a complete bridal appearance.
Mathapatti (left) and Maangtikka (right)

Like maangtikka, a jhoomar - fan-shaped hair ornament worn on the side of the head - can be also creatively worn on forehead.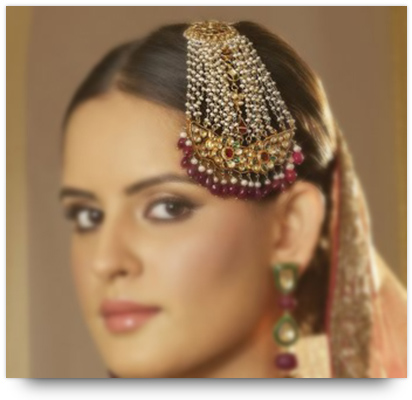 Jhoomar

Earrings
Chandbalis - vintage style of earrings - in modern avatar are giving enough competition to the traditional jhumkas.
Admirable chanbalis by Ghanasingh Jewelers - embellished in rubies, uncut diamond and pearl - will certainly glam-up your appearance when paired with saris or suits.
Traditional gold jhumkas or smaller jhumkis are classic and evergreen, and always look elegant.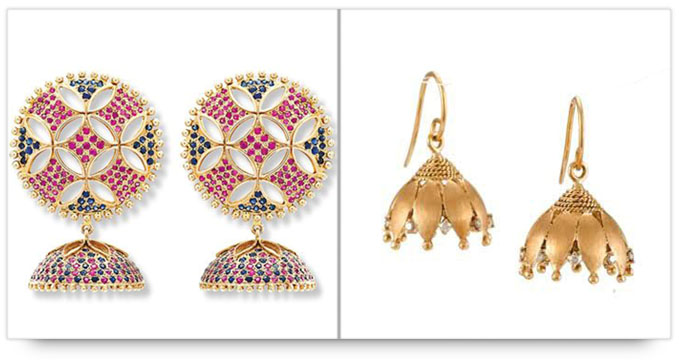 | | | | |
| --- | --- | --- | --- |
| | Sporadic cut-work in gently-domed ear-studs of these traditional yet contemporary jhumkas (Rasvihar Jeweler) makes it delicate and delight for ears. | These jhumkis again by Rasvihar can be blended with anything and everything - a must-have for today's bride. | |
Necklace
Global trend of layering has influenced the traditional Indian necklace the most. Combination of chokers (collar necklace) and long rani-haars (lariats) or naulakha-haar is quite evident these days with their grand and illustrious appearance. A raani-haar with carved deities in antique gold will surely make quite a statement.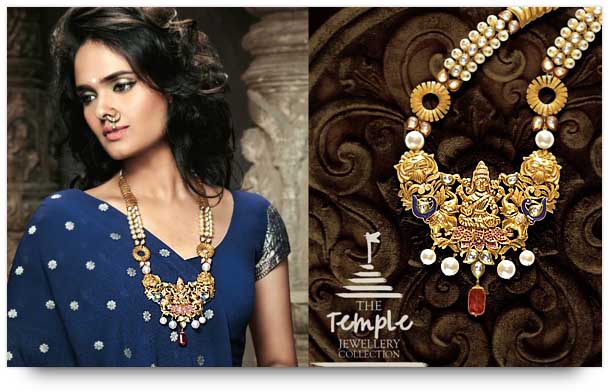 This necklace from TBZ's temple jewelry collection is a perfect bridal piece

If modern elegance is what you are more inclined towards, then have a diamond necklace with gemstones to add color to dazzling diamonds.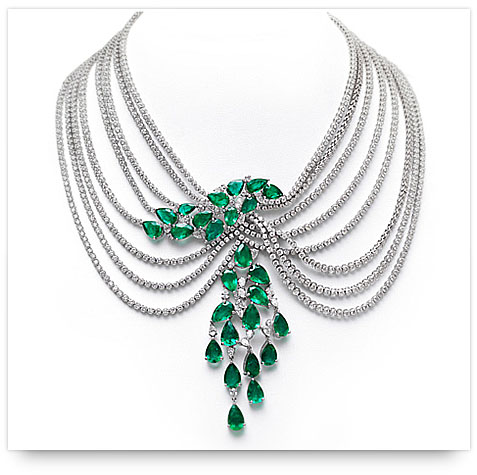 Draped with lines of diamond, this emerald and diamond neck-piece by Farah Khan will make any girl say "Yes" for marriage!

Waistbands
Gold waist-bands are a surprise hit and this trend is here to stay. Kamarband (or waist-band) is not just meant to keep duppata or stole in place. Rather, it's a good way to highlight a slim waist.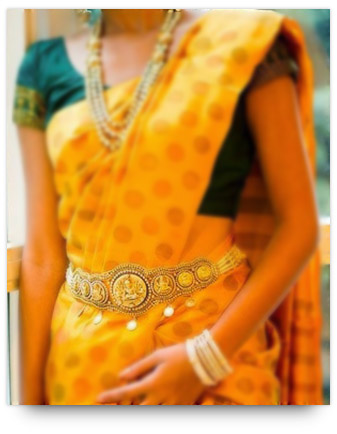 So, if you are blessed with a thin waistline then go ahead and flaunt it with a heavy gold kamarband. However, if you are not fortunate of having lean mid-section, then sleek and delicate single-line diamond waistband will be a good choice.
Hand Jewelry
If you think wearing hath-phool in all five fingers will be too much, then hath-phool with a ring in middle finger should be a convenient option worth considering.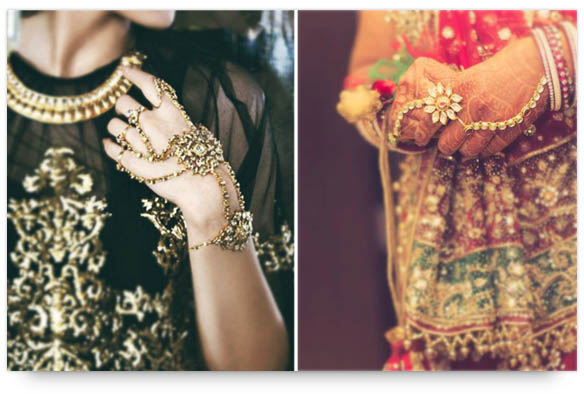 Gemstone-studded animal motif kadas (bangle) give an air of magnificence to the overall look. On the other hand, gold kadas offer a bolder appearance.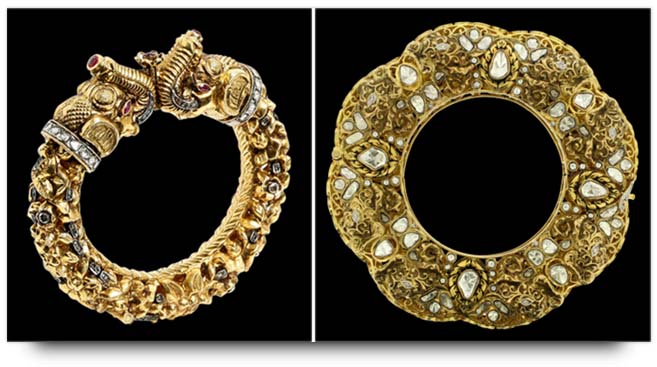 In list of alluring Indian jewelry there is this unique jewelry called bajubandh (or arm bracelet). It's very much in vogue and completes the bridal look.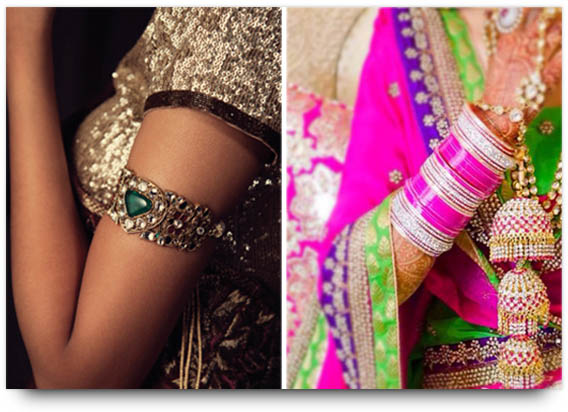 | | | | |
| --- | --- | --- | --- |
| | Bajubandh | Chooda with Kaliras | |
These days, you can even get designer diamond and gemstone-studded chooda (bangles) and kaliras (umbrella-shaped ornament hanging from wrist) which are specific to Punjabi wedding tradition and usually worn by Sikh brides.
Anklets and Toe-rings
Bride has to be the show-stopper of the event, so even the feet decorative should also be given the due attention. You must also read significance of anklets and toe-rings in traditional Indian jewelry.
If you want a totally exclusive stuff, then there is an option of designer footwear and anklets combined. But, its drawback is that it creates limitation because you may not want to wear the same combination of footwear and anklets every time. So, better idea is to invest in them separately, as it will give more flexibility.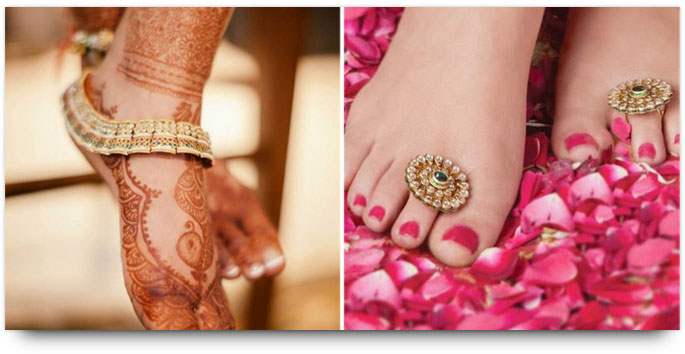 These designer kundan toe-rings and anklets will definitely make it difficult for guests to take their eyes-off off your feet while you take saat-pheras (7 rounds around fire while taking 7 vows of marriage).
Smart and educated brides of today invest in their bridal trousseau wisely. So, you must also read tips on buying Indian bridal jewelry before making the final purchase.
Return from Indian Bridal Jewelry Trends to Indian Jewelry page
Return from Indian Bridal Jewelry Trends to Diamond Jewelry Homepage
I hope you'll not mind sharing this on Twitter, Facebook and with everyone else :)
Feel free to share if something is in your mind and want it to be covered on this site.

My Newsletter

Did you liked this article? Sign-up my FREE weekly newsletter and I'll send you more awesome new additions on this website along with latest jewelry happenings around the world, and download my Jewelry Design Album for FREE!