<!- google_ad_section_start ->
Jewelry Designing Ideas and Tips

Jewelry Designing Ideas - How to get that spark?
Jewelry designing is something that a designer has to be passionate about in order to bring out his/her best work. As a jewelry designer if you take pleasure in your designing, then nothing will stop you from exploring the horizon of your creativity.
<!- google_ad_section_end ->
In fact, you may not find a better place to relax than your workstation. Personally speaking, for me designing is no less than meditation. It's that moment when I connect with myself and forget the world around me.
But, how to evoke new ideas and concept? After all, just like any creative artist, if as a jewelry designer you don't often come up with something new and practical then it may be really challenging to sustain in today's competitive environment.

How to provoke new jewelry designing ideas?
It's inside you, it's where you are. If you are a beginner and don't know how to get inspired or not aware of where to get that spark of idea, then my advice will be to not just chase the world outside you. Real source of inspiration lies inside you, yes it's within you!
After so many years of designing even I get stuck sometimes - I am sure most of the experienced designers will agree on this. It feels like ideas have completely stopped flowing.
This is when I stop my designing work and spend some quality time with myself. Now believe me, after the break most of the time new ideas simply start gushing like fresh water. It becomes so easy to focus, and literally speaking mind and hand start working in tandem

So, it's very important to be with yourself, then only you can have a keen eye for your surrounding to get that stimulus. Along with it, always keep your work-area clutter-free and well-organized. This helps in channelizing creative thoughts in a better manner.
Also, it's not a bad idea to go through your previous work. Sometimes, you may directly get new jewelry designing ideas, or your beautiful work in the past may stimulate you with new concepts. So, never dispose off your old designs - not even your rough concepts or sketches. You never know when your past work may come to your rescue!
God lies in Detail

Before I start my sketching work, I imagine my design in detail, and this helps me a lot. Visualization technique can give clarity to your thoughts while making your designing work smoother, faster and more perfect.

Add to that, don't forget to bypass the detailing aspect while drawing. It's important to have a close eye on all elements of your design, while making sure design is aesthetically and physically balanced. For example, have a look at my below designs of single-loop and double-loop pendants conceptualized on peacock motifs.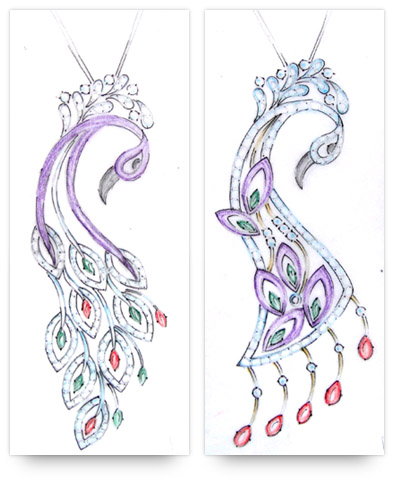 Single loop pendant (left image) has a weak top part which is killing the overall look. Remember, in a pendant its the top part that grabs the maximum attention (like the center of a necklace is most noticeable), therefore its head should be appealing enough to add to overall design. So, keeping this in mind, I re-designed (right image) the entire piece with a more evened appearance.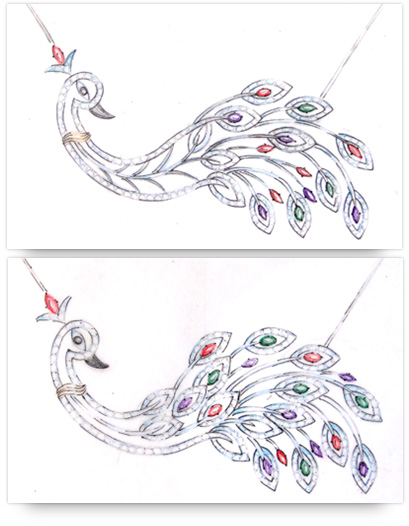 In the first design (top image) there is too much negative space in the center which is weakening the design. So, I added some petals in the center (bottom image) to enhance the flow and to make the design more complete.

So, if you'll keep these simple but important points in mind while creating new concepts, it will bring more efficiency in your work with better result.

Observe Others Works
A good designer has to be a good observer, don't just watch jewelry, feel it and observe it keenly. If you are looking for new jewelry designing ideas then always keep a keen eye on other designers' creations and notice the detail in their work.
Always pay attention to what techniques and settings are used, how different motifs are blended, etc. If it's an abstract design study the balance in the work, and if it's a symmetric design see how perfect both sides of the design are.
There is nothing wrong in going through design catalogs of other designers. Always be open to assimilate and appreciate the work of your seniors and peers alike. However, never ever try to copy because copycats don't last long in jewelry designing world.
After all, what's the point of imitating when you yourself has the ability to produce something original and even better!
Dirty Your Hands
For more exposure and knowledge of different styles, and to pull new jewelry designing ideas, spend time in field. Pay frequent visits to jewelry shops and various jewelry exhibitions. Work closely with artisans and see how they work. Sit with them and look at their craftsmanship. Listen to what they say, and I assure, you will not return empty-handed.
Spawning new jewelry designing ideas is great, but gaining practical knowledge is equally important. Real and hands-on experience help in creating designs that are feasible to manufacture without being just a piece of drawing with technical flaws.
In fact, as a designer your work does not just end at the drawing board. It's the complete journey - from conception to creation - that you must keep in mind. Being a jewelry designer, your primary objective must be to create practical and economically viable piece.
For example, as a designer you must give enough consideration to hinges and joints in the designed piece in order to make it bendable enough. Flexibility in any jewelry – particularly in earrings and necklaces – is very important.
Like, if it's a one-piece earring without any joint, then the total weight of the earrings will fall on earlobes. On the other hand, joints distribute the weight of earrings (below image) making it sit comfortably on earlobes. Also, while being easy to store bendable jewelry, it is also subjected to less wear and tear.
The gold weight of the piece should also be kept in mind. With the price of gold being on the higher side, the use of more gold than what is required can unnecessarily increase the price of the final piece, which might impact the saleability of the final piece.
Keep it Simple
Simple the design more beautiful it will look after coming to life. It's never advisable to mix your design with too many elements - little bit of this and little bit of that. By elements I mean, either choice of metals, or settings, techniques, or choice of color.
For example, don't include filigree, embossing and engraving all in one piece in sheer excitement. It's not the end of the world. You will get many opportunities in future to add and experiment with different styles.
Similarly don't blend white, yellow, rose gold and copper all in one piece. Simply said, too many elements are the perfect ingredient to kill the entire recipe. Let the design breathe!
Be the Trend-setter

Don't get yourself trapped in just catching trends. Instead, don't be afraid of following your instincts. Always try to create something new and unique. Why to just follow the trend, why not be a trend-setter! Why to just take inspiration from others, why not be the source of inspiration for others!
Finally, be passionate of designing and you'll find how great this jewelry designing world is. Till then happy designing!
Return from Jewelry Designing Ideas to Designing Jewelry page
Return from Jewelry Designing Ideas to Diamond Jewelry Homepage
I hope you'll not mind sharing this on Twitter, Facebook and with everyone else :)
Feel free to share if something is in your mind and want it to be covered on this site.

My Newsletter

Did you liked this article? Sign-up my FREE weekly newsletter and I'll send you more awesome new additions on this website along with latest jewelry happenings around the world, and download my Jewelry Design Album for FREE!