<!- google_ad_section_start ->
Clarity of Diamond - It's about diamond purity

Clarity of diamond is one of the four characteristics that determines the value and beauty of diamond. The other three characteristics are Cut, Carat and Color.
<!- google_ad_section_end ->
As this term suggests, it means how clear the diamond is. It can be also termed as Diamond Purity, and implies the presence or absence of Inclusions (internal flaws) or Blemishes (external flaws) associated with diamond. These flaws affect reflection of light through diamond and thus affecting its sparkle.
As an informed customer, you should know how diamond is graded by clarity and if techniques like fracture filling and laser drill have been used on diamond then this information should be disclosed by jeweler.
You will learn about questions that you should probably ask the jeweler while buying diamond by reading points you should keep in mind while choosing the clarity grade.
Those days are gone when jewelers could fool the customer about clarity of diamond by showing diamonds under bright light thus covering the flaws of stone. Nowadays, customers like you are quite informed by reading about diamonds on various websites, diamond-jewelry-pedia being one of them.

If you are looking to learn about clarity grading and steps to be followed in clarity grading then read commonly used clarity grading systems for information on institutions were you can learn clarity grading.
Frequently used terms related to Clarity of Diamond
Following are some of the clarity related terms frequently used by jewelers. Let me explain you what do these terms exactly mean. So, that you are not misled.
Brilliance
Brilliance is the term used for intensity of white light reflected through a diamond or any other gemstone in the face-up position. In simple words, this term is synonymous to mirror-like shine in a stone.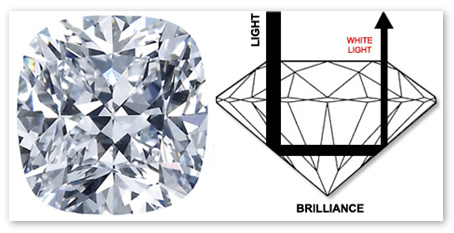 Brilliance of diamond makes it unique among all the gemstones as no other gemstone has the reflecting capabilities of diamond. Brilliance can be enhanced by cutting the diamond in correct proportions.
If we look from physical point of view, brilliance comprises of different optical phenomena such as:
External brilliance: It's the luster produced by the reflection of incident light on the surface of diamond.
Internal brilliance: Refraction and total reflection of incident light created on the pavillion of diamond.
Dispersive brilliance: It's the splitting of incident light into spectral colors. It's this optical phenomenon that gives diamond its fire.
Scintillation brilliance: It's the sparkle produced when the diamond is moved because of reflection of the incident light.
Fire (dispersion of light)
Fire is the colored light refracted from within the diamond through the Crown of diamond. White light entering the diamond is dispersed into seven spectral colors. This property can also be enhanced by cutting the diamond in correct proportions.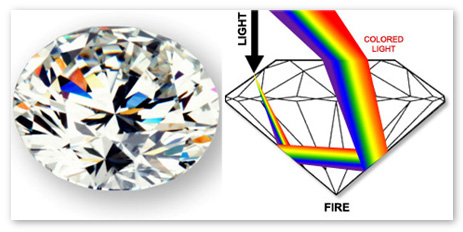 Sparkle
Sparkle is the tiny flash of light that reflects out of a diamond. It's combination of fire (dispersion of light) and brilliance of diamond. The technical term Scintillation is also used for sparkle by some jewelers.
Conclusion
Clarity of diamond affects the beauty and price of diamond. Clarity refers to how clear the diamond is. It implies the presence or absence of inclusions (internal flaws) and blemishes (external flaws) in diamond. Diamond flaws adversely affect the reflection of light through stone and thus affecting its sparkle.
Return from Clarity of Diamond to Diamond Jewelry Homepage
I hope you'll not mind sharing this on Twitter, Facebook and with everyone else :)
Feel free to share if something is in your mind and want it to be covered on this site.

My Newsletter

Did you liked this article? Sign-up my FREE weekly newsletter and I'll send you more awesome new additions on this website along with latest jewelry happenings around the world, and download my Jewelry Design Album for FREE!