<!- google_ad_section_start ->
Conflict Diamonds
Conflict Diamonds - A Blot on Diamond Industry
We all associate a Diamond with love, commitment and that it will stay with us forever. But, it's just the one side of the story. The picture has a darker shade as well.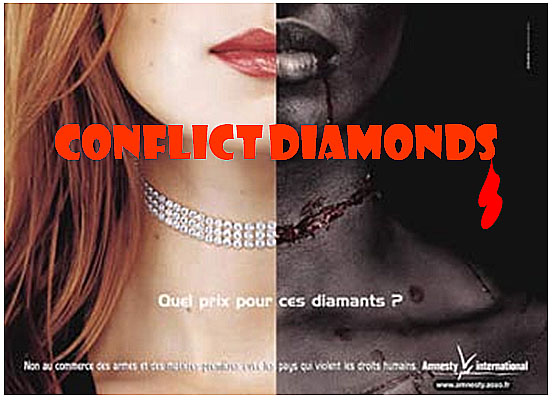 Conflict or Blood Diamonds - A contrasting story

<!- google_ad_section_end ->
Here, I'm referring to Conflict or Blood Diamonds. These are also sometimes termed as War Diamonds, because of being mined in war zones.
Background

It's from Africa that almost two–thirds of the world's diamonds are extracted. Africa blessed with rich diamond resource is in a very poor state, as these resources are used not on welfare of people but in funding wars. Sierra Leone, Angola, Democratic Republic of Congo and Liberia are the most adversely affected countries.
In Sierra Leone and Angola the rebels groups like the Revolutionary United Front (RUF) and the National Union for the Total Independence of Angola (UNITA) respectively has taken over the diamond fields. Roughs are extracted from mines (also read how diamond comes to earth's surface?) and sold illegally to fund these rebel groups to buy weapons which are ultimately used against their country's government.
Rebel groups forcefully conscript young boys to join their army and women and children are enslaved. This has resulted into huge loss of life and property. Those who survived were forced to work in diamond fields while those who opposed, were killed. So, you can easily say Conflict Diamond being the root cause behind this menace.
| | |
| --- | --- |
| | |
| Forcefully Recruited Child Soldiers | Laborers in Diamond Fields (© Jean-Claude Coutausse/ CONTACT Press Images) |
Awakening of People
It was around 1998 that people came to know about the role of diamond in funding wars in Africa. Public also came to know how the global diamond industry has kept its eyes shut for so long. We can easily say that blood diamonds have become the black spot on the sparkling image of diamond industry.
Global awareness among people and human rights organizations has shown some silver lining. Governments and diamond industry have been forced to remove conflict diamonds from international diamond trade in order to save people of Africa and its reserves from being exploited.
Kimberley Process Certification System (KPCS)
In the year 2000, government of various countries, non-government organizations, and people associated with diamond industry came together to eliminate these blood diamonds from supply chain. This joint effort led to formation of Kimberley Process Certification System (KPCS) in 2003.
KPCS was introduced by United Nations resolution 55/56. It is designed to certify the origin of rough diamonds from sources which are free of conflict and are not sponsored by illegal diamond production.
As of 2010, 75 countries have agreed to comply by the rules of KPCS. The members include all the major rough diamond producing countries, exporting and importing countries. Per the guidelines, only member countries can trade rough diamonds with each other. Non-member country cannot trade with any member nation until and unless former becomes the member of KPCS.
Exporters need to register their diamonds with their government before exporting or certifying them. They are required to place the diamonds in tamper-proof shipping crates and provide details about the conflict free origin of diamond. This is to ensure that conflict diamonds don't enter the supply chain.
But as we know it's easier said than done, still many countries have not become the member of KPCS, and some member countries are not yet implementing the rules and regulations in stringent fashion.
This process needs the joint effort of governments, non-government organizations, diamond traders, financial institutions, arms and ammunition manufacturers and various educational institutions and we buyers.
Time and joint effort is needed to make this process fully functional. Diamond industry will have to open eyes for welfare of people of Africa and let go some of their undeserved profits.
How can you help?
Diamond traders say, since diamond changes so many hands till it's finally set in jewelry, so it's impossible to keep track of its journey from mine to jewelry store. Nevertheless, you can change the scenario. But, how?
Let me explain.
As an informed buyer, you must not buy a diamond until you are provided with details of its source. Knowledgeable buyers like you will ensure that retailers will maintain proper details that their diamond is free of conflict and human right abuse. Diamond industry will get strong message that buyers will pay little more but will not wear diamond that has blood on it.
Diamond industry will need some time to bring their act together and it won't happen overnight. But if you as an informed consumer is determined, you can definitely make a difference.
Will You Buy Conflict Diamond?
Do you ensure the diamond you buy is conflict-free? Share your thoughts on conflict or blood diamonds.
See Other Visitors' Stories
Click on the links below to see what other visitors have said on Conflict Diamonds.
Return from Conflict Diamonds to Diamond Jewelry Homepage
I hope you'll not mind sharing this on Twitter, Facebook and with everyone else :)
Feel free to share if something is in your mind and want it to be covered on this site.

My Newsletter

Did you liked this article? Sign-up my FREE weekly newsletter and I'll send you more awesome new additions on this website along with latest jewelry happenings around the world, and download my Jewelry Design Album for FREE!