<!- google_ad_section_start ->
Channel Setting
In channel setting, diamonds of the same dimensions are fitted side by side into a metal channel, where unlike prong setting, metal is not visible between two channel-set diamonds. This gives a channel-set diamond stunning look with no metal obstructing its beauty.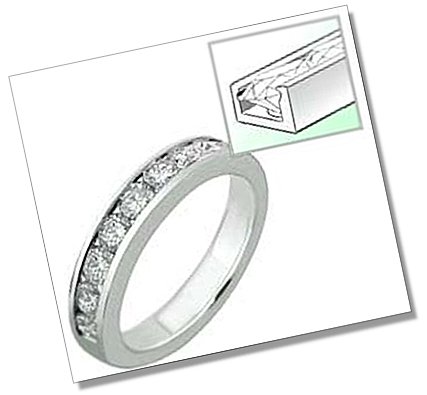 <!- google_ad_section_end ->
Being in existence since 1980's and still quite popular, this setting is suitable for small diamonds, rubies, emeralds and sapphires.
Features
Provides Protection
Channel set diamonds are safe in the confinement of two walls of metal. This protects the girdles of diamonds from getting chipped which often happens in prong setting. Edges of diamond are protected from all sides and it safeguards the diamonds from daily wear and tear or hard impacts.
Flexibility
Channel setting blends beautifully with different diamond shapes, particularly with square shapes - like princess shaped diamond and baguettes. In square shaped diamonds, there is no space between two diamonds when set in channel, that creates a remarkable brilliance of diamond. You can also read how to set baguettes in channel.
When round shaped diamonds are set in channel, it gives a floating effect. As there is space between two diamonds, it creates illusion as if diamonds are floating between metal channels.
You may also read about channel mounting of melee diamonds (small round brilliant diamonds).
This setting is popularly used in Anniversary Rings, Wedding Bands, Eternity Rings and Tennis Bracelets. This round and baguette channel set anniversary wedding ring band
from Amazon (below image) is the perfect illustration of elegance of channel setting. I really liked this ring for its following features:
This ring has both round as well as baguette shape diamonds that gives it a unique and designer look.
Another intriguing feature is, it will easily blend with engagement ring, be it with round diamonds or baguettes.
In my opinion, this ring will look wonderful if worn separately as a band as well.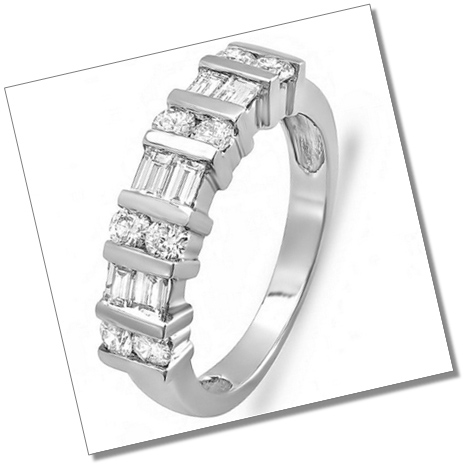 Click here for more details
However my doubt is, can the jeweler make it two-tone. This is because, if it has a fusion of yellow and white gold, then it will more easily combine with your engagement ring and other existing jewelry. So, if you are thinking of mixing this ring with your other treasures, then check with the seller about possibility of two-tone.
Bar Channel Setting

Bar Channel is another version of channel mounting. In this technique, thin metal bars are raised in between two diamonds towards the top level of diamond. The girdle of the diamond fits in the channel of bars and culet of diamond fits into individual grooves or seat created for each stone.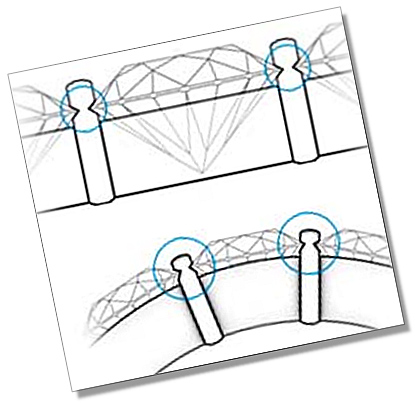 Bar Channel

Creativity with channel set diamonds
People often like to channel set their side small diamonds in solitaire diamond engagement rings, as it adds to the beautiful top view of the center diamond. Setting solitaire diamond in this manner provides safety from two channel sides, and two open sides provide the clear view of diamond.
This setting is also popularly used for setting the side stones of diamond engagement ring. This highlights the center stone, giving it its due attention without getting distracted by attention to side stones.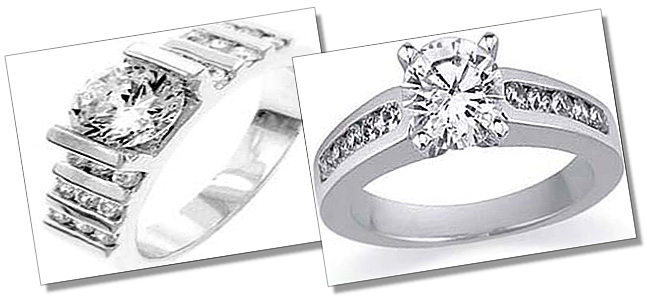 Channel Set Solitaire (left) and Side-stone (right) rings

Buyer's Checklist
Check for uniformity in size of diamonds
The most important thing for having good channel set stones is, dimensions of diamonds used in jewelry should be same. So, always verify the size of stones.

Proper Diamond Gripping
Grip of channel on diamond should be firm. If the setting is not firm, diamonds will become loose over the period of time and may fall. So, if you notice diamonds are not set properly, ask your jeweler to tighten the setting before making any payment.
Check the width of metal channel rim
The width of the metal channel holding the diamond should be uniform, smooth and dent or scratch-free. Metal rims should be wide enough to hold the diamond properly. If it's too wide, it will cover most of the crown area of the diamond. As a guideline, only 10% to 15% of the diamond's total diameter should be covered by metal channel. If more area is covered then it means setting is not perfect as this will hamper the sparkle of diamond.
Close Channel Wall (left) and Far Channel Wall (right)

Diamond Spacing
If diamonds are placed too wide apart then there will be chance of diamonds getting loose and may fall out. If the diamonds are too close and overlapping each other then in the long run edges of diamond will get chipped or damaged. Thus, placement of diamonds should be uniform and even.

Even spacing (left) and Uneven Spacing (right)

Quality of Diamonds
Since edges of the diamond are covered in channel, so jewelers may use low quality diamond with flaws on the side of diamond. So, make sure to ask for GIA or AGS approved jewelry certificate before buying the jewelry. The certificate will mention if the diamond has any inclusions or blemishes along with clarity and color of diamonds. This will save you from paying for high quality diamond when actually you are getting low quality diamonds.
Return from Channel Setting to Diamond Jewelry Homepage
I hope you'll not mind sharing this on Twitter, Facebook and with everyone else :)
Feel free to share if something is in your mind and want it to be covered on this site.

My Newsletter

Did you liked this article? Sign-up my FREE weekly newsletter and I'll send you more awesome new additions on this website along with latest jewelry happenings around the world, and download my Jewelry Design Album for FREE!