<!- google_ad_section_start ->
Invisible Setting
Invisible setting of diamond originated in France over 200 years ago and it gave all together a new direction to jewelry design.
<!- google_ad_section_end ->
Although invented two centuries ago, it wasn't popular until about 1990 when advanced technology made invisibly set jewelry to reach common people.
The main characteristics of this setting is that diamond is held aloft with no metal visible around it.
The diamonds are set in such a manner that metal is not visible - no prongs, no beads, no channels - which enhances the overall sparkle of stones.
While the diamonds seem to float above the jewelry, the metal beneath it holds the stones securely.
For detailed understanding of how invisible setting is done, you may read its setting procedure.
Features of Invisible Setting
Rare
From a craftsman perspective, invisible style of setting is the most elaborate and difficult setting, and only experienced setters can set diamonds in this pattern to perfection. Cost of labor and time invested in making an invisible set jewelry adds to the total value of jewelry and can be expensive.
This makes invisible set jewelry somewhat rarer than channel setting, pave setting or other settings.
Flexibility
Invisible setting blends beautifully with various diamond shapes. Princess, emerald, trilliant and baguette cuts work best with invisible set stones because the straight edges can be placed very close to each other. This imparts stunning brilliance to diamond.
Curved shapes such as round, marquise and oval can also be used, but they leave small spaces where the curves don't meet.
Is the Invisible Set Diamond Ring right choice for me?
Trendy and Unique
If you want something trendy and unique then invisible set diamond ring can surely fit the bill. The square shaped diamonds in this setting will certainly make you standout in an intriguing way with a pinch of Wow! factor.
Creates Illusion
This setting creates an illusion of diamonds appearing bigger than their actual carat weight. This will give you enough pocket-space to spend on designs and center stone rather than just on side stones.
Check this beautiful invisible setting engagement ring
(below image) with princess cut diamonds wonderfully set, creating illusion of huge princess cut solitaire center stone. Baguettes set in band in channel settings blends well with center invisible setting. You will find this setting looking equally good in white gold and yellow gold. For more detailed specification click below image.
High Maintenance
Dirt can easily accumulate in this setting and diminish the sparkle of diamonds. You will be required to regularly clean your invisible set diamond ring to maintain its brilliance and sparkle. So, before selecting invisible set ring, consider your daily lifestyle and how frequently you are going to wear your ring.
Avoid Heavy Duty Activity
If you are someone who is into heavy duty activities on regular basis, then unfortunately invisible set jewelry is not for you. Heavy activity or direct hit on small diamonds can loosen the grip of diamonds, with high susceptibility of diamonds falling out. It is very difficult to re-size or repair if diamonds falls out or breaks.
Expensive
This setting is costly as compared to other jewelry settings. It requires special preparation of the diamonds. Very experienced and skilled setters are needed for this setting and can use only larger and heavier stones. Cost of labor and time invested in making an invisible set diamond adds to the total value of ring, and can be expensive.
Design
Invisible set ring usually incorporates only straight rows of diamonds. So, this setting should not be your choice if you want something curvy.
This setting enhances the brightness of diamonds. Jewelry designers use this setting technique to create the illusion of larger diamonds in engagement rings and wedding rings.
Since this setting enhances the beauty of cluster of diamonds, so it is almost never used for center diamond. This is because cutting groove in diamond for invisible mounting could damage the expensive center diamond. There are settings like bezel setting and prong setting that do not damage the diamond and should be used for expensive center stone.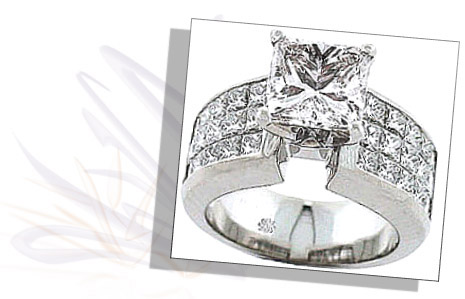 Invisible set side stones

Buyer's Checklist
Uniform Size - The most important determining factor for having good invisible diamond setting is, stones used in jewelry should be of same size.
Even Look and Feel - The surface of studded diamonds should have an even look and feel. Run your finger over diamonds and they should feel like smooth surface. If it feels rough or the surface appears bumpy, then it's not well made jewelry. As it may get caught and snag in clothes.
Proper Diamond Gripping - Grip of the metal surface beneath diamond should be firm on diamonds. If the setting is not firm diamonds will become loose over the period of time and may fall. So, before you make any payment do check that diamonds are set properly.
Quality of Diamonds - Since diamonds are covered from bottom, jewelers may use low quality diamond with inclusions or blemishes in the pavilion or the girdle of diamond. So, make sure to ask for GIA or AGS approved jewelry certificate before buying the jewelry.
Manufacturer Guarantee - When you are considering buying an Invisible Set Diamond Ring then make sure it comes with Manufacturer's Life-Time Guarantee. This is because with this setting any protection is just great peace of mind.
Finally, with the knowledge of invisible diamond setting, I am sure you'll be in a right position to take a wise and informed decision while purchasing a wonderful invisible set diamond ring or any invisible set jewelry.
Return to Diamond Jewelry Homepage
I hope you'll not mind sharing this on Twitter, Facebook and with everyone else :)
Feel free to share if something is in your mind and want it to be covered on this site.

My Newsletter

Did you liked this article? Sign-up my FREE weekly newsletter and I'll send you more awesome new additions on this website along with latest jewelry happenings around the world, and download my Jewelry Design Album for FREE!