<!- google_ad_section_start ->
Marquise Diamond - Lip-shaped Beauty

Do you know that Marquise Diamond was especially created to be presented as a gift? Yes, King Louis XV of France gifted it to his mistress, the Marchioness Madam de Pompadour, to compliment the shape of her beautiful lips. Well, that's how this shape got its name.

Marquise Diamond (top and side views)

Facets Pattern
Marquise is also called "navette", a French word for little boat. It looks like slim oval with tapered or pointed ends. Marquise shaped stone falls under the category of Modified Brilliant Cut with 58 facets (33 facets in the crown and 25 in pavilion). Variation in the pavilion is allowed with 4, 6 or 8 pavilion main facets, while the crown at times have "French Tip" with no bezel facets.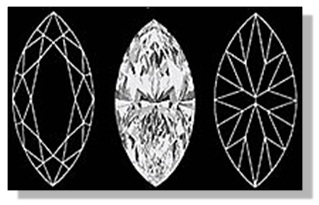 Marquise Diamond - Top and Bottom Facets' Pattern

Usually, the length to width ratio ranges between 1.75 and 2.25 in a marquise shaped stone.

Marquise Diamond - Length to Width Ratio

This shape has the largest crown area as compared to any other diamond shapes. This creates an illusion of big size than what the actual size of diamond is.
Marquise Stone Settings
Marquise shaped stone is not as versatile as its round-shaped cousin. Its end points are sharp and very delicate which needs to be handled with utmost care or else there could be damage to diamond.
So, considering this fact, only bezel setting or prong setting can be used while mounting a marquise stone in jewelry. However, since bezel setting does not do justice to the delicacy and style of marquise shape, v-shaped prong is the more preferred setting. V-Prongs protect the two delicate tips from getting chipped and daily wear and tear.
Marquise Diamond - V Prong Setting

Darker Side of this Beauty
Like most fancy shaped diamonds, marquise shaped diamond also suffers from Bow-tie Effect. When the diamond is not cut properly then a bow-tie shaped shadow (dark area) appears on diamond. It affects the overall brilliance and clarity of diamond. You can easily see this phenomenon through unaided eye.
This flaw can be judged only by visual inspection as it is not mentioned in diamond certificates. Bow-tie Effect is also visible in pear-shaped diamond, rectangular radiant-cut diamond and fancy oval-shaped diamond.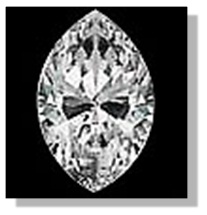 Marquise Diamond - Bow-tie Effect

Is Marquise Diamond My Choice?
Price
The price of marquise diamond is less than a round diamond. This is because there is less wastage of rough stone while cutting marquise shape, leading to high recovery ratio. So, for the same price you can get a bigger marquise shaped diamond as compared to round shaped diamond.
Elegance
If you are looking for an elegant and traditional ring, then Marquise would fit your choice. It can make your finger look slimmer which we all women want, don't we? :)
However, I will not suggest going for Marquise diamond rings if you have small fingers, because that will appear too big on your finger.
Celebrities' Choice
Celebrities like Heidi Klum, Katherine Zeta Jones and Victoria Beckham have flaunted Marquise shaped diamonds and have added a glamor touch to this shape. Victoria Beckham's engagement ring has a 3 carat marquise shaped diamond, accented by two trilliants (2nd below image).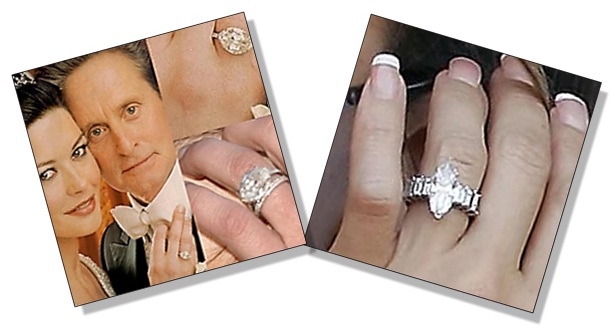 Return from Marquise Diamond to Diamond Shapes
Return from Marquise Diamond to Diamond Jewelry Homepage
I hope you'll not mind sharing this on Twitter, Facebook and with everyone else :)
Feel free to share if something is in your mind and want it to be covered on this site.

My Newsletter

Did you liked this article? Sign-up my FREE weekly newsletter and I'll send you more awesome new additions on this website along with latest jewelry happenings around the world, and download my Jewelry Design Album for FREE!