<!- google_ad_section_start ->
Fancy Colored Diamond Engagement Rings

In fancy colored diamond engagement rings, its the beauty of the fancy colored diamond that highlights the exclusivity of the engagement ring. Traditionally, white diamond round shaped engagement ring is the most classic concept of engagement rings.
<!- google_ad_section_end ->
However, with changing times and trends, diamond engagement rings are continuously embarking new territories in terms of fancy diamond shapes and colors.
Nowadays, with girls and ladies being well aware of latest trends and styles, it may not be easy for their boyfriends to impress them with just any other diamond engagement ring.
Gone are the days when a girl would say, "Wow!" on seeing a traditional white diamond engagement ring. So, won't it be wise idea to being well aware of the fancy-colored and fancy-shaped diamond engagement rings, and other trendy options in engagement rings?
Definitely, a fancy colored diamond engagement ring is bit expensive than a white diamond engagement ring. But, if you don't have the constraint of limited budget, then do consider fancy colored diamonds, as these are not so common and give a totally unique and distinct look. Only one of 10,000 carats diamonds mined, classifies as a fancy colored diamond of gem quality.
So, get yourself familiarized with unique characteristics and meaning behind prominent fancy colored diamond rings: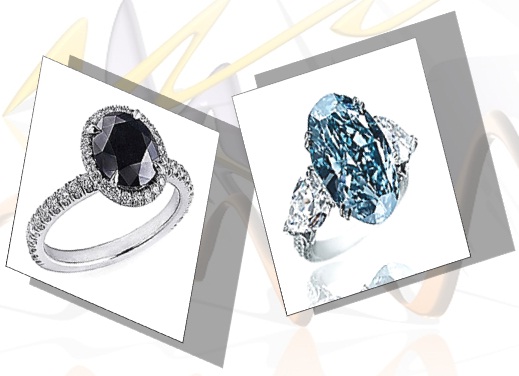 Black Diamond Engagement Ring: It symbolizes depth of couple's love and passion, and strength of their commitment. If you are a lady who is confident, with a bold and unique taste, and want to stand out in sophisticated manner, then black will definitely suit you. However, excessive inclusions in black diamonds make them little brittle as compared to white diamonds.
Blue Diamond Engagement Ring: "Blue" color is the symbol of care and strength. So, a blue diamond engagement ring will bring serenity, peace and love in your life. It helps avoiding misunderstandings and unnecessary ego and fights in relationships. However, blue diamonds being rare and very expensive, jewelers often don't stock them as ready engagement ring.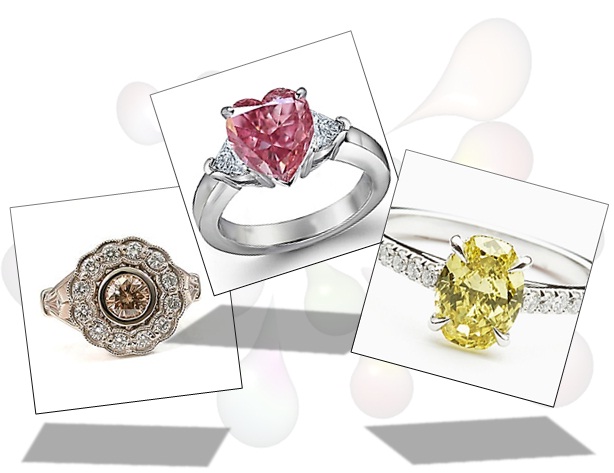 Champagne Diamond Engagement Ring: Exquisite and unique color, and rarity makes champagne diamond ring a perfect choice to represent a unique relationship. It's hard not to get mesmerized by the beautiful combination of warmth of honey and sparkle of diamond. The subtle hue and rarity of champagne diamond makes it quite attractive and preferred in modern fancy colored diamond engagement rings.
Pink Diamond Engagement Ring: "Pink" symbolizes love, romance, creativity and femininity. So, an engagement ring with pink diamond is the best way to convey love, and it will always hold a special place in your partner's heart. A pink diamond engagement ring stands for sweet love that will always remain fresh.
Yellow Diamond Engagement Ring: "Yellow" is the symbol of renewal, hope, cheerfulness and sunlight. Thus, yellow diamond engagement ring brings blessings of joy and prosperity in couple's life, and ushers in cheerful and happy future for both.

So, express your love with unique fancy colored diamond engagement rings and show how special your sweetheart is for you.
Return from Fancy Colored Diamond Engagement Rings to Diamond Jewelry Homepage
I hope you'll not mind sharing this on Twitter, Facebook and with everyone else :)
Feel free to share if something is in your mind and want it to be covered on this site.

My Newsletter

Did you liked this article? Sign-up my FREE weekly newsletter and I'll send you more awesome new additions on this website along with latest jewelry happenings around the world, and download my Jewelry Design Album for FREE!