<!- google_ad_section_start ->
Pink Diamond Engagement Rings

Demand for pink diamond engagement rings is growing by day. Traditional white diamond solitaire ring has been the most popular choice. However, nowadays couples are increasingly looking out for unique engagement rings.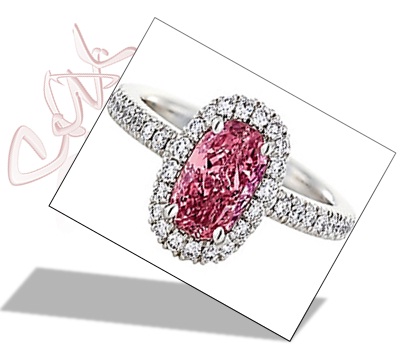 <!- google_ad_section_end ->
They are going for trendy rings that exhibit their emotions in a distinct manner and that perfectly represent their personality.
This has resulted in a increasing popularity of fancy colored diamond engagement rings and fancy shaped diamond engagement rings with various styles and settings.
What is Pink Diamond?
Natural diamonds occur in variety of colors - from white to various fancy colors. Diamond becomes pink due to deformation in crystalline structure of stone.
Pink diamonds are very rare and one of the most popular among all the gemstones. World's intense pink diamonds are found only at the Argyle Diamond Mine, Australia.
Rarity and limited supply of pink diamonds makes them one of the most expensive gemstones. Also, since its supply is declining, it's going to be more valuable with passage of time.
Symbol & Meaning
It symbolizes love, romance, creativity and femininity. An engagement ring with pink diamond is quite an apt way to convey your love, and it will always hold a special place in your love's heart. A pink diamond engagement ring will symbolize your sweet love that will always remain fresh.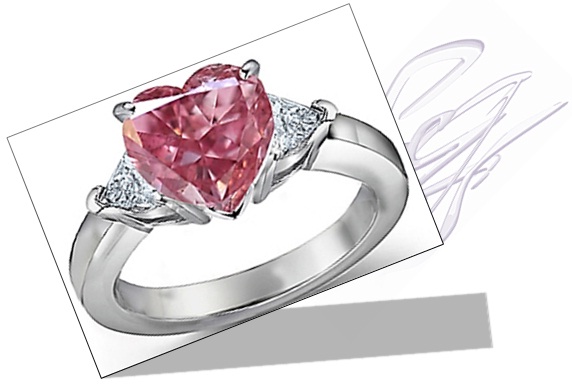 Different Shades
You can get endless options while choosing between pink diamond rings. There is a wide dimension of mesmerizing hues and intensities to choose from. It ranges from purplish-pink to orangish-pink to brownish-pink shades. Pink champagne engagement ring is also fast getting popular.

From left to right: Faint Pink, Very Light Pink, Light Pink, Fancy Light Pink, Fancy Pink, Fancy Intense Pink, Fancy Vivid Pink, and Fancy Deep Pink
Note: Stone with least intense pink shade will appear pink only if it is unmounted, and will not display its pinkish tint after setting. So, it is advisable to choose the appropriate shade that may not appear colorless after setting.
Affordable Ways of Buying
As you know, pink diamonds being very rare, are quite expensive. These are costlier than white diamonds and other gemstones. So, let's see different ways of buying a pink diamond ring in a pocket-friendly manner:
Instead of going for a big solitaire pink diamond, you can have a small pink diamond set with smaller white diamonds to create a magnificent engagement ring. The small accent white diamonds add more sparkle to the ring and emphasize the pink color of center diamond in a beautiful style. This will allow you to have engagement ring in your budget.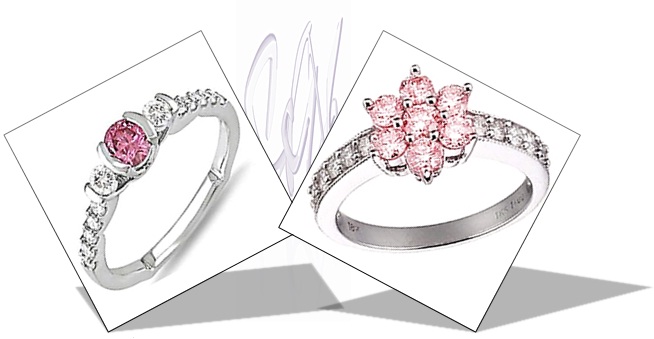 Natural pink diamonds are very expensive but the treated ones are comparatively affordable. Color treatment is done to enhance the color of pink diamond and this reduces the price of stone significantly. Treated pink diamond is definitely durable and unless disclosed, it is difficult to distinguish it from natural colored stone.
If you are in love with pink color, you can follow what other ladies are increasingly opting these days - pink sapphire engagement rings. Couples initially looking out for pink diamond rings are seen settling with a pink sapphire engagement rings. Pink sapphires have their own unique beauty and are beautiful and affordable alternative to pink diamonds.
If you have limited budget, then you can also consider cubic zirconia engagement rings and mossainite engagement rings.
Things to Remember
Your engagement ring must be accompanied by a gemological certificate (preferably a GIA certificate) with details of 4C's. Don't just go by jeweler's word that it's a genuine pink diamond ring, insist on its certificate.  Also, it should be disclosed if any enhancement technique has been used on stone, as this will reduce the price significantly.
Read the color description of the diamond carefully. Primary color of the diamond is the last color mentioned in the color description. Like, if it's mentioned purple-pink, then it implies pink is the base color of diamond with hint of purple. On the other hand, pink-purple means there is lesser of pink in diamond. Secondary color affects the price significantly, so it's very important to consider it while buying a pink diamond engagement ring.
Take your time while choosing the setting and metal of your pink diamond engagement ring. Setting and metal color can have a big influence on beauty of the ring. Check your pink diamond in different settings and different metals (white gold, yellow gold, platinum etc.) of your choice, before finally getting it mounted.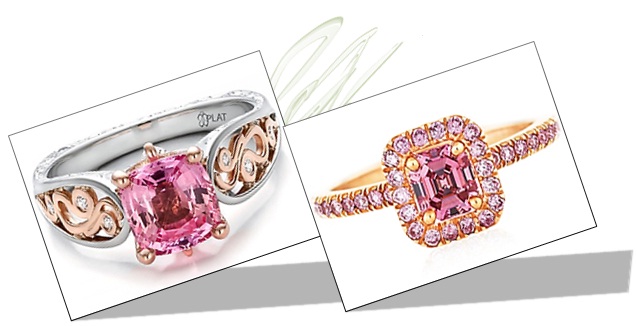 Two Tone (left) and Pink Gold (right)

Compare with other jewelers before finalizing deal. It's important to compare same category diamonds - like, diamonds should be of same shape, almost same weight and same color. Online market is flooded with lots of options. However, before making online purchase, do read pros and cons of online buying.
Instead of buying an already mounted pink diamond engagement ring, first choose a pink diamond and then get it mounted into your choice of setting. This will enable you to check the cut, clarity and weight of diamond in better way. This will also provide you the option to create a personalize engagement ring.
You are in the company of celebrities!
Pink diamond engagement rings became more popular among celebrities when US singer Jennifer Lopez whipped out a pink diamond engagement ring.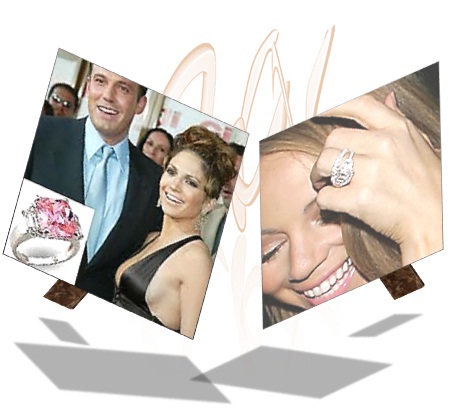 Mariah Carey and her husband Nick Cannon are other celebrity couple with emerald-cut pink diamond engagement ring accented by two half-moon side pink diamonds. UK celebrities Victoria and David Beckham, and US actress Salma Hayek have all been spotted wearing pink diamonds.
Return from Pink Diamond Engagement Rings to Fancy Colored Diamond Engagement Rings
Return from Pink Diamond Engagement Rings to Diamond Jewelry Homepage
I hope you'll not mind sharing this on Twitter, Facebook and with everyone else :)
Feel free to share if something is in your mind and want it to be covered on this site.

My Newsletter

Did you liked this article? Sign-up my FREE weekly newsletter and I'll send you more awesome new additions on this website along with latest jewelry happenings around the world, and download my Jewelry Design Album for FREE!