<!- google_ad_section_start ->
Diamond and Sapphire Engagement Rings
Diamond and sapphire engagement rings display the brilliant contrast between the sensuous sapphire and sparkling diamond making these engagement rings look very elegant and smart. However, don't confuse it with blue diamond engagement rings.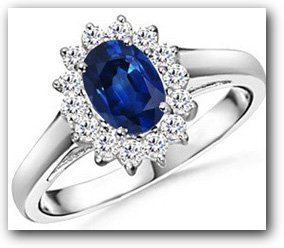 <!- google_ad_section_end ->
Sensuous Sapphire
Diamond engagement rings are the traditional choice for proposal but things are changing.
Girls today are not just impressed by sparkle of diamonds; they want beautiful engagement rings with combination of sparkle and brilliance of color.
So, it isn't a bad idea to combine the sparkle of diamond and beautiful color of sapphire in an engagement ring.
With Mohs Scale hardness value of 9, sapphire is perfectly suited for jewelry purpose because of its durability and versatility.
Therefore, diamond and sapphire rings are a good option as these can easily withstand daily wear and tear.
Symbolism of Sapphire Engagement Ring
Sapphire is the birthstone of September. Wearing this gem gives a positive color to relationship. It is associated with the qualities required in a healthy relationship, like - loyalty, faithfulness, truth, sincerity, consistency and reliability. Therefore, it symbolizes long term relationships.
So, it would be a great way to propose with a diamond and sapphire engagement ring that will symbolize your sincerity and faithfulness.
Shades of Sapphire
Usually, Blue sapphire engagement ring comes in our imagination when we think of sapphire engagement ring. But, the sapphire family provides a wide range of colors to choose from. From the colorless white sapphire to yellow to green to most popular blue color to pale pinks to champagne tones.
These days pink champagne sapphire engagement ring and peach champagne sapphire engagement ring are quite popular. These are popularly known as "fancy sapphires engagement rings".
| | |
| --- | --- |
| Diamond and Pink Champagne Sapphire Engagement Ring | Diamond and Peach Champagne Sapphire Engagement Ring |
Pink Sapphire
In terms of popularity of different sapphire shades, pink sapphire engagement rings come next to only blue sapphire engagement rings. Don't get confused between pink diamond engagement rings and pink sapphire engagement ring. They are totally different, with just pink color being the common element.
Red is the hue of passion while pink is associated with first love.  So, what could be the more appropriate representation of color pink than a Pink Sapphire? Symbolic to eternal love, pink sapphire engagement ring are best suited for a romantic proposal.
But, don't think pink sapphires engagement rings are only for teenagers or suitable if you are proposing on Valentine's Day. Pink sapphire also blends beautifully with elegant and mature designs.

Diamond and Emerald Cut Pink Sapphire Engagement Ring

Popularity of pink sapphire engagement ring is increasing as it offers look of a contemporary engagement ring. Also, it's more affordable than diamond engagement rings.
Shapes and Settings

From traditional round and oval shape to modern emerald, marquise, asscher and princess cut, diamond and sapphire rings looks stunning in all shapes.  Due to its hardness it can be fashioned into any shape and can be set into any jewelry setting.
If she likes contemporary style, a diamond and sapphire engagement ring in white  gold will surely impress her. Sapphire and diamond combination in engagement ring also looks extremely beautiful and elegant when set in prong setting.
The classic 3 stone engagement rings will look quite meaningful and symbolic. Proposing with a 3 stone engagement rings is the ideal way to say "I've always loved you", "I love you now", and "I'll love you forever". Read more about "Three Stone Jewelry".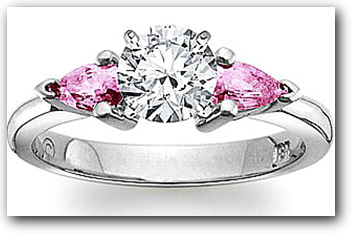 Three stone diamond and pink sapphire engagement ring

Celebrities' Choice

Diamond and sapphire engagement ring have been popular among the celebrities. Sapphire jewelry is prominent among the British Crown Jewels as well.
Prince Charles chose an engagement ring with oval blue sapphire surrounded by a cluster of 16 diamonds for his fiancee, Princess Diana. History repeated again when Prince William gave Kate Middleton the same famous ring.
Penelope Cruz's beautiful vintage sapphire engagement ring features halo of sleek diamonds surrounding a gorgeous, velvety-blue 3 carat sapphire. The ring is set in a floral-inspired antique setting.
Other celebrities like - Heather Mills, Jodie Sweetin and Elizabeth Hurley are also the proud owner of diamond and sapphire engagement rings.
Things to Remember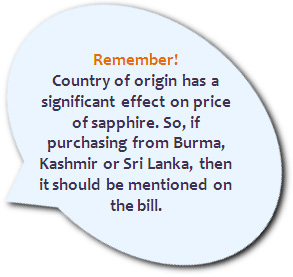 Usually, diamond and sapphire engagement rings are less expensive than solitaire diamond engagement rings.
Deal with reputable jewelers when considering to purchase. And when considering very fine sapphire especially those from Burma or Kashmir, it's highly recommended to get the stone tested in laboratory for confirmation of authenticity and whether or not any enhancement techniques have been used.
These days, lot of jewelers offer diamond and sapphire engagement rings. But, I recommend buying online, because due to intense competition in the online market, you can get lot of options and varieties to choose from at a comparatively lower price.
If you are biased towards blue color in particular, then you may also consider tanzanite, blue topaz or aquamarine engagement rings.
Return from Diamond and Sapphire Engagement Rings to Diamond Alternative Engagement Rings
Return from Diamond and Sapphire Engagement Rings to Diamond Jewelry Homepage 
I hope you'll not mind sharing this on Twitter, Facebook and with everyone else :)
Feel free to share if something is in your mind and want it to be covered on this site.

My Newsletter

Did you liked this article? Sign-up my FREE weekly newsletter and I'll send you more awesome new additions on this website along with latest jewelry happenings around the world, and download my Jewelry Design Album for FREE!