<!- google_ad_section_start ->
Asscher Cut Diamonds
Asscher cut diamonds got the name after Joseph Asscher who first developed the cut in 1902, and got its design patented in name of Asscher Diamond Company. This was the same well-known diamond cutting company which had earlier cut the famous Excelsior and Cullinan diamonds.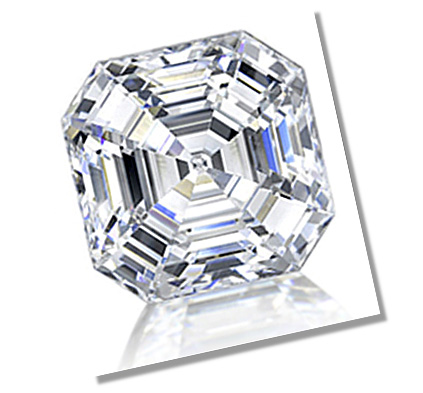 <!- google_ad_section_end ->
Asscher diamonds were very popular during 1920's period. For the same reason, one can find asscher diamond in antique jewelry - particularly in Art Deco inspired jewelry - from that era.
Facets Pattern
In 2001, almost 100 years after Joseph Asscher patented the original Asscher Cut, Edward and Joop Asscher introduced Royal Asscher Cut, the design of which is again protected by an international patent.
Royal Asscher Cut was conceptualized on top of Traditional Asscher to enhance the brilliance of polished stone. The improvisation to traditional design gave a fresh momentum to popularity of asscher diamonds in market.
Difference between Royal Asscher (Modern Asscher) and Traditional Asscher
Royal Asscher has additional pavillion facets leading to 74 facets as against 58 facets of Traditional Asscher.
Royal Asscher has wider corners than Traditional Asscher.

Traditional Asscher (left) and Royal (modern) Asscher (right)

Difference between Asscher and Emerald-shaped diamond

Asscher diamond has smaller table and larger facets as compared to Emerald-shaped diamond. But, the facets arrangement of modern asscher diamond is similar to square emerald cut.
As viewed from top, modern asscher resembles a regular octagon due to its deeper truncated corners (as against emerald diamond).
Typical characteristics of Modern Asscher diamond
High Crown
Broad Step Facets
Deep Pavilion
Square Culet
Deep Truncated Corners
Concentric octagons when looked down through the table
This contributes to enhanced refraction and reflection of light, thus imparting it more brilliance and fire as compared to other step cut diamonds.
Length to Width Ratio

Depending on the shape of original stone, there can be variation in length to width ratio of asscher diamond. You must check the length to width ratio of the stone while buying Asscher cut diamond. The classic Asscher stone has length to width ratio of 1.00.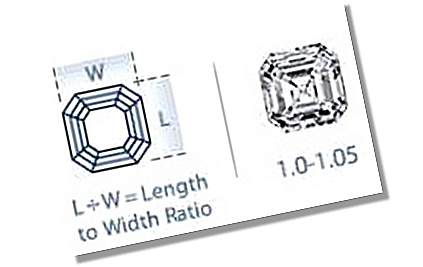 Asscher Diamond - Length to Width Ratio

Difference between Asscher, Emerald and Princess shapes

I have found quite a number people who don't know the exact difference between Asscher, Emerald and Princess shape diamonds. Below points should help in clearing the air of confusion.
Asscher Shape: Asscher diamonds has square shape with deep-truncated corners.
Emerald Shape: Emerald diamonds have rectangular (or square) shape with slight-truncated corners. Read Emerald Shaped Diamond for more details.
Princess Shape: Princess diamond has square shape with sharp edges and corners (without any truncation). Read Princess Shaped Diamond for more details.
I will suggest, while choosing an asscher cut engagement ring, lot of emphasis should be given on clarity of stone. This is because, due to rectilinear faceting pattern of asscher stone, even the slightest of imperfection and flaw is easily visible in Asscher cut diamond.
"AsscherQueen"
In August 2014, Los Angeles based manufacturer Quadamas Inc. introduced new variation of Asscher cut - "AsscherQueen". This cut was created by CEO and designer of Quadamas, Israel "Izzy" Itzkowitz - the same person who developed princess cut diamond (second most popular cut after round brilliant) in 1980.
AsscherQueen is the combination of Asscher and princess cut, with Asscher facets (four steps) on crown and modified princess facets on pavilion. This faceting arrangement effectively doubled the number of facets on the pavilion, and enhanced the brilliance, scintillation and dispersion with additional sparkle compared to usual Asscher cut.
AsscherQueen's faceting pattern also makes it less fragile due to the cut corners, creating a more durable stone and more resistant to daily wear.

Should I buy Asscher Diamond that comes at a premium price?
Let me tell you, due to limited supply and recent increase in its demand (like any other square-shaped diamond), asscher diamond can be an expensive affair. So, be prepared to pay a 15% - 20% more if you are considering buying a Royal Asscher Diamond.
Now you may be wondering, why a person will pay more for asscher diamond even though it has less brilliance and fire than a round shaped diamond. Well, then you must experience the beauty of asscher stone by holding it in your hand. You will definitely appreciate its refinement which is characterized by a very unique cut pattern.
Asscher Diamond Settings
In step cut diamonds, refraction of light is comparatively less as compared to round shape. So, I do not prefer Bezel or Channel setting as these settings further diminish light refraction. Therefore in terms of settings, asscher cut diamond is not very versatile because its elegant looks blends well with only few settings.
Following are the common settings for asscher diamonds:
Prong Setting: 4-prong setting is the most popular setting for an asscher cut engagement ring. It provides stability to the stone and protects its corners. In this setting, diamond is elevated which allows more light to pass through it, thereby making it more sparkling.
Asscher Diamond Ring - 4 prong setting

3 Stone Ring Setting: If you love geometrical lines, then you can pair your center Asscher cut diamond with two pieces of either of baguettes, emeralds, princess or trillions. Setting step-cut side stones besides the flat sides of a step-cut center stone is a great way to show-off the center stone. You may also read about Three Stone Jewelry.
Asscher Diamond Ring - 3 stone setting

Pave Setting: This setting is also popular in asscher cut engagement ring. Small round diamonds are pave set on the band to compliment the unique shape of the center asscher cut diamond.
Asscher Diamond - Pave setting

Solitaire Setting: Due to its one-of-a-kind and exclusive shape, a solitaire asscher can shine all alone without the support of accent stones. This will save you from spending extra on embellishments on your ring.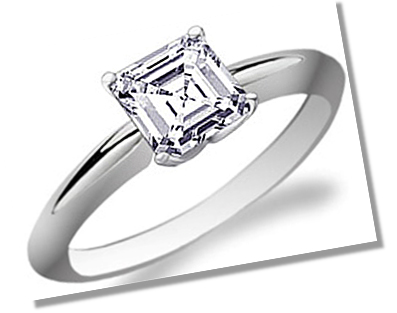 Asscher Diamond Ring - Solitaire setting

Is Asscher Diamond the right choice?
Price
As you know asscher cut diamond is available at a premium price, so if you are tight with your finances, then probably it may not fit your requirement. But, don't get disheartened because you can choose between princess and square emerald diamond which gives similar look at a much lower price.
Regal, Elegant and Exceptional
If price is not the concern and you want something elegant then think no more! Asscher will be the right choice for you. Its timeless appeal will surely reflect on your personality.
Vintage
Rings with asscher cut diamonds were quite popular during art deco period. So, if you want a traditional engagement ring then an asscher cut engagement ring can be a good choice.
The asscher diamond is the confluence of old world charm of Art Deco styling and modern faceting pattern. Vintage or vintage-inspired traditional asscher cut diamond jewelry are easily available in market. You can customize your ring in vintage style according to your taste.
Celebrities' Choice
Asscher cut gained popularity when it was featured on the television show "Sex and The City". Celebrities like Kate Hudson and Jessica Alba have been spotted sporting asscher cut engagement rings.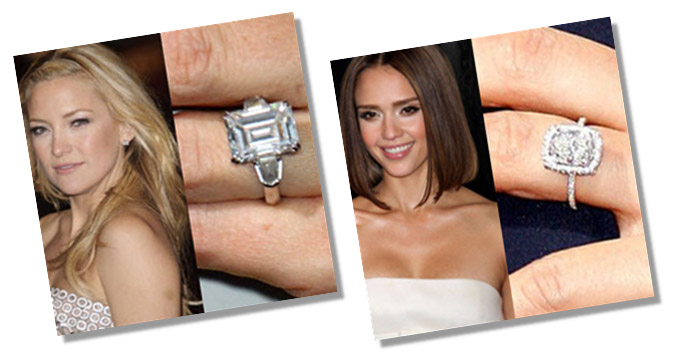 Return from Asscher Cut Diamonds to Diamond Shapes
Return from Asscher Cut Diamonds to Diamond Jewelry Homepage
I hope you'll not mind sharing this on Twitter, Facebook and with everyone else :)
Feel free to share if something is in your mind and want it to be covered on this site.

My Newsletter

Did you liked this article? Sign-up my FREE weekly newsletter and I'll send you more awesome new additions on this website along with latest jewelry happenings around the world, and download my Jewelry Design Album for FREE!