<!- google_ad_section_start ->
The Cullinan Diamond
Cullinan is the largest rough gem quality diamond ever found. It originally weighed 3106.75 carats (621.35g). It was found on January 26th, 1905 by Frederick Wells, the superintendent of the Premier mine of South Africa. This stone was named "Cullinan" after the owner of the mine Sir Thomas Cullinan.
<!- google_ad_section_end ->
The stone was later purchased by Transvaal government and presented to King Edward VII on November 9th 1907, on his 66th birthday.
Cutting of Cullinan
It was not a simple and straight forward task to cut this huge stone, as it required great knowledge and expertise. So, King Edward VII entrusted the responsibility of cutting this stone to Royal Asscher Diamond Company of Amsterdam, the famous diamond cutting company. It is the same company which had earlier cut the famous Excelsior diamond.
Cullinan was studied for months before commencing the cutting process. There's an interesting fact related to its cutting. On 10th February, 1908 Mr. Asscher placed the steel cleaver's blade on the pre-decided point of the stone and struck the blade with hammer.
What happened was unbelievable! The cleaving blade broke and the stone remained intact.
This incident led to special designing of a cleaving blade for cutting this stone. Second attempt was made on the stone, and as desired, the strike split the stone into three large sections.
These sections were then studied in detail and cleaved into 105 beautiful diamonds. These consisted of 9 major diamonds, 96 small diamonds and 9.5 carats of unpolished pieces.

Cullinan Rough - 9 Pieces
The 9 finished diamonds became part of the British Regalia, the English Crown Jewels, and became the personal possession of the British Royal family. Both Cullinan l and ll are on display with other crown jewels in the Tower of London.
Facts about 9 Cullinan diamonds
Cullinan I - It is also known as the Great Star of Africa. This gem is the largest of all nine diamonds cut from the Cullinan. It is the second largest cut diamond of the world.
Cullinan I - Set in Royal Sceptre
It's a pear-shaped diamond weighing 530.20 carats (106.04g) and measuring 53 mm x 44 mm x 29 mm. It has 76 facets (including the culet and the table). It is placed in Royal Sceptre as part of crown jewels.
Cullinan ll - It is also known as the Lesser Star of Africa. This is the 4th largest cut diamond in the world.
Cullinan II
It's a cushion cut diamond weighing 317.40 carats (63.48g). This gem is mounted in center-front of the Imperial State Crown of Great Britain.
Cullinan lll - It's a pear-shaped crystal and weighs 94.40 carats (18.88g). This gem is mounted in the finial (taper-shaped ornament giving illusion of round or oval shape) of Queen Mary's crown. It can be also worn as a pendent or a brooch.
Cullinan lV - It's a square cushion-shaped diamond and weighs 63.60 carats (12.72g). The crystal is set in the band of Queen Mary's crown. It can be also worn as a pendant or a brooch.
Cullinan III (lower) and Cullinan IV (upper) in Pendent Brooch
Cullinan V - It's a heart-shaped diamond and weighs 18.5 carats (3.7g). It was set in a brooch of Queen Mary. But later on, in 1937 it was set as Koh-I-Noor's replacement in Queen Elizabeth's (queen mother) new crown.
Cullinan Vl - It's an 11.50 carats marquise-shaped diamond. It is set as a drop in a necklace of diamond and emerald.
Cullinan Vll - It's an 8.80 carats marquise cut stone mounted as a pendent drop in a small all diamond brooch.
Cullinan Vlll - It's a 6.80 carats cushion cut diamond set in the center of same brooch where Cullinan VII is set.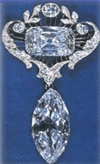 Cullinan VII (lower) and Cullinan VIII (upper) in Pendent
Cullinan lX - It's a 4.39 carats pear-shaped stone set in a ring.
Return from Cullinan to Famous Diamonds page
Return from Cullinan to Diamond Jewelry Homepage
I hope you'll not mind sharing this on Twitter, Facebook and with everyone else :)
Feel free to share if something is in your mind and want it to be covered on this site.

My Newsletter

Did you liked this article? Sign-up my FREE weekly newsletter and I'll send you more awesome new additions on this website along with latest jewelry happenings around the world, and download my Jewelry Design Album for FREE!