<!- google_ad_section_start ->
Antique Diamond Earrings - What are the different styles?

Antique Diamond Earrings - Spruce up your style quotient with air of antiquity!
Earrings are the most noticed piece of jewelry and have the potential to instantly dazzle up the personality of wearer. Being hassle-free and having ability to blend equally with formal as well as dressy outfits, ear jewels have become the first choice of women with active lifestyle.
<!- google_ad_section_end ->
Be it work, or casual outing, or night out, it will not be an understatement to say, earrings give the finishing touch to the overall look.

And when it comes to period jewelry, antique earrings are definitely more than appealing capable of adding extra dose of charisma with spell of style and sophistication. In this contemporary world where taste of buyers is constantly changing, there are enough buffs with penchant for old world artifacts - especially jewelry.
Different Types
You may find numerous options to choose from antique earrings, like - shape of diamond to style and size of earrings to choice of metal. There are endless possibilities from lightweight and comfortable daily-wears to glamorous and eye-catching ones. Broadly speaking, antique diamond earrings can be classified under following sub-categories:
Antique Stud Diamond Earrings
Stud earrings are the most classic and elegant of all earrings styles and suit all face-types at all occasions. Simply said, a pair of antique stud diamond earrings can just make you look so lady-like and beautiful and accentuate your personality.
| | | |
| --- | --- | --- |
| | Floral design ear-clips (year 1880 AD) with cushion shaped mixed-cut rubies weighing approximately 3.12 and 2.58 carats respectively. Beauty of these earrings lies in triple border of step old-cut diamond-set petals, mounted in silver and gold. | |
Also have a look at these simple and classy solitaire antique studs.
Antique Solitaire Studs

Antique Hoop Diamond Earrings
Hoop earrings come in circular as well as semi-circular shapes. You can pick from antique hoop diamond earrings that come in variety of styles from simpler to bolder versions. Make sure to choose the one that suits your personality and that you can carry with confidence.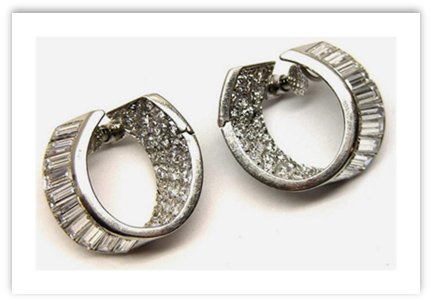 | | | |
| --- | --- | --- |
| | Made in France in 1935, styling of these antique hoop diamond earrings is completely unique. Designed like curled strips, its front-side is decorated with channel-set baguettes and the inner-back with pave-set round brilliants. | |
Antique Diamond Chandelier/Dangle Earrings
Chandelier earrings are the most trendy member of earrings family, and antique diamond chandelier earrings are more than sufficient to complete your look for the evening without the need to put on any other piece of jewelry.
Antique Chandelier Earrings

It looks absolutely magical when diamonds in chandeliers shimmer with head and body movement. For a formal occasion you can go for something sleeker, while more ornate ones suit better with ethnic or dressy gowns.
Olden Days
Diamond earrings from Edwardian, Victorian, Art Deco and other bygone eras are undoubtedly in vogue with admirers of heirloom pieces not hesitant to stroll down the memory lane. However, if you ask my personal favorite then it has to be antique Victorian diamond earrings because of their fine and detailed craftsmanship.
Victorian, Art Deco and Edwardian earring (from left to right)

In mood to splurge!
Keeping in mind the taste of modern buyers with liking for vintage craft, major luxury brands and jewelers offer designer antique diamond earrings too. Look at these antique diamond earrings from Cartier, Tiffany and Van Cleef & Arpels - a sheer delight to eyes!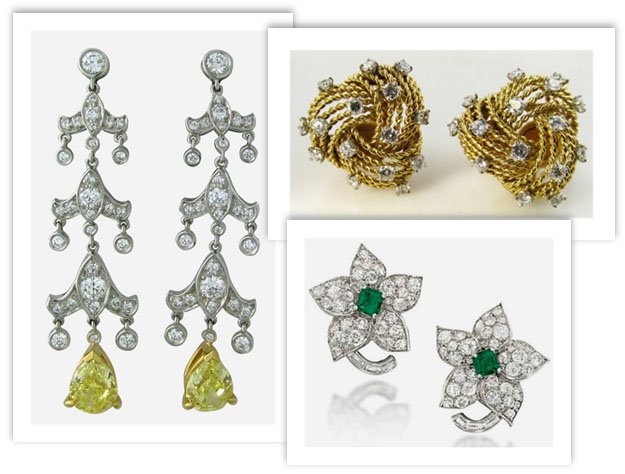 Tiffany (left), Cartier (right-top) and Van Cleef & Arpels (right-bottom)

Having said that, these luxurious brands come at premium price attached with them. So, always keep this in mind before comparing price of branded and non-branded pieces with same specification. You will always find former at a higher price spectrum.
Things to Remember
As a buyer, always keep following points in mind while buying antique diamond earrings:
Independent Appraisal
World of antiques is flooded with fakes and duplicates, be it jewelry or any collectibles. In the name of antiques, sellers often pass-on any old-looking jewelry, and unfortunately buyers fall in trap. So, in order to make sure you are buying authentic antique earrings, always get it appraised by an independent appraiser to know its true value.

A dear friend of mine bought an expensive pair of earrings thinking it to be antique. However, sadly for her there was nothing antique about it except it had rose cut diamonds. Note that, just having rose cut diamonds doesn't certify a jewelry as antique. This is because it's not difficult to set rose cut stones in modern crafted jewelry and sell it as antique.
Written Proof

Ask the jeweler for proper supporting documents indicating the year of manufacture along with specifications of metal and stones.
In Good Condition

As a jewelry piece goes old, its setting also undergoes lot of wear and tear with passage of time. So, if antique diamond earrings is in your mind, then make sure it's in healthy condition with diamonds and other stones securely set.
Avoid Defective Piece

Don't buy antique diamond earrings if even one of the diamonds is missing. Never get tempted even if it is selling at discount. This is because it may turn out quite tedious and expensive to find the matching replacement. However, it may be different thing if you just want it to beautify your antique collection.
So, if you admire antiques and are on a hunting spree for appropriate earrings, then antique earrings can surely grace your jewelry box. Go according to your fashion and lifestyle, and choose the best that fits your need. Lastly, don't forget to verify the authenticity of your chosen earrings.
Return from Antique Diamond Earrings to Earrings page
Return from Antique Diamond Earrings to Diamond Jewelry Homepage
I hope you'll not mind sharing this on Twitter, Facebook and with everyone else :)
Feel free to share if something is in your mind and want it to be covered on this site.

My Newsletter

Did you liked this article? Sign-up my FREE weekly newsletter and I'll send you more awesome new additions on this website along with latest jewelry happenings around the world, and download my Jewelry Design Album for FREE!