<!- google_ad_section_start ->
Luxurious Engagement Ring Brands Collections
There are engagement rings and then there are engagement rings from famous and luxury brands, like – Harry Winston, Tiffany, Cartier, De Beers, Tacori, Chanel, Bulgari and Van Cleef & Arpels.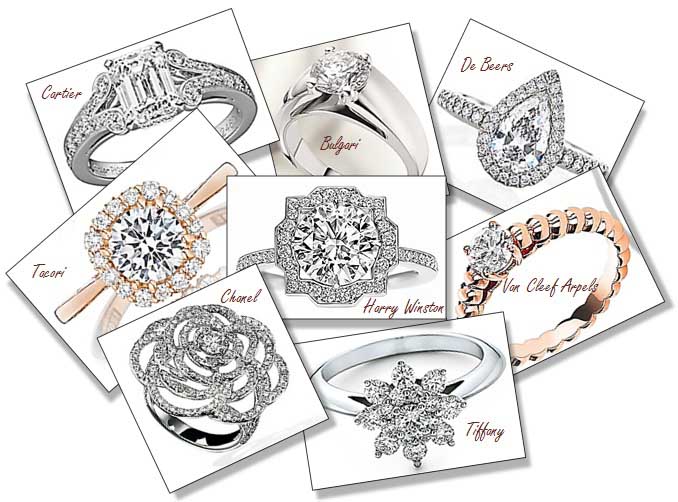 <!- google_ad_section_end ->
Proposing with an engagement ring from any of these iconic and luxurious brands showcases to what extent you can go for your love. It's said, it takes courage for a guy to propose and its takes courage for a girl to say no to a Tiffany or a Harry Winston engagement ring!
These expensive engagement rings and jewelry brands are known for their strict quality control, innovation and adorning the cream-de-la-cream world over. In this article, I have listed down few of the popular engagement ring collections of these brands with their key features.
Harry Winston
It's the jewelry brand, girls grow-up dreaming about. Harry Winston set only those diamonds that are purchased from them and that have passed their strict quality assurance criteria. This ensures that every aspect of jewelry - carrying Harry Winston name - is finest. You may also like to read more about Harry Winston engagement rings.

Harry Winston has launched many engagement ring collections over the period of time, but its micro-pave engagement rings are just legendary.
Their Attraction collection has engagement rings featuring round brilliant diamond in unique setting. As its name suggests, this attracts you towards itself so that you can appreciate its elegance.
Its 3-stone engagement ring collection is a classic. Trends will come and go but this time-honored 3-stone engagement ring will always stay in demand.
The Belle collection is the Harry Winston's trend alert answer to its classic collection. It has a little bit of contemporary feel to it, with beautiful micro pave set diamonds surrounding the main center solitaire.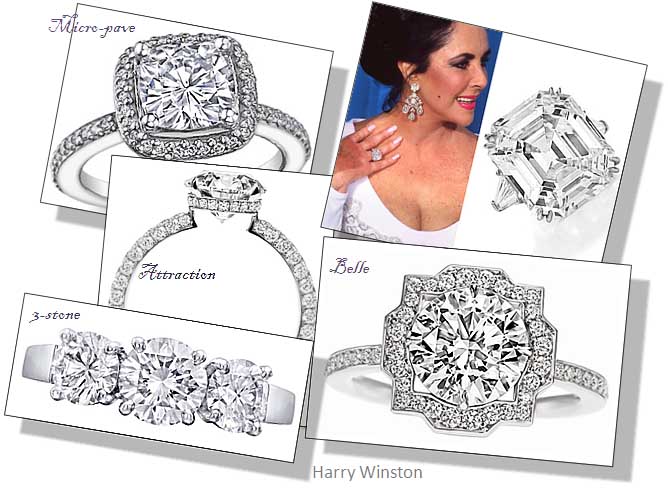 Tiffany & Co
A Tiffany engagement ring is the blend of love and wealth. Tell me who would not be all smiles by seeing a blue Tiffany box! Tiffany is truly the innovator in their field with their landmark innovations, like Tiffany Setting and Lucida Cut to name the few. In my opinion, all Tiffany settings create an illusion of bigger diamond.
The classic 6-prong Tiffany engagement ring – raised above the band to expose the diamond to more light – is the most brilliant engagement ring setting ever. After so many years, it's still the most preferred engagement ring setting. No wonder it's called the "Ring of rings".
Tiffany's designs inspire other brands to do something on parallel lines, be it Tiffany's Ribbon

Ring

or The Delicate Tiffany Flower engagement ring. Tiffany's ribbon setting blends with any wedding band, and enhances the beauty of diamond.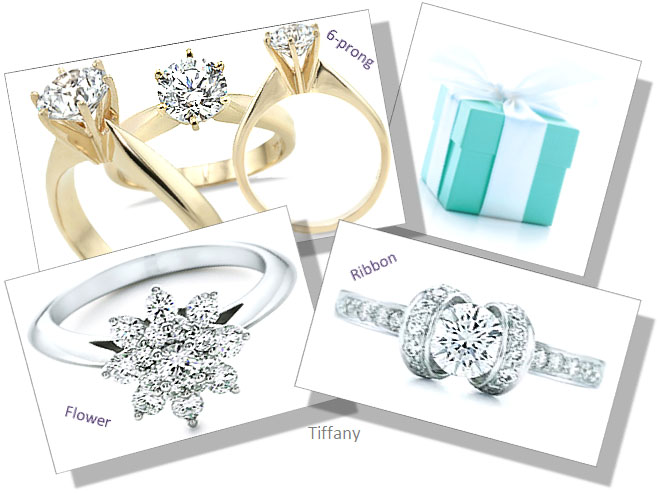 Cartier
Cartier has long been associated with many royal families and celebrities, and hence popularly called "Jeweler to Kings, King of Jewelers"
They are known for creating stunning, stylish, luxurious and totally unique engagement rings. You get a wide variety to choose, from classic to trendy engagement rings. Not just for women, but Cartier offers engagement and wedding bands for men as well. You may read more about Cartier engagement rings.

Over the years, Cartier has created many popular engagement ring collections. The elegant Solitaire 1895, a Cartier classic since 1895 is still very popular.
In Cartier Destinee solitaire collection, center diamond is surrounded by micro-pave brilliant-cut diamonds, highlighting the center diamond.
Cartier D'amour solitaire collection has center solitaire in bezel setting surrounded by small round diamonds in pave setting.
Ballerine solitaire collection furnishes a delicate, feminine backdrop to the diamond.
"You are Mine" solitaire collection celebrates the promise of love with a heart-shaped solitaire diamond.


De Beers
The statement 'eras before and after De Beers engagement ring' sums up the significance of De Beers engagement rings. De Beers has a great hold over diamond and jewelry market. They are very particular about their advertising campaigns, and promote their engagement ring and right hand diamond ring collections with same vigor.
De Beers' collection caters to everyone – from engagement ring for a girl who is ready for commitment, to right hand ring for one who chooses to stay single.
Aura Solitaire engagement ring - having center solitaire embraced by a sparkling micro-pave halo setting – looks elegant and trendy.
Symbolic of something new and fresh The De Beers Azulea Band features six round brilliant diamonds in a half-bezel setting.
Annabel Solitaire engagement ring looks elegant in open setting. This platinum and diamond pave mount is set with a round brilliant solitaire.


Tacori
This brand has something for everyone with its flexible price range. Tacori engagement rings combine classic, handcrafted quality with modern glamor and sophistication. Tacori diamond engagement rings feature a range of styles from intricately detailed to elegantly refined, playing beautifully with different diamond shapes and metals.
The Pretty in Pink collection has Tacori designs in warm rose gold that looks lovely with this floral inspired ring.
Dantella collection highlights a delicate halo, surrounding the elegant Tacori crescent at the top along with the pave setting studded band.
With the twist and turns of ribbon recreated, beauty of The Ribbon collection lies in the band.
Blooming Beauties collection has the center diamond surrounded by a unique halo-like pattern (Tacori named it "bloom"). It appears broad and has more of metal, while keeping its charm intact.
In RoyalT collection, detailing is intricate and the center stone is so huge, that it can make any girl feel Royal.
With surrounding halo and just solitaire look with studded band, the Petite Crescent collection offers the spirit of the elegant Tacori design.

Van Cleef & Arpels
In the year 1896, with the marriage of Alfred Van Cleef and Estelle Arpels, this jewelry House was launched. So, no one understands romance better than this brand, as their foundation is based on attachment and relationship. They don't just create jewelry, they build art pieces. You will never get enough of wearing their engagement rings.
A symphony of harmony and balance, their Icône collection symbolizes the opening chapters of a perfect love story. The center stone rests in a nest of round diamonds, allowing better reflection of light.
With its asymmetrical composition and buttonhole motif, Couture is a graceful and classic engagement ring by Van Cleef & Arpels.
Refined pure lines of the Perlée collection are an ode to contemporary elegance.
Estelle collection takes its name from Estelle Arpels, and symbolizes the love story which gave birth to the Maison. In a beaded platinum setting, the engagement ring looks elegant and beautiful.
Tête-à-tête (meaning "face-to-face" in English), with its twin buckle motif, symbolizes a romantic moment between two lovers. In a platinum pave setting, this engagement ring looks very meaningful.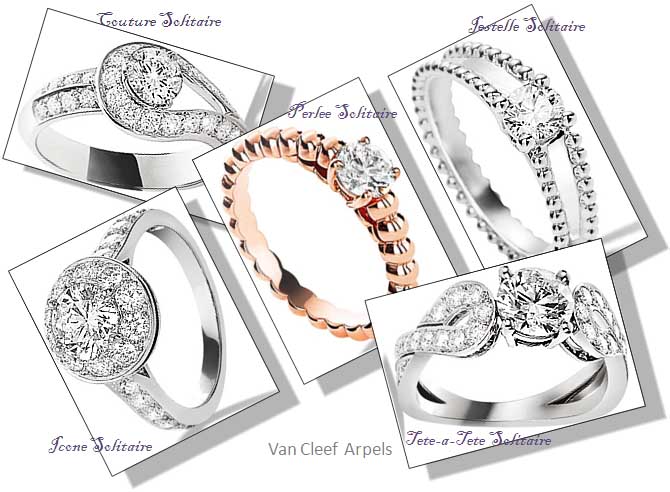 Bulgari
Founded in 1884, Bulgari has always been in limelight due to its associations with celebrities and famous personalities. Its iconic Bulgari Emerald Suite Ring – commonly known as "Taylor Burton Fiancée ring" – was famously given to Elizabeth Taylor in 1962 by Richard Burton. This ring was later sold at an auction for $3,330,500.
With their signature style designs, Bulgari engagement rings represent as unique, bold and yet very feminine semblance.
Dedicata-a-Venezia 1503 collection is inspired by romance, and dedicated to Venice. 1503 was the year when the first engagement ring was exchanged in Venice. This collection has beautiful platinum and diamond engagement rings with and without pave set diamonds.
The Corona collection is influenced by the crown and the flower – symbols of glory and celebration. This unique engagement ring setting reminds of petals of flower.
In Griffe collection – with a touch of class and elegance – its setting enhances the beauty of solitaire diamond.
Marry Me is a bold collection with a sophisticated and modern sensibility. The unique shape of the ring makes the solitaire visible from every angle.

Chanel
Gabrielle Chanel launched "Chanel Fine Jewelry" in France in 1932. This brand creates trendy yet classic engagement rings for women who want to stand out in crowd. Chanel's engagement rings combine beautifully with modern taste and are truly elegant.
Comète collection – the tribute to shooting stars – looks beautiful with its channel set diamonds and round center stone.
Their Camelia collection is in honor of the camellia flower which is the symbol of the State of Alabama in the United States.
The Circles of Love is part of the 1932 collection. Small melee diamonds swirl around a fancy cut center stone to create a beautiful circle.
Flower Ribbon engagement ring is also the part of their 1932 collection. Did you notice that rings resemble the flower ribbons that are usually set atop a gift box? A beautifully centered round cut diamond is set on petals of flower set in pave setting.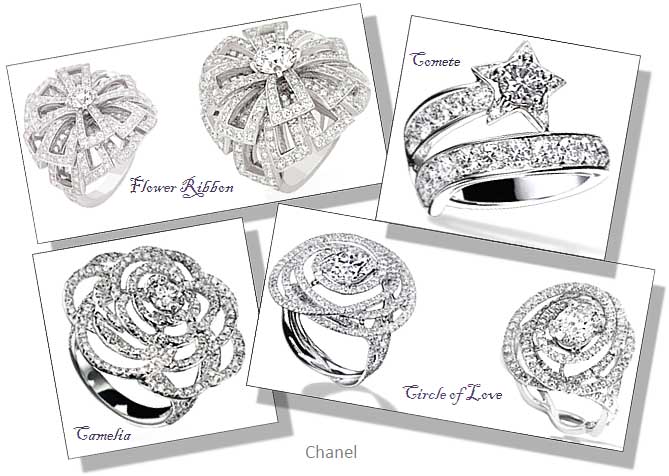 Return to Diamond Jewelry Homepage
I hope you'll not mind sharing this on Twitter, Facebook and with everyone else :)
Feel free to share if something is in your mind and want it to be covered on this site.

My Newsletter

Did you liked this article? Sign-up my FREE weekly newsletter and I'll send you more awesome new additions on this website along with latest jewelry happenings around the world, and download my Jewelry Design Album for FREE!