<!- google_ad_section_start ->
Expensive Engagement Rings - The 5 Most Extravagant
Expensive Engagement Rings - Symbol of Prestige, NOT just Love!
An engagement ring is undoubtedly the symbol of love, something that epitomizes the couple's relationship. But then who says it's just the emotional value that an engagement ring can be associated with. It's also the dollar value of engagement ring which matters for many.

<!- google_ad_section_end ->
Celebrities and rich personalities with deep pockets have time and again proven that when it comes to engagement rings, money is not the constraint and craziness has no limit.
Every celebrity wants his/her engagement ring to outclass others. People in this bracket simply don't want to compromise on grabbing media attention. It's not just the testimony of love, for them it's also about making big and bold statement. You may also read how to replicate celebrity engagement rings.

So, I thought why not list down the 5 most expensive engagement rings that are not just the testament of love, but also the symbol of money power that famous and rich figures possess. Notwithstanding, these are some of the really splendid and mesmerizing pieces that no one would like to take their eyes-off.
OK, here are the "Big Fives"...
No. 5 - $4.06 Million Grace Kelly's 10.47ct Cartier Diamond Ring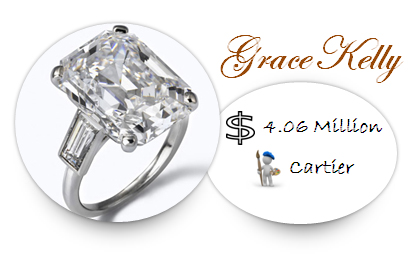 This marvelous dazzling emerald-cut diamond piece - mounted on platinum with comparably small baguette-cut side diamonds - was presented by Prince Rainer III of Monaco to the actress as a mark of their engagement celebration in 1956. It's said that she loved this Cartier creation so much that it never left her finger - even while shooting. Why not! who will want to take-off such a lovely and exquisite piece with such a price tag.
However, earlier prince proposed Kelly with Cartier eternity band with diamonds and rubies. But appearing too small compared to what famous Hollywood stars donned those days, he quickly ordered this 10.47ct timeless beauty.
No. 4 - $4.7 Million Paris Hilton's 24ct Diamond Ring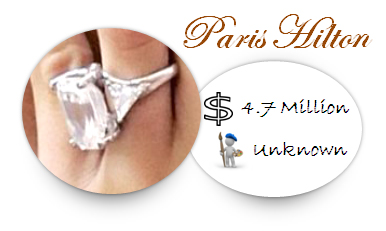 This 24 carat canary diamond engagement ring was presented to her - heiress to a multi-billion dollar fortune - by Greek billionaire Paris Latsis on their engagement in 2005. 24ct was chosen because Hilton's age was 24 at that time. However, the ring was so heavy that it was later replaced by a Cartier-designed band.
Nevertheless, their relationship lasted no more than 4 months after engagement, leading to break-up. And short after their separation, this engagement ring was auctioned to raise funds for victims of hurricane Katrina.
No. 3 - $5 Million Beyonce's 18ct Lorraine Schwartz Diamond Ring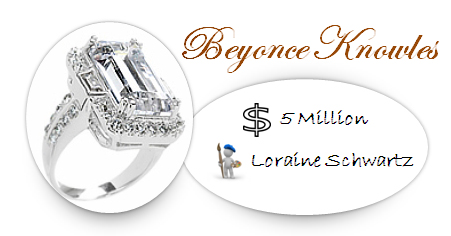 This 18 carat sparkling beauty was gifted to Beyonce by superstar rapper Jay Z in a private ceremony in 2008. At this price tag, this emerald-cut platinum diamond engagement ring is undoubtedly the most expensive "celebrity" engagement ring till date. The emerald-cut flawless and colorless diamond is said to be one of the finest white diamond.
Although, this Lorraine Schwartz ring reduced Jay's bank balance by $5 million, but then who would not have wanted to splurge such a big amount to get the hand of hot favorite and superstar like Beyonce!
No. 2 - $8.8 Million Elizabeth Taylor's 33.19ct Diamond Ring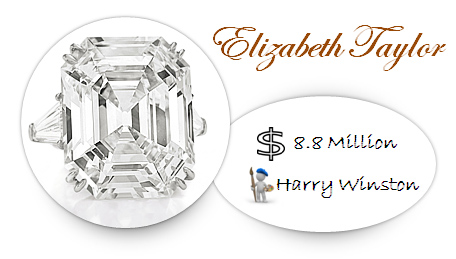 This was the another bright addition - presented by her 5th husband Richard Burton - to the huge and valuable jewelry collection of Liz, ranging from historical to contemporary pieces. This fabulous and one of the favorite jewels of Taylor was asscher cut, D color and potentially internally flawless (meaning clarity can be improved by slight re-cutting) as reported by GIA in 2011. GIA also stated that the diamond was of Type IIa - i.e. chemically most pure and structurally perfect class of diamond.
The platinum-mounted ring was originally purchased by Burton for $305,000 at Sotheby's New York auction in 1968. This was the highest price paid for a diamond ring at any auction at that time. Later on after the death of Elizabeth, in 2011 this incredible ring was auctioned at Christie's for $8.8 million.
No. 1 - $9.5 Million 5.3ct Bulgari Blue Diamond "Trombino" Ring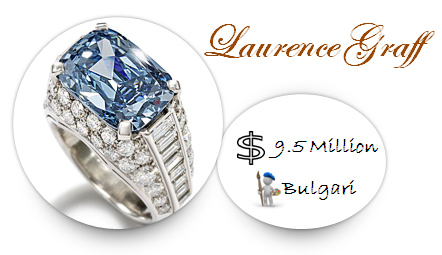 This extremely rare 5.3ct cushion-shaped fancy deep-blue diamond set in "Trombino" ring fetched $9.5 million at Bonham's Fine Jewelry sale in London in 2013. This made this ring - created by famous Italian jeweler Bulgari in 1965 - the most expensive engagement ring till date. The sensational piece - horizontally set with surround of pave-set brilliant-cut diamonds and side baguette-cut diamonds - was purchased by Laurence Graff of Graff Diamonds.
Return from Expensive Engagement Rings to Luxurious Engagement Ring Brands page
Return from Expensive Engagement Rings to Diamond Jewelry Homepage
I hope you'll not mind sharing this on Twitter, Facebook and with everyone else :)
Feel free to share if something is in your mind and want it to be covered on this site.

My Newsletter

Did you liked this article? Sign-up my FREE weekly newsletter and I'll send you more awesome new additions on this website along with latest jewelry happenings around the world, and download my Jewelry Design Album for FREE!