<!- google_ad_section_start ->
How to Replicate Celebrity Engagement Rings?

Celebrity Engagement Rings - Who wouldn't want to have an inexpensive replica of a celebrity ring!

Celebrities have always been the jewelry trendsetters and whatever they wear instantly becomes a hit - especially engagement rings.
<!- google_ad_section_end ->
Every celebrity wants his/her engagement ring to outclass others. It should be such that it grabs instant media attention.
Big brands, big baubles and big price tags are synonymous with celebrities' engagement rings. So as a commoner, will you just look and gasp at these wonderful engagement rings? Certainly not!
Here, I will tell you how you can have a celebrity-like engagement ring at a pocket-friendly price. Don't think I am going to tell you about jewelers where you can get cheap diamond engagement rings.
In fact, below I will share with you some tricks, using which you can get a celebrity look-alike engagement ring at quite an affordable price.
But before proceeding further, let me tell that this page is strictly for men who are intending to propose their love. So, ladies don't read this page and spoil your surprise!

The Rock
The most important element that sky-rocket an engagement ring's value is its center stone. The center-piece can be a white diamond, a colored diamond or a gemstone.
Colored diamond engagement rings and gemstone engagement rings are very popular as celebrity engagement rings, as these elevate the glamor quotient and exclusivity of their engagement ring.
Heidi Klum has a canary (yellow) diamond while Halle Berry has a beautiful emerald engagement ring that looks simply stunning. Nicole Richie has an emerald-cut pink sapphire that looks really unique and beautiful.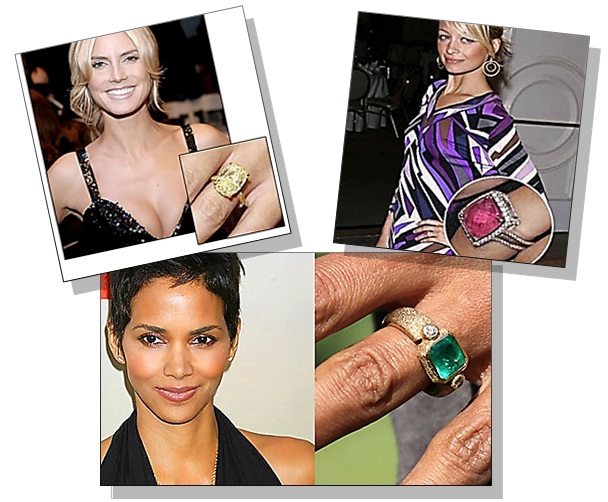 However, who says if it's yellow, green or pink, then it has to be above-mentioned expensive stones. You always have their inexpensive alternatives like, garnet (yellow and pink shades), tourmaline (green), citrine (yellow).
So, going for an alternative inexpensive gemstone will allow you to buy a much cheaper engagement ring with looks similar to your choice of a celebrity ring.
The Shape
Eva Longoria, Beyonce and Kim Kardashian - all these celebrities have emerald cut engagement rings. Simple reason for this fascination for step cut engagement ring is that, it has an elegant and bold look.

Also, it has always been the trend that a celebrity innovates a shape; and exclusivity of that diamond shape catches our attention. Take the example of Brad Pitt, he collaborated with jeweler and new tabular shape was developed. But, why pay for the exclusive shapes and cuts, let it be celebrities' cup of tea.

Engagement Ring of Angelina Jolie

The trick is, if you want to replicate step cut (like - asscher and emerald cut) aspect of celebrity engagement rings, then opt for a princess cut diamond engagement ring. Princess cut diamond incorporates mixed cut pattern and looks similar to asscher cut and emerald cut, and comes at a much lesser price.
Size of the Stone
Celebrities don't have to bother about spending millions on their engagement rings. On the contrary, we have to think before spending our hard earned dollar. So, why not spend wisely!
For us, a 1 carat diamond engagement ring comes with a big price, while celebrities don't think below 10 carats. How unfair! Both, Beyonce and Kate Middleton have 18 carat rings while Kim Kardashian's engagement ring is believed to be a 20.5 carat diamond.
If it's the size of rock that your beloved fancies most, don't mind considering a diamond alternative engagement ring. You can very well choose a cz engagement ring or a moissanite engagement ring. This will enable you to purchase a bigger-sized ring, but at a fraction of price.
However, don't hesitate to disclose the fact that you are proposing with CZ or moissanite engagement ring. Don't hide anything, after all trust is the strongest foundation of any relationship.
Don't run after Brands
You will unnecessarily end up paying huge amount. Instead, you can always get a celebrity look-a-like engagement ring made by a local jeweler at just the fraction of charge. You will have to just explain the jeweler your detailed requirement and he will make it for you at a much lesser price.
Finally, the point is, you don't have to follow what others are doing. Put your thinking cap and use your knowledge and let your creative juices flowing!
Haven't you noticed how media highlights that a particular celebrity has taken so much effort on designing his/her engagement ring! Women go ga-ga over how such a busy a star has added personal touch for his engagement ring.

So, just recall which of the celebrity engagement rings had caught your loves fantasy, let your creativity take the front seat while getting its inexpensive replica created, and surprise your love by showing how much effort you have put in finalizing her engagement ring. I am sure, she will surely be overwhelmed by this gesture!

Return to How to Replicate Celebrity Engagement Rings to Engagement Ring Articles page
Return to How to Replicate Celebrity Engagement Rings to Diamond Jewelry Homepage
I hope you'll not mind sharing this on Twitter, Facebook and with everyone else :)
Feel free to share if something is in your mind and want it to be covered on this site.

My Newsletter

Did you liked this article? Sign-up my FREE weekly newsletter and I'll send you more awesome new additions on this website along with latest jewelry happenings around the world, and download my Jewelry Design Album for FREE!