<!- google_ad_section_start ->
Princess Cut Engagement Rings

Wow! Princess cut engagement rings - my personal favorite. I can talk on and on about it, but in this article I will just focus on some key features that will help you in choosing the best princess engagement ring for your partner.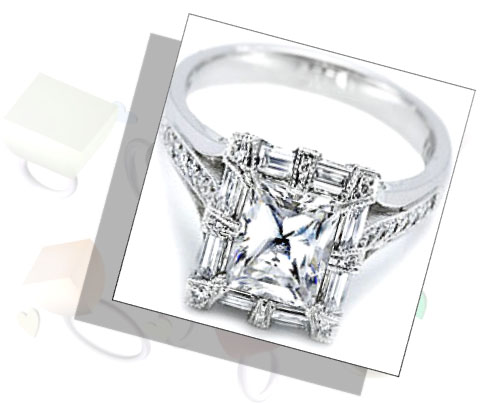 <!- google_ad_section_end ->
Although, round shaped diamond is the most popular and traditionally favorite diamond shape for diamond engagement rings, but princess shaped diamond - relatively a new shape developed in 1980 - is also not far behind either, and comes second in the popularity list.
You may find princess diamond a good choice if you are in search of something neither very traditional (like - round) nor too fancy and delicate (like - marquise).
In princess cut diamond, Mixed Cut style of cutting is incorporated, with Brilliant facets arrangement on crown and Step facets arrangement towards pavilion.
With symmetrical facets arrangement, princess stone can give a tough competition to similar quality round in terms of brilliance and sparkle.

Inclusions are less visible
One of the high points of this facets arrangement is, it easily hides the inclusions and don't make them very obvious like in emerald cut.
This can give you enough freedom to concentrate on cut, carat and color of stone, rather than worrying about its clarity as well.
So, you can be a bit liberal on clarity while choosing a princess diamond engagement ring as compared to other fancy shaped engagement rings.

Less expensive than round shaped diamond

Another plus point is, you can have a princess engagement ring at a much lesser price than a round diamond engagement ring or heart shaped engagement ring, with similar quality center stone.

If you are wondering how is this possible then here is how. During cutting process of princess shaped diamond, there is less wastage of rough diamond. Also, the labor cost of princess stone is comparatively less than cutting of round shape. Thus, the final total cost of princess stone engagement ring is much less than round diamond engagement ring.
Flexible and Versatile

Princess shape is quite flexible and versatile even though it has sharp and fragile edges. If set in appropriate setting, a princess cut diamond engagement ring can be worn on a daily basis. After all engagement rings are meant for daily wearing. Isn't it!

Princess shape blends seamlessly with various styles and can be set into different jewelry settings. Princess cut engagement rings look very elegant and graceful when set in V-shaped prong settings or side stone settings. Side by side continuous setting of princess diamond with no gaps in channel setting is most popular setting in both his and her engagement ring.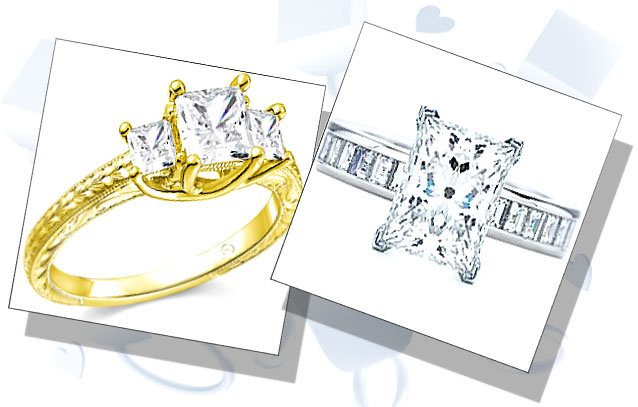 Prong set side stones (left) and Channel set side stones (right)

You may also try 3 stone diamond ring – with three princess stones set together – or you can choose trillions on both side of princess diamond. This style of setting symbolizes "past, present and future" and is the best way of displaying your love. Also, the two side stones add to the brilliance of the center stone while highlighting its beauty and grace.
So, Princess cut engagement ring can be a strong contender if you are considering diamond solitaire engagement ring. It's trendy and modern with brilliance matching that of round brilliant cut diamond.
However, never forget to choose your ring setting according to your daily lifestyle and your overall personality. If you lead an active life then consider channel setting, but if beauty is the only concern then nothing beats prong set Princess cut engagement ring.
Return from Princess Cut Engagement Rings to Fancy Shaped Diamond Engagement Rings
Return from Princess Cut Engagement Rings to Diamond Jewelry Homepage
I hope you'll not mind sharing this on Twitter, Facebook and with everyone else :)
Feel free to share if something is in your mind and want it to be covered on this site.

My Newsletter

Did you liked this article? Sign-up my FREE weekly newsletter and I'll send you more awesome new additions on this website along with latest jewelry happenings around the world, and download my Jewelry Design Album for FREE!