<!- google_ad_section_start ->
3 Stone Diamond Rings - Apt for any Occasion

As the name suggests, 3 stone diamond rings have 3 solitaire diamonds as their high point. These rings are characterized by diamonds and diamonds-gemstones combination. However, do you know it's not just a random selection of number "3". There is a definite and special meaning behind it.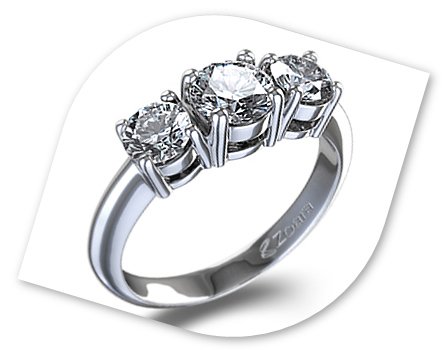 <!- google_ad_section_end ->
Meaning of 3 Stone Rings
A 3 stone ring - also called Trilogy Ring or Trinity Ring - symbolizes PAST, PRESENT and FUTURE or NOW, FOREVER and ALWAYS or ACCEPTANCE, UNDERSTANDING and APPRECIATION. It is the reflection of expression - "we have spent our past together, devoting our present as one, and will be united and together in future as well".
Don't you feel there couldn't be a better way of expressing love than a desire to spend past, present and future together! This is simply the foundation stone for any strong relationship.
When proposing with a 3 stone diamond engagement ring one may not need to say much. Its sheer emotional meaning will make the intentions apparent.
However, let me tell you, trinity rings can be used in various ways, like - engagement rings, wedding rings, diamond promise rings or just as a diamond ring for any occasion.
Thankfully, there are no fixed rules for gifting a 3 stone ring, and it is not bound to any particular special moment. You have full freedom to decide and how you wish to convey your feelings.
If not sure of engagement, use 3 stone ring as a promise ring. Your lady will understand your motive is clear but you have not yet made up your mind. 3 stone anniversary diamond rings are also very popular. Again, its pure essence makes it a perfect anniversary gift.
Narrative doesn't end with explanation of meaning behind 3 stone rings. You can write your own tale by creating your own 3 stone ring by choosing shape, size, style and metal for your ring, making it more special.
Metal
Metals like - sterling silver, white gold and platinum have a modern flavor, while yellow and rose gold will suit if you have a taste for vintage jewelry. 3 stone antique style diamond rings look extremely romantic, be it Victorian 3 stone diamond rings or 3 stone art deco diamond rings.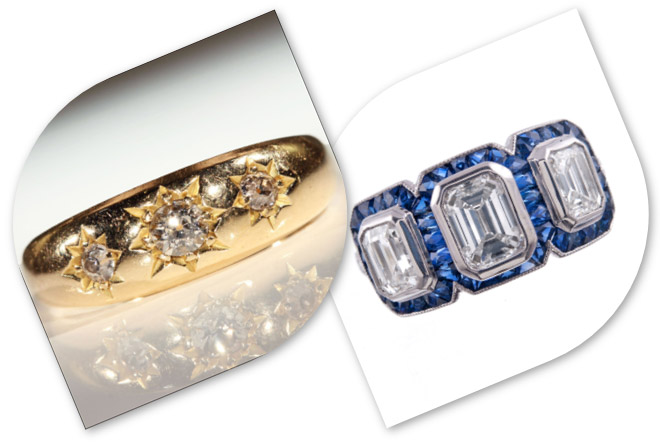 3 Stone Rings from Victorian (left) and Art Deco (right) era

Victorian rings are for admirers of soft motifs, while enthusiasts of geometrical shapes and bold contrasts can pick from art deco rings.
Size and Shape of Stones for 3 Stone Rings
With a trinity ring, there is flexibility with stone size. Like, the bigger center stone accented by two smaller diamonds (this allows further highlighting of the central diamond), or all stones of same size.
One can also go with accent diamonds of different shapes. Like, round center diamond with pear accent diamonds. People of romantic kind have a good option of 3 stone heart shaped diamond rings.
If you are fond of classic and traditional styles, then go for all 3 stones with same size and shape. Round is the most usual and all time favorite shape followed by oval and cushion. On the other hand, folks addicted of experimenting, can try modern 3 stone diamond rings with princess, marquise or emerald cut stones.
This Princess & Round 3 Stone Diamond Ladies Bridal Engagement Ring's
total carat weight is 1 ct, that includes flanking small rounds diamonds too. Diamond Color is H-I and Clarity is I1-I2 which gives ring a respectable sparkle with very few inclusions. Side diamonds give more dazzle and sparkle to the ring, making it a perfect 3 stone diamond ring.
Many people also go for 3 stone 3 carat diamond rings. Either each diamond can be of same weight, (with each diamond of 1 ct), or core diamond can be bigger (1.5 ct and remaining two diamonds of 0.75 ct each).
Play with Color
If you are not for monotonous look of white diamonds, then why not add some color! The extent of color splash has no limit, it all depends on you. By letting your creative fluids flowing, you can play with different color combinations.
Black, blue and yellow 3 stone diamond rings are quite in trend. Black diamond can act as center stone, flanked by white diamonds or vice-versa.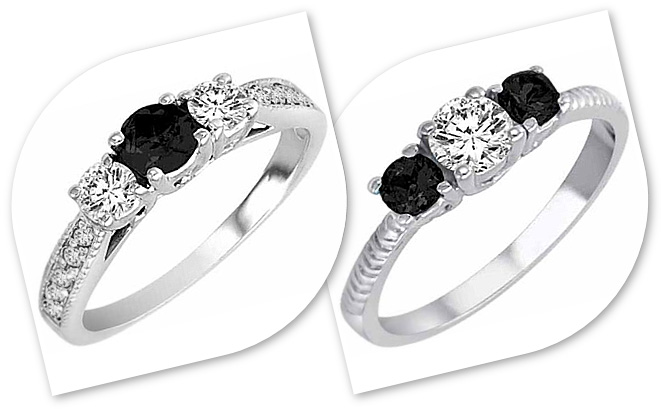 One can also blend birthstones in 3 stone rings, like - adding birthstone of the recipient to make it more meaningful. Different combo of diamond with sapphire, ruby or emerald can also be tried out.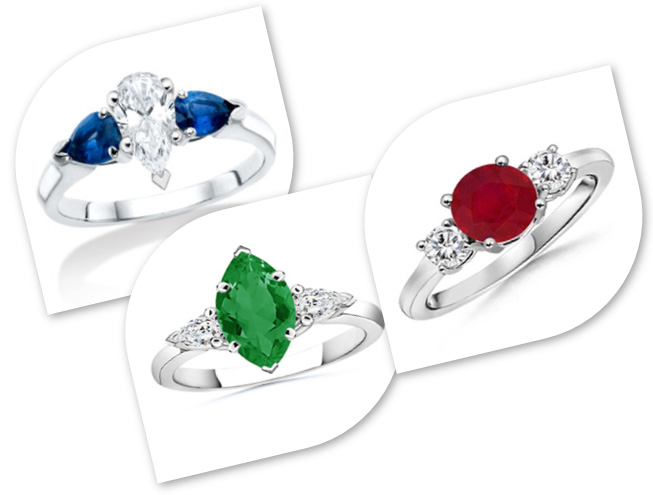 3 Stone Diamond Ring Settings
People often ask me what should be the setting for a 3 stone diamond ring. My answer is, any setting that allows maximum focus on stones, like - prong setting and bezel setting. If you are inclined towards fancy and modern look, then a 3 stone halo diamond ring or 3 stone diamond pave ring are good options. In halo setting ring, all 3 diamonds are encircled by pave set small diamonds in to get a bolder look.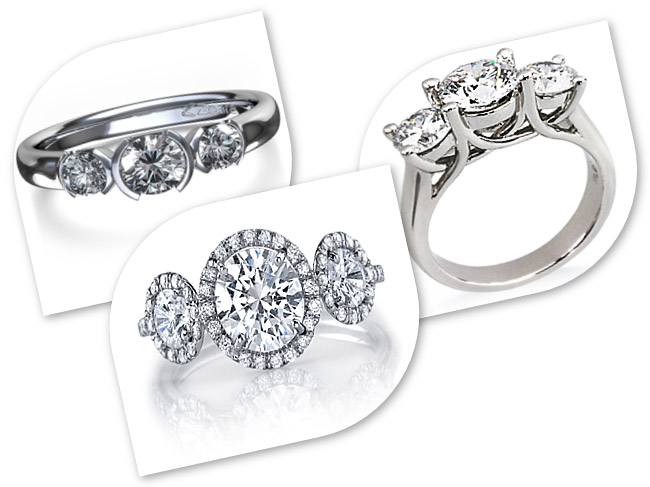 3 Stone Rings with bezel (top-left), halo (bottom) and prong (top-right) settings

If "dazzle" is the key, then you may look at 3 stone rings with diamonds on shoulders. In this style, core diamond is backed by moderate diamonds on shoulders, adding to the sparkle of the ring. However, in my opinion, side stones steal away the attention from core diamonds. So, think wisely, whether you want more dazzle at the cost of much deserved attention to three primary diamonds.
No Bias
3 stone diamond rings are worn by both males as well as females. Men's 3 stone rings have simple band style with minimum detailing, while female versions come in variety of shapes and styling. This allows liberty to use 3 stone rings as wedding ring set as well.
Check this men's 3 stone ring
from Amazon. The ring is made of tungsten carbide which is scratch-resistant and a fairly strong metal. Diamonds are set securely in bezel setting, allowing wearer to be bother-free of diamond falling or getting chipped. The styling and finish of ring is quite masculine and makes a strong impression. Overall, it is simple yet elegant, like a perfect 3 stone men's ring should be. However, just a word of caution - although tungsten carbide is scratch-free, it can break if hit hard.
As I have said earlier, 3 stone rings are not meant for only gracing romantic occasions. These rings are the statement of genuine love, so it can decorate any celebration, like - a graduation gift from parents to their children. It can also mark the occasion of new-birth in family, representing parent-child bond. A woman can even wear a 3 stone right hand diamond ring on middle finger of right-hand.
Budget in Mind
Gone are the days when lab-created diamonds were considered taboo. Instead, today blood diamonds are proscribed. So, if your financial condition is not allowing enough maneuvering space, opt for 3 stone moissanite or 3 stone CZ rings. Don't consider them as fake diamond rings. Rather, just like diamond or any other gemstones, moissanite and cubic zirconia are also minerals - although cheap.

Another option is, why not try a second-hand 3 stone diamond rings. If the ring is in good condition, it can be worth going for. However, make sure to get it appraised by a professional and trusted appraiser to know its real value and condition.
There are many online jewelers selling affordable 3 stone diamond rings with reasonable offers. You just need to do some research and keep a close eye in order to strike a good deal.
Return from 3 Stone Diamond Rings to Three Stone Jewelry page
Return from 3 Stone Diamond Rings to Diamond Jewelry Homepage
I hope you'll not mind sharing this on Twitter, Facebook and with everyone else :)
Feel free to share if something is in your mind and want it to be covered on this site.

My Newsletter

Did you liked this article? Sign-up my FREE weekly newsletter and I'll send you more awesome new additions on this website along with latest jewelry happenings around the world, and download my Jewelry Design Album for FREE!