<!- google_ad_section_start ->
Diamond Cocktail Ring

Diamond Cocktail Ring - It's the announcement of your arrival!
Cocktail rings are also termed as "statement rings" and come in both fine and costume jewelry variations. These are one of the most popular jewelry products for women, and have become a adornment essential. Ladies wear these statement rings on varying occassions like - parties, birthday celebrations, weddings and festivities.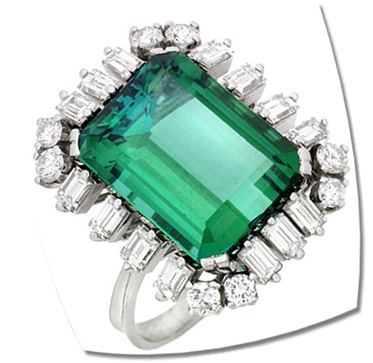 <!- google_ad_section_end ->
What is Cocktail Ring?
It is a large over-sized ring, set with gemstones, and was very popular during US prohibition at illegal cocktail parties. There was a good demand of cocktail ring style in the 1940's and 1950's, as cocktail parties used to be the popular event during those days.
Although, nowadays cocktail parties are not as prominent as olden days, yet wearing a diamond cocktail ring with huge diamonds or other large precious or semi-precious gems is still fashionable for a formal dressy occasion or any casual event.
These statement rings are generally worn by women on fourth finger (index finger) or on middle finger of the right hand. Due to this reason these rings are sometimes confused with Right Hand Diamond Rings.
Vintage jewelry (like - vintage diamond engagement rings) is undoubtedly in craze these days, and this is what makes vintage diamond cocktail ring in demand. You can easily find a dressy cocktail ring of 60's era with unique classy vintage looks. Vintage diamond cluster cocktail ring with a huge center gemstone  was a common feature in those days.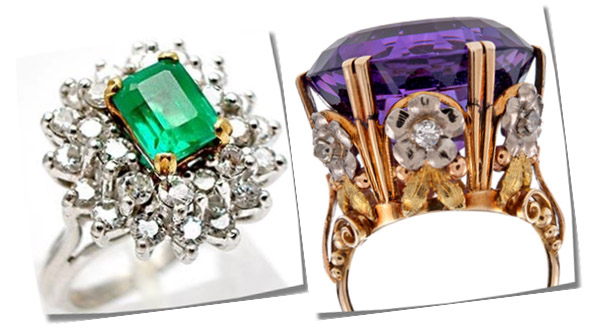 Vintage Emerald & Diamond Cluster Cocktail Ring (left) and Victorian Amethyst Diamond Cocktail Ring (right)

Diamond Cocktail Rings for Women

Going by the demand of these rings, there is no dearth of designs and styles available in market. Cocktail rings with variety of stones, shapes and settings ranging from fancy to classic to edgy come in few to thousands of dollars.
"Chunkier the better" is the mantra, and with the strike of a colorful and exclusive-looking cocktail ring, you can add an altogether new dimension to your dressing.
It will not be incorrect to say, "sky is the limit" when we talk of cocktail ring designs. And isn't it true that every woman wants to appear standout and exceptional in any event with a wow factor!
I have listed below few of my affordable cocktail rings choices from Amazon. Amazon has really a huge collection of cocktail rings
with varying designs and price range.
"Aurora Sky" Octagonal Crystal Cocktail Adjustable Ring
This amazing ring is a statement in true sense, and its huge center rock surely gives it a rock-star status. Center octagonal stone is surrounded by small dark blue stones that add to the beauty of this cocktail ring in a remarkable manner.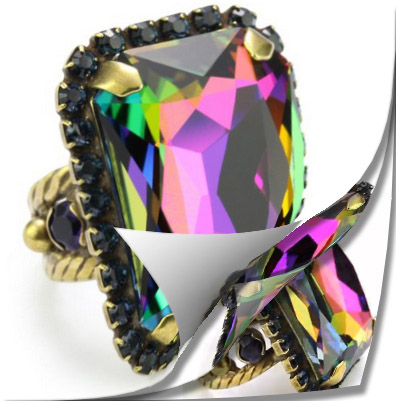 Click here for more details...
The detailing on the band will get noticed while moving your hand. Its design and color of stones will undoubtedly be a good company to most of your outfits. So, be ready for envious looks of ladies when wearing your pride possession.
I recommend this cocktail ring for ladies with long hands and fingers, because huge stone of this ring may not look that attractive on small-looking fingers.


Large White Gold Opaque Blue Square Cocktail Ring
Wow! What a lovely ring, and its price is no less attractive as well. The elaborate detailing of this ring creates a mystic look. The center stone is opaque and light-colored giving a youthful face to the ring!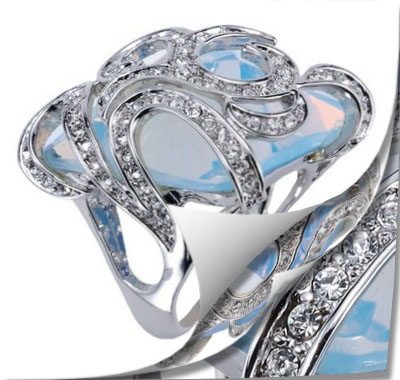 Click here for more details...
Small white stones are set in pave setting, therefore nothing to worry about snagging into your dress. You can wear this ring as often as you want, and be the object of attention and compliments.


White Gold Round Diamond Ladies Cocktail Ring
It's a dazzling 1.00 ct diamond cocktail ring in 14k gold. The swirl design pattern imparts to it a trendy and intricate appearance. Though it's a cocktail diamond ring, it's not that flashy, so you can easily carry it to formal events.

Click here for more details...
Diamond Color/Clarity is on lower side with H-I/I1-I2, but as it's said - a diamond cocktail ring is the mark of style, and not about showing-off your financial status.
It's set in prong setting which is highlighting even the small diamonds. Prong enables better scintillation of diamonds giving the ring more sparkle. So, go for this ring if you have a penchant for diamond cocktail ring and want something sober.

In my opinion, one of the biggest reasons for cocktail ring being such a hit is the distinctiveness of designs it offers. It is these rings that every now and then introduces new concepts and styles that can be adorned in variety of occasions.
So, if you really want to grab the eye-balls of onlookers and want to showcase your confidence by announcing your arrival, then a cocktail ring is must-have for you!
Return from Diamond Cocktail Ring to Diamond Jewelry Homepage
I hope you'll not mind sharing this on Twitter, Facebook and with everyone else :)
Feel free to share if something is in your mind and want it to be covered on this site.

My Newsletter

Did you liked this article? Sign-up my FREE weekly newsletter and I'll send you more awesome new additions on this website along with latest jewelry happenings around the world, and download my Jewelry Design Album for FREE!