<!- google_ad_section_start ->
Rose Gold Engagement Rings

Young couples are increasingly opting for rose gold engagement rings and weddings bands with rose gold's unique luster and color being the main reason behind the rising interest. No matter what, no one can deny that color tone of rose gold has got a romantic touch with a profound appeal to people in relationship.

<!- google_ad_section_end ->
How rose gold gets its color?
Rose gold - along with pink gold and red gold - is created by adding high amount of copper with reduced proportion of silver-colored metals into pure yellow gold.
Color of rose gold gets intensified with aging due to slight but attractive tarnishing of copper.
Although terms like red, pink and rose gold are used interchangeably, but do you know these variations of gold are not same!
So, what's the difference? This is due to varying concentration of copper in gold. Higher is the copper content, stronger is the red tone. So, red gold has the maximum concentration of copper followed by rose gold and pink gold.
Therefore, next time when someone use these terms interchangeably, you can correct and tell that person the actual difference between these gold alloys.


History
Rose gold is not a recent invention. It was very popular in Russia at the beginning of the nineteenth century, therefore was also termed "Russian Gold". However, it was Cartier's 'Trinity' ring in 1924 that surged rose gold to a new stardom.
The classic Trinity ring features three intertwined bands of yellow gold, white gold and rose gold, with each color signifying different meaning - yellow gold for fidelity, white gold symbolizing friendship and rose gold representing love.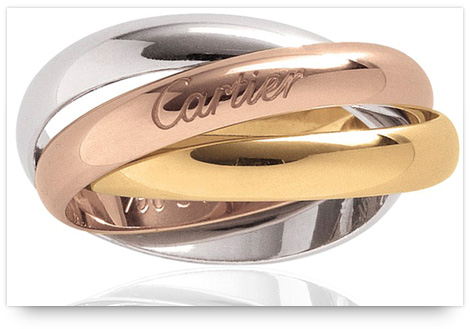 Cartier Trinity Ring

Big Brands
With rose gold being popular among modern buyers as well, you can find rose gold rings in variety of styles. So, unsurprisingly almost every famous fine jewelry brand - be it Cartier, Tacori or Tiffany - has been offering rose gold ERs.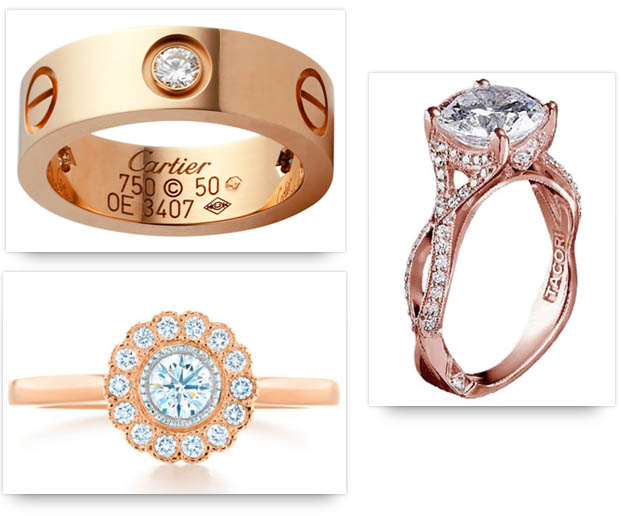 Benefits of Rose Gold Engagement Rings
There is no denying that rose gold rings are the popular choice these days, but are you aware of some of the positives of rose gold?
Copper is a very durable metal, so it makes rose gold tougher compared to yellow or white gold.
Rose gold retains its reflective radiant color and does not require regular polishing - like rhodium plating on white gold - to maintain its luster.
Soft and subtle undertone of rose gold complements all skin tones, along with looking very appealing on dark skin.
However, you must remember that copper is a hypo-allergenic metal, i.e. it can cause allergic reactions in some people. So, keep this property of copper in mind while buying a rose gold ring.
Trends in Rose Gold Engagement Rings
Detailing
Rose gold ERs look equally superb with or without gemstones. Filigree work or detailing on the gold can bring to life a completely unique engagement ring.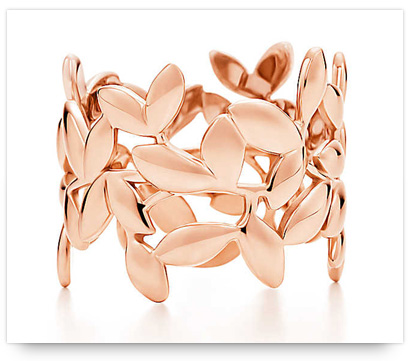 This rose gold Tiffany engagement ring can standout on its own without assistance of any gemstone. Beautifully sculpted olive leaves in 18K rose gold perfectly symbolize peace, love and abundance in the life of couple.
Teaming with other metals
Rose gold rings look beautiful in combination with other metals too. The blend of rose gold on vintage white gold engagement rings gives this striking engagement ring the brilliant two-tone effect.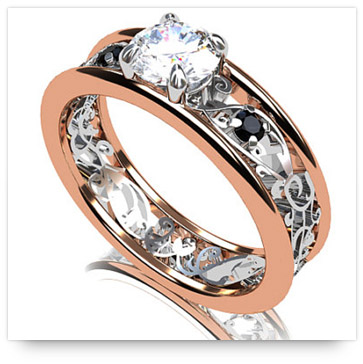 Two-tone

Complementing colored stones
Color of rose gold is such that it can go with variety of colored gemstones - be it similar color tones or contrasting color. Like these rose gold morganite, rose gold pink sapphire and rose gold rose quartz engagement rings with all having gemstones of similar color-tones.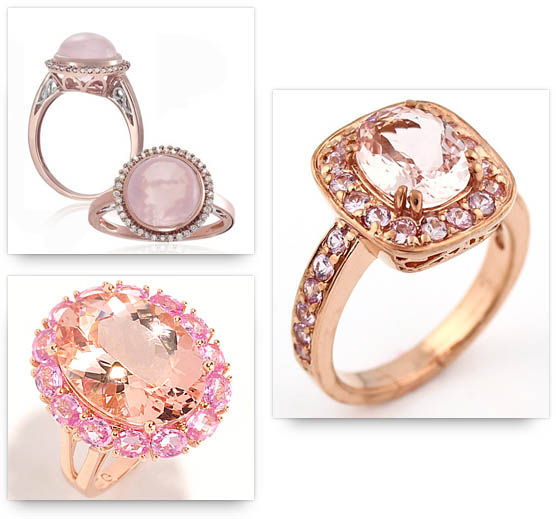 Soft and romantic feel without being flashy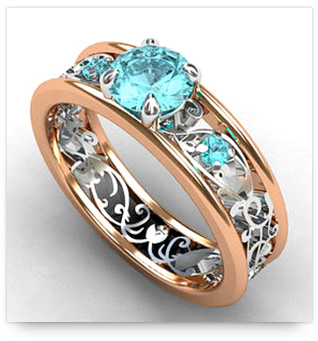 This rose gold and aquamarine engagement ring is although having contrasting color-tones, it doesn't lack in softness and subtlety.
Delicate with Raw Touch
If you desire to have your engagement ring to standout with edgy look to it, then this Todd Reed's engagement ring - with a tough and raw touch - will be quite a match fitting your requirement.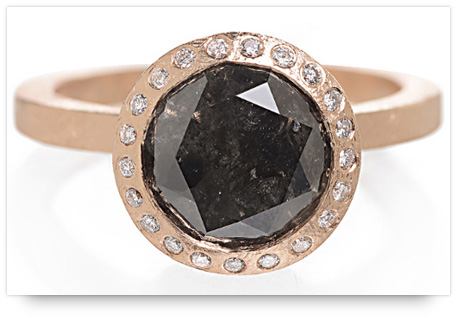 Celebrities with Rose Gold Engagement Rings
Celebrities are the one who set the trends rolling, and when it comes to rose gold, you will find the long-list of celebs who have donned rose gold rings. Following are few of stars who have expressed their love with rose gold.
Blake Lively's engagement ring from new husband Ryan Reynolds is a pink flawless oval cut diamond set in rose gold pave diamond band. Leighton Meester, who said "I do" to The OC star Adam Brody, wears a bezel-set cushion-cut diamond on a thin rose gold band with small side stones. Teresa Palmer's rose gold engagement ring has a rose quartz center stone.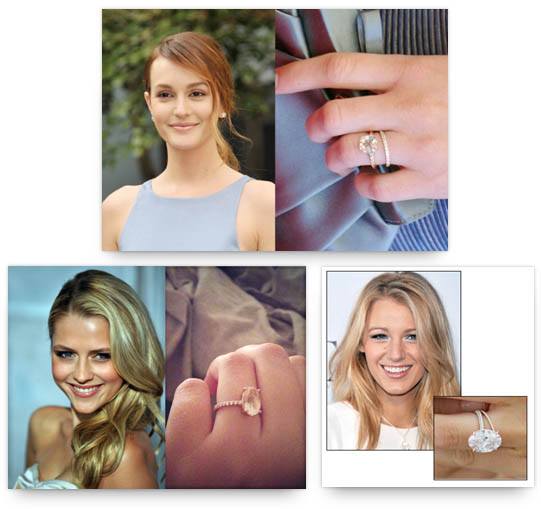 Rose gold jewelry in general has fast become prominent in the 21st century and is commonly used for engagement rings, bracelets, and other jewelry. So, it's not necessary to be a vintage buff for admiring rose gold. You can still go for a trendy rose gold ring with modern feel to it.
Return from Rose Gold Engagement Rings to Engagement Ring Articles
Return from Rose Gold Engagement Rings to Diamond Jewelry Homepage
I hope you'll not mind sharing this on Twitter, Facebook and with everyone else :)
Feel free to share if something is in your mind and want it to be covered on this site.

My Newsletter

Did you liked this article? Sign-up my FREE weekly newsletter and I'll send you more awesome new additions on this website along with latest jewelry happenings around the world, and download my Jewelry Design Album for FREE!