<!- google_ad_section_start ->
Cartier Engagement Rings

Cartier Engagement Rings - Red is the color of love and so is the color of Cartier.
Such is the craze of Cartier rings that one look at the beautiful red box and girl knows it's Cartier in the heartbeat. Cartier has been there for more than 150 years and their dedication towards quality and aesthetically pleasing designs has always kept them at top of the bunch.
<!- google_ad_section_end ->
What's so unique about Cartier Engagement Rings?
I have come across so many people wondering what's so special about Cartier engagement rings that they have remain so popular even after so many years. Why such fascination for the red box?
One of the biggest reasons is, though Cartier has adhered to its classic 1895 solitaire collection, it has never stopped from re-inventing itself with continued focus on adapting to changing times.
Like, they were the first to introduce platinum in engagement rings. With platinum being a very hard metal, it enabled minimum use of metal in engagement rings. This allowed mounted diamonds to sparkle at their best because of less obstruction to passage of light through stone.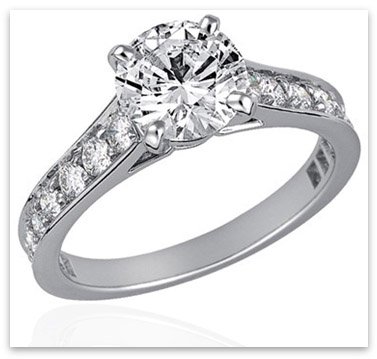 1895 Solitaire

Also, they have everything for everyone featuring range of styles. Be it traditional or modern, they offer everything from classical and vintage diamond engagement rings to modern engagement rings. They cater to every need, and it is almost unlikely you wouldn't find any engagement ring per your taste and style - of course you should be ready to spend!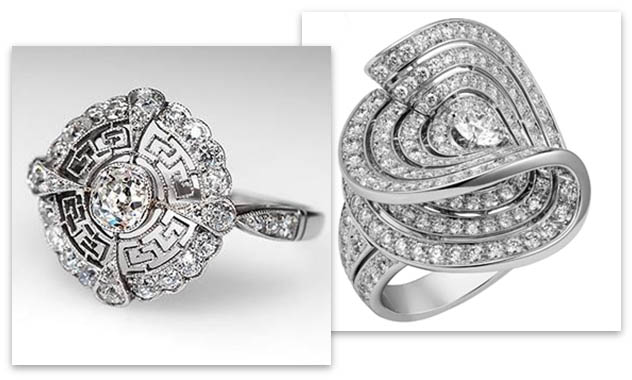 Art Deco inspired (left) and Contemporary (right)

Cartier ERs were exclusive and extravagant and they still are. Unlike Tiffany engagement rings, their engagement rings have still not become available to masses. So, an aura of obscurity with sigh of luxury and glamor makes Cartier rings even more special.
What about Cartier Engagement Rings Designs?
If you compare engagement rings from similar luxury brands - like Harry Winston or Van Cleef and Arpels - you will not deny that Cartier designs are more intricate and intense (below image). While there is no compromise on quality of diamonds, they equally focus on design of ring bands as well. Different sizes of accent stones and geometrical shapes of band in pave setting lend the unique distinction to Cartier rings.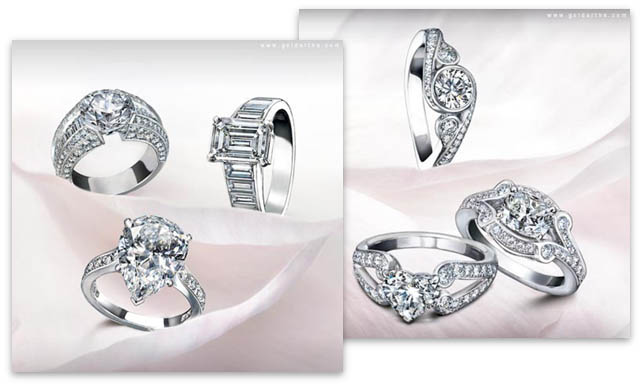 If you ask my personal favorite aspect of their designs, then it has to be the overall harmony among different elements - be it balance of color or bold geometrical shapes to create an elegantly appealing feminine engagement ring. As you can see in the below image, the ring uses three bold colored stones with each stone beautifully complementing and blending with each other.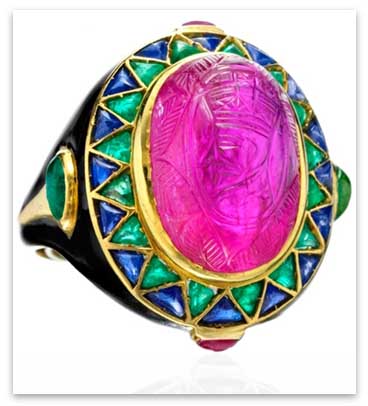 Are Cartier Engagement Rings worth it?
Of course yes, if you have an obsession for brands and on a look-out for a luxurious engagement ring. Cartier is the epitome of wealth and lavish lifestyle. If your lady loves modern styles with a distinct classical taste then a Cartier ring can definitely add the dash of glamor to her style.
"The jeweler of kings and the king of jewelers"
Cartier has been there for royals and celebrities who don't mind splurging money. Prince Rainier proposed his beloved Grace Kelly with a 10 carat Cartier diamond engagement ring. The Duke of Windsor picked a Cartier emerald for his lady.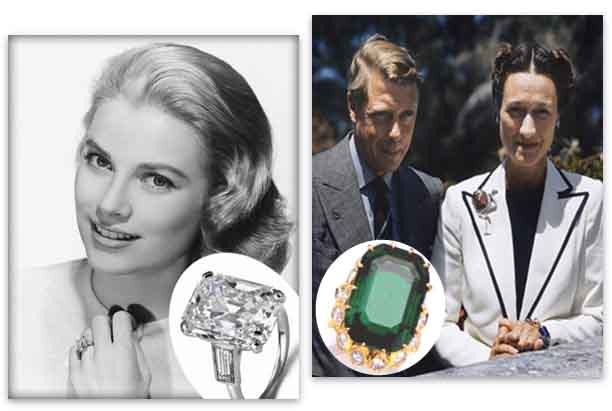 Grace Kelly (left) and Duke & Duchess of Windsor (right)

Prince Albert II of Monaco graced his lady Charlene Wittstock with Cartier rings. Katy Perry got a 3 carat pink diamond engagement ring from Russell Brand.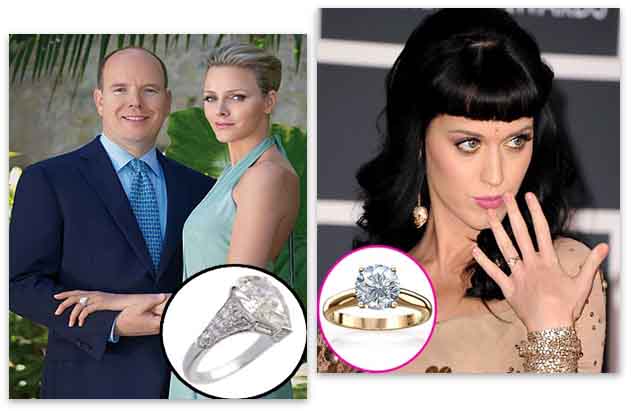 Prince Albert II with Lady Charlene Wittstock (left) and Katy Perry (right)

Now, Cartier is in your reach too if you are prepared to spend lot of money and want to royally treat your lady. You can purchase Cartier ERs online or through Cartier signature boutiques in the United States and Canada.

So, move ahead and see the sparkle in her eyes with the red leather box of Cartier. As the Cartier famously said, "How far would you go for Love? Love is all she needs."
Return from Cartier Engagement Rings to Luxurious Engagement Ring Brands page
Return from Cartier Engagement Rings to Diamond Jewelry Homepage
I hope you'll not mind sharing this on Twitter, Facebook and with everyone else :)
Feel free to share if something is in your mind and want it to be covered on this site.

My Newsletter

Did you liked this article? Sign-up my FREE weekly newsletter and I'll send you more awesome new additions on this website along with latest jewelry happenings around the world, and download my Jewelry Design Album for FREE!