<!- google_ad_section_start ->
Harry Winston Engagement Rings - Why the hype?

Harry Winston Engagement Rings - Exclusivity written all over it
Every jewelry brand has its own unique appeal that differentiate it from others, be it Harry Winston or any other brand. They have their own signature style that is reflected in the jewelry conceived and created by them.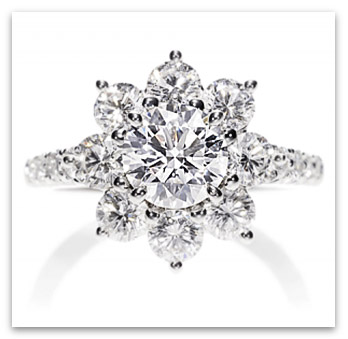 <!- google_ad_section_end ->
Charisma of engagement rings from Harry Winston is such that it is wanted by every stylish woman. Tell me which lady in this world will have strength to say "No" to a Harry Winston engagement ring.
Mesmerizing beauty and sparkle of HW engagement rings speak of opulence and wealth. The artful refinement of their classic designs has never changed and remained same over the period of time - one look and you know it's a Harry Winston piece.
Diamond comes first
You know what, the biggest highlight of their engagement rings is the use of finest quality diamonds. Irrespective of whether it's a big center solitaire or small diamond, trust me you will always get the ring with top quality stones. With maximum attention given to quality of diamonds, generally styling of the metal bands takes the backseat.
However, beauty of their diamonds just offset rest of the aspects. Magical play around with diamonds is simply unbelievable. Stones in engagement rings are set in a manner to maximize brilliance with minimum visibility of metal. In other words, placement of each stone is sleek and neat with each diamond in the ring having its significance.
Simple but High on Style
HW engagement rings are available with diamonds of almost all shapes, sizes and colors. Among the most popular and classic Harry Winston rings are round, emerald and pear shaped engagement rings with sparkling center diamonds and side-tapered baguettes. If you are for contemporary flair, then center diamond bedecked with small diamonds in micro-pave setting should be worth considering.
Design of their engagement rings is more on the simpler and quieter side with main ingredient in the recipe being huge-sized rocks of top-notch quality. However, these simple features make it quite easy for copycats to create replica of Harry Winston rings. You may not find dearth of Harry Winston engagement rings' look-a-likes, as imitation market is flooded with faux Harry Winston rings.
The other key element is arrangement of different shaped diamonds in engagement rings. It's generally advised not to mix too many shapes as this kills the beauty of ring. But then Harry Winston engagement rings are altogether from a different league.
As you can see in the image below how beautifully different-shaped stones are arranged to create a balanced design. If you observe closely, none of them are looking out of place. Every stone is complementing each other without overpowering the stunning beauty of other.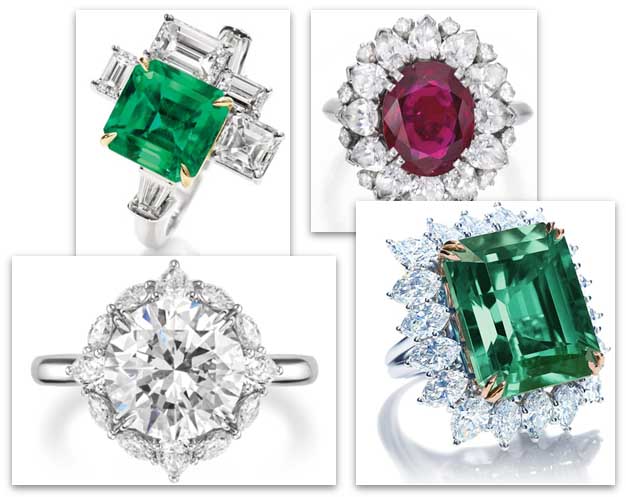 Exclusivity is what celebrities want
Harry Winston had once said, "no two diamonds are alike". On similar lines, one can say "no two Harry Winston Engagement Rings are alike".
Engagement rings at Harry Winston are not mass-produced. Every piece has exclusivity written on it with no two engagement rings from Harry Winston being same. So, no doubt their engagement rings are so popular among celebrities. Many celebrities have graced the special moments of their life with engagement rings from Harry Winston.
Ben Affleck is one such particular fan of Harry Winston rings. He has given HW Engagement rings to both Jennifer's - Jennifer Lopez and Jennifer Garner - who came in his life at different point in time.
No one will disagree with the fact that main focus at Harry Winston is quality and not quantity. Harry Winston had once famously said "People Will stare. Make it worth their while".
Onlookers will always lay eyes on even if you wear something bland or too sparky. So, why not wear fabulous jewelry and attract those eyes on your fantastic looks!
Return from Harry Winston Engagement Rings to Luxurious Engagement Ring Brands page
Return from Harry Winston Engagement Rings to Diamond Jewelry Homepage

I hope you'll not mind sharing this on Twitter, Facebook and with everyone else :)
Feel free to share if something is in your mind and want it to be covered on this site.

My Newsletter

Did you liked this article? Sign-up my FREE weekly newsletter and I'll send you more awesome new additions on this website along with latest jewelry happenings around the world, and download my Jewelry Design Album for FREE!