<!- google_ad_section_start ->
Fancy Shaped Diamond Engagement Rings
When we talk about fancy shaped diamond engagement rings, it's the fancy shaped diamond - used as the center stone - that highlights the uniqueness of the ring to the maximum.
<!- google_ad_section_end ->
Earlier when we talked about diamond solitaire engagement rings, round diamond engagement rings used to come first in our mind.
However nowadays, going by global engagement ring trends, one can say that fancy shaped engagement rings have also become quite in vogue.
People are no more satisfied with classic round shaped engagement rings; now they yearn for designer engagement ring.
You may be inclined towards geometrical and bolder shapes - like princess, emerald and asscher cut - or prefer softer ones - like oval, pear, marquise or classic heart shape.
Below, I have put down some of the popular fancy shaped diamond engagement rings for your better understanding: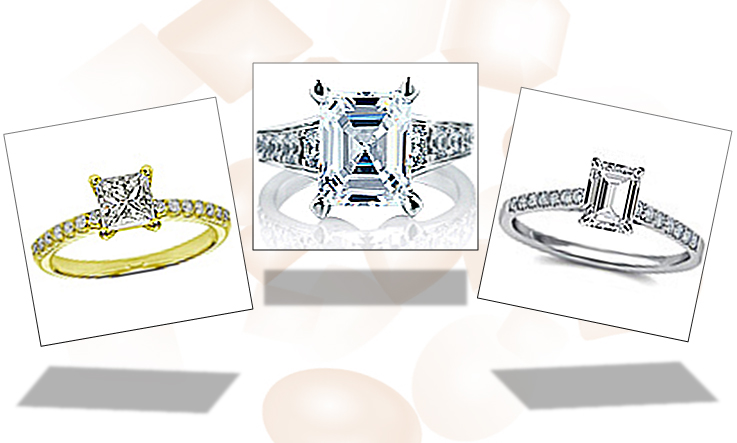 Princess Cut Engagement Ring: Princess shape is the second most popular shape after the round shape. You can go for princess cut engagement rings if you want something swanky and modern with brilliance matching that of round brilliant cut diamond. It's popular in various jewelry styles and can be set in number of jewelry setting. Best part is, it's cheaper than most of the fancy shapes.
Asscher Cut Engagement Ring: This engagement ring comes with a premium price tag and has absolutely modern and stylish look to it. This is the most unique shape of all the fancy shapes. Asscher cut diamond speaks for itself with its extremely distinctive shape. So, be ready for eyeball grabbing experience while wearing asscher cut engagement ring.
Emerald Cut Engagement Ring: Go for emerald cut diamond engagement ring if you want something modern with eye-catching and elegant look. It has simplicity associated with an eternal look to it - semblance of confidence and oomph. among all the solitaire engagement rings, emerald cut engagement ring is simple yet unique and stylish in its own way.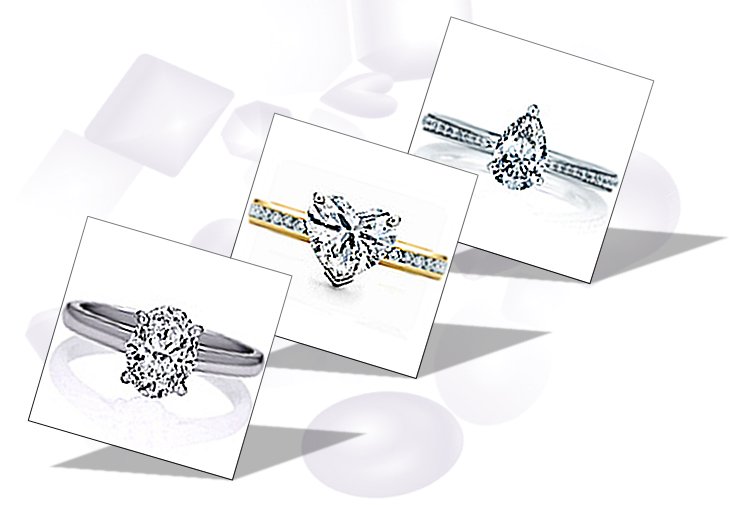 Oval Cut Engagement Ring: If you are looking for traditional round shaped diamond but want something extravagant too, then you can stop at oval cut engagement ring. If you have an active lifestyle with lots of hand work involved, this is the best choice. You can wear it daily without worrying about your beautiful engagement ring getting chipped or damage.
Heart Shaped Engagement Ring: Utterly romantic! It symbolizes love and passion. If hiding emotions is not your characteristic, then heart shaped engagement ring is meant for you. Among all fancy shapes, heart shape is most fascinating and charming. There are many styles in which you can set and personalize your heart shaped engagement ring.
Pear Shaped Engagement Ring: Pear shape is the beautiful mix of round and marquise shaped diamonds. Pear shaped engagement ring gives the pointed tip of marquise shape and soft round end of round shape. It lends delicacy as well as sturdiness of round shaped diamond. With this shape, you can walk the traditional line with some trendy element.
You can set your engagement ring according to the setting of your choice and make your own handmade unique engagement rings. Diamond solitaire engagement ring reflects your persona and fancy shaped diamond engagement ring reflects the unique "You". So, always choose wisely.
Each fancy shaped diamond is unique, and when used in engagement ring it gives the ring a very contemporary and bold look. However, it's very important that you choose the shape that blends with your taste and personality.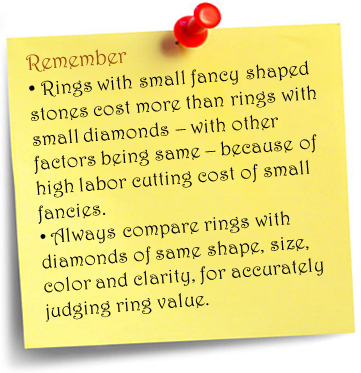 Now, since you have so much to choose from, read about each of these fancy shaped engagement rings in detail, and make sure you choose the one that defines your taste and style.
Return from Fancy Shaped Diamond Engagement Rings to Diamond Jewelry Homepage
I hope you'll not mind sharing this on Twitter, Facebook and with everyone else :)
Feel free to share if something is in your mind and want it to be covered on this site.

My Newsletter

Did you liked this article? Sign-up my FREE weekly newsletter and I'll send you more awesome new additions on this website along with latest jewelry happenings around the world, and download my Jewelry Design Album for FREE!