<!- google_ad_section_start ->
Temple Jewelry - Vintage and In Vogue
Temple Jewelry - Palpable with Spiritual Energy
The expression of piousness, temple jewels (originating in 4th century AD, during the reign of the Chola dynasty) should be in your list of choices if you are a connoisseur of traditional Indian jewelry.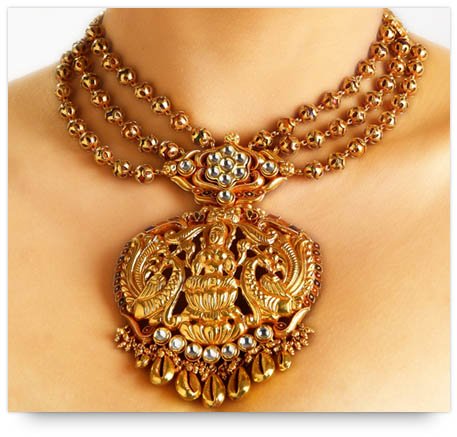 <!- google_ad_section_end ->
Featuring bright and bold demeanor, it's a style of jewelry that I am pretty sure you would also love to have in your jewelry box - of course if you are an admirer of big and lively jewelry.
It's not that modern days' brides are only going for trendy and in-vogue jewelry. Today's out-going women are no more hesitant of treading the lesser-known territories, with so many of them exploring and embracing traditional styles of Indian jewelry.
Due to this reason, scrumptious temple jewels have become one of the favorite picks of Indian women for their bridal jewelry trousseau. You may also like to read Indian Bridal Jewelry Tips.
After all when the new age stylish women are showing inclination for eye-catching statement jewelry, how can they overlook the ethnic and mystic temple jewels.
Did I mention to check with your grandma if she has a temple jewel in her treasure trove? Yes, being passed on from one generation to next, temple pieces are valuable enough to be treasured for life.
Have a look at these breathtaking head ornaments by Ganjam jewelers which are from their family archives, and unfortunately not for sale :).
Origin of the term - "Temple Jewelry"
This classic, intricate and handcrafted style of jewelry was used to grace the idols of gods and goddesses in the temples of south India, hence this style got its name.
However, later on temple dancers of those days too started adorning temple jewels, and do you know modern day Bharatanatyam dancers still dress-up with this style of jewelry.
Source of Influence
Motifs of Hindu goddess Lakshmi and lord Krishna are very popular when it comes to temple style of jewelry. Like, central theme with goddess Lakshmi sitting on lotus flower and lord Krishna with Shesh Nag (snake) are the good choices for pendants and necklaces.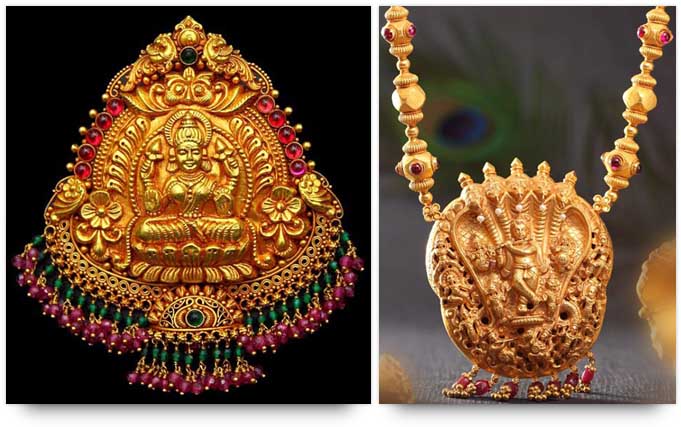 Goddess Lakshmi Pendant (left) and Lord Krishna Necklace (right)

Nonetheless, it's not just about pendants and necklaces only, even temple style arm-bands (vanki), earrings (jhumkas) and hair accessories are also quite in demand.
(left to right) Earrings, Armband and Hair Decorative

Religious symbols and sacred objects like flowers, earthen lamps, conch shells, coins, and animal motifs of elephant, swan, eagle, peacock and snake are also commonly used subjects for temple baubles.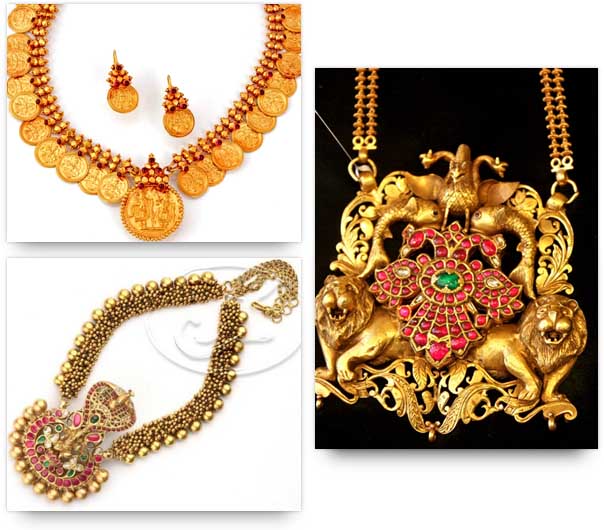 However, if you will observe, although the main element is the face or figure of the deity, the peripheral details of a temple jewel has a substantial influence of architectural designs seen on the old temple walls.
Yes, this form of jewelry is very much inspired from design and style of South Indian temples and sculptures. Like in the below image, if you pay attention to, here the necklace design resembles the patterns and craftsmanship commonly seen on the walls of Hindu temples.
Modern Interpretation
Traditionally only 22 karat yellow gold was used along with ruby, emerald, sapphire and uncut diamonds. However, with the changing times and rise in the price of gold, use of silver has become prevalent to make it more affordable and pocket-friendly for emerging breed of buyers.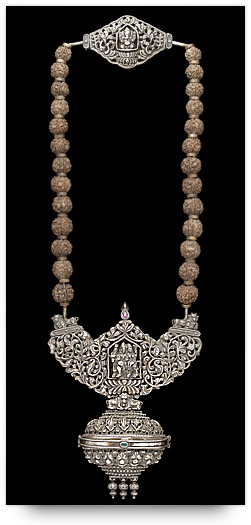 You may find so many jewelers launching their temple jewelry collections, portraying contemporary styles to match the tastes and preferences of modern consumers - with not-so-heavy designs that combine well with present-day fashion and style.
However, my personal take is that since temple jewelry is of traditional genre, its fusion with modern styling should be within a certain limit. Otherwise, it may completely kill the original essence of temple jewel. So, in my opinion, if you are searching for something sleek, then it's better to go for other style of jewelry. A temple piece should not be your choice.

At the end of the day, a temple jewels are defined by big and chunky designs. Therefore, in the name of blending old and new styles, it will be totally wrong to change the meaning and idea behind temple jewels.
For example, have a look at this temple jewelry necklace (below image) by Joyalukas with combination of uncut diamonds, ruby and pearls. It's the perfect confluence of modern and ethnic detailing with the flavor of temple style being kept intact.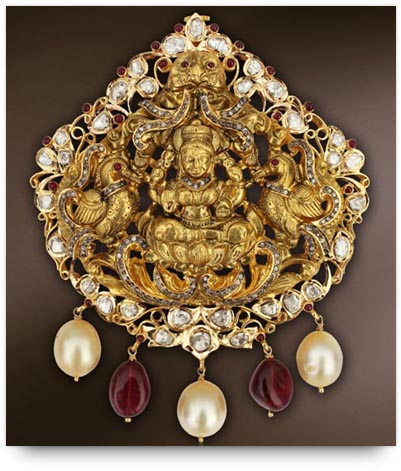 As a final word, let me tell you, being associated with spirituality, temple style of jewelry is out there to stay and will never go out of fashion. It's always going to stay fresh and in fad.
Return from Temple Jewelry to Indian Jewelry page
Return from Temple Jewelry to Diamond Jewelry Homepage
I hope you'll not mind sharing this on Twitter, Facebook and with everyone else :)
Feel free to share if something is in your mind and want it to be covered on this site.

My Newsletter

Did you liked this article? Sign-up my FREE weekly newsletter and I'll send you more awesome new additions on this website along with latest jewelry happenings around the world, and download my Jewelry Design Album for FREE!