<!- google_ad_section_start ->
Pave Setting
Pave Setting is done for mounting small round shaped diamonds and gemstones in jewelry (Channel Setting being another way of mounting small diamonds). This setting is also called Mille Grain Setting.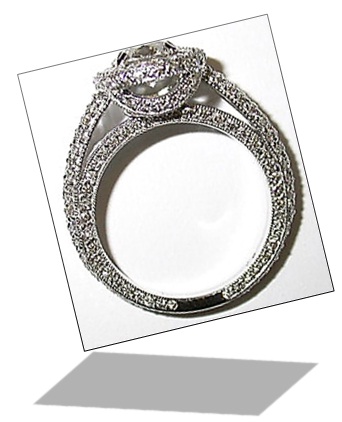 <!- google_ad_section_end ->
What is Pave Diamond Setting?

The word 'Pave' (pronounced Pa Vay) is derived from the French word meaning "pavement".
Reason behind this name is, just like stones are paved on streets, diamond (or any gemstone) is paved (tight grouping of same size stones) on surface of jewelry in this setting.
It creates a sparkling surface of diamonds on metal with little or no space between the diamonds.
For example, band of a ring set in pave gives the illusion that band is completely made of diamonds.
So, white gold or platinum is often used in pave setting because the color of metal blends with diamonds.
Mounting of diamonds in pave setting requires great skill and expertise, with lot of patience and perfection required from a craftsman.
How to Pave set Stones?
General steps that a craftsman follows to pave set stones in a ring:
First small holes are drilled on the ring shank (part of the ring that encircles the finger) for placing diamonds.
Then if width of the shank is uniform (i.e. it does not tapper), then identical-sized tiny diamonds are placed in small holes.
Diamonds are grouped tightly in row so that diamonds covers up as much space of the surface as much possible without overlapping each other, with some breathing space between diamonds. The objective is that the metal should be as little visible as possible, so that just the glittering row of diamonds is evident minus the metal.
To fill in the gaps between two diamonds and to separate them, tiny beads (or grains) of metals are pushed over the edge of the diamond into metal shank. As you can see in the image below, on an average three to six beads can be used per stone to hold the stone firmly in its place.

6 Beads
If width of the shank is tapering, then size of the diamonds should gradually decrease on reaching the thinner part of the shank. Selection of diamonds should be very precise because if the size of diamonds does not decrease gradually, it will spoil the beauty and delicacy of design.
Read Pave Mounting of Round Diamonds to get detailed understanding of process involved in setting round diamonds in pave.
Technique involved in this setting is demanding, as it requires skill, experience and time. Cost of labor and time invested in making a pave set jewelry adds to the total cost of jewelry and can be expensive.
Use of Technology for Pave Setting

However, the increase in the popularity of CAD-CAM technology has reduced the time invested in hand labor to a great extent. In a CAD-CAM version, according to the design, holes and tiny beads are created in the prototype or wax model (which is used for casting metal skeleton through CAD-CAM machines) in perfect symmetry and precision.
So, labor needs to just set the diamonds (without worrying about drilling holes and placing beads) in the actual metal. So, in this case high skilled craftsmanship is not required because most of the intricate tasks - like, drilling of holes, and beads placement - are done by machine. Therefore, this reduces the cost of labor and overall value of jewelry.
However, choice of method of manufacturing depends on design of jewelry piece. If the design is delicate, very intricate and made on custom requirement then often total hand-setting is done by expert diamond setter.
Buyer's Checklist for Pave Setting
As a buyer, you must keep following points in mind while buying pave set jewelry:
Overall Design - Diamond-studded surface of jewelry should have even look and feel. Run your fingers over pave set diamonds and they should have a smooth feel. If it has uneven feel then it means that it is not well-crafted jewelry.
Check the Beads - Pave set jewelry has numerous small diamonds and to set these diamonds even smaller beads are used. So, remember to check beads are holding the diamonds properly. If the grip of bead is loose then diamond may fall.
Check the Diamonds - To set the diamond, beads are to be placed on the top of the diamond's edge and in this process diamond may get chipped. If the stones are set too close to each other, then also they may get damaged. So, before buying pave set jewelry, ensure the edges of diamonds are not chipped or broken.
Is Pave Set Jewelry the Right Choice?
Reasonable
This setting has small diamond set together. Since, small diamonds are not as expensive as bigger diamonds (read how carat weight of diamond affects its price), you can get a pave set diamond ring at comparatively less price.
However, if the design is very intricate and requires expert diamond setter to set the whole ring by hand, then labor charges could be high adding to total cost of ring.
High Maintenance
Dirt can easily accumulate in pave set jewelry and thereby diminishing the overall sparkle of the diamonds. So, you will be required to do regular cleaning of your pave set jewelry to maintain its sparkle.
Heavy Duty Activity
In micro setting, very small (even less than 1 mm) diamonds are used and beads holding these diamonds are even smaller. So, if your daily work requires heavy duty activities, then you will have to consider this before buying a pave set ring. This is because, direct hit on small beads can loosen the grip of diamonds and chances of diamonds falling out increases.
However, pave set jewelry looks beautiful and can be made within a limited budget. If a well-made pave jewelry is carefully worn and taken good care of, then it can become your companion for many years without any problem.
Return from Pave Setting to Diamond Jewelry Homepage
I hope you'll not mind sharing this on Twitter, Facebook and with everyone else :)
Feel free to share if something is in your mind and want it to be covered on this site.

My Newsletter

Did you liked this article? Sign-up my FREE weekly newsletter and I'll send you more awesome new additions on this website along with latest jewelry happenings around the world, and download my Jewelry Design Album for FREE!