<!- google_ad_section_start ->
Relationship between Price and Carat Weight of Diamonds
Valuation of diamonds is done on the basis of its four characteristics also termed as 4 C's. On this page, you can read about:
Relationship between Carat weight and Price of Diamond
Tips on using weight-price relations to your advantage
Knowledge of this should help you at the time of buying diamond. This will enable you to pose appropriate questions to the jeweler and the chances of you getting misled will be minimized.
<!- google_ad_section_end ->
Price of diamond is quoted in two ways:
Cost per carat: the cost of the gem divided by its carat weight.
Unit price: the price per piece.
Relationship between Price and Carat weight of Diamond
As a rule, the rate (cost per carat) of diamond increases from smaller to larger stones provided its other characteristics i.e. color, clarity and cut are same. Reason being, larger stones are rare and thus limited in supply.
This is the main reason why diamonds are often cut "heavy". In other words minimum cutting is done to avoid weight loss. Though, this way diamond earns good price, but it decreases the cut quality of stone.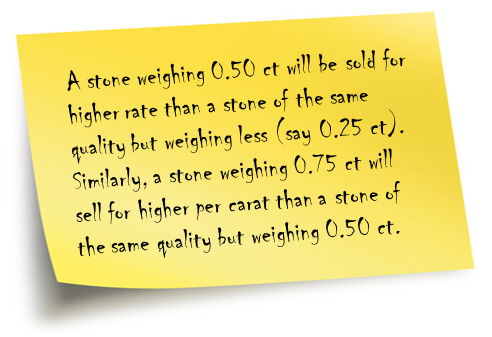 There is a difference between 1 ct TW (one carat total weight) and 1 ct (one carat weight of single stone). A ring with 1 ct top quality diamond can be worth 10 times more than a 1 ct TW diamonds with same quality.

Stones weighing exact 1 carat will sell for much more than stones of the same quality weighing 0.90 ct to 0.96 ct. You must keep this important information in your mind if you are working with limited budget. This is because, from naked eye there won't be any perceivable difference between 0.9 ct and 1 ct stone, but price difference will be huge.
Therefore, when you shop for diamonds, always check the cost per carat of diamond while comparing price of different pieces (of same quality). This is what diamond dealers do to get the best buy. Following formula can used to calculate cost per carat:

From the below graph, showing relationship between price and carat weight of diamond, we can easily say that price of diamond increases exponentially with increase in its weight.
What to do if you have limited budget?
Suppose, you wish to buy 1 carat stone for your engagement ring but you are running short on your budget. You are confused as what you should do? Should you drop the idea of 1 carat ring and settle for something else? My answer is No. You should apply knowledge of price-carat relationship to get a good bargain.
In such a scenario you can choose a 0.90 ct stone of the same quality. Trust me when this stone is set in ring it will give the impression of a full 1 ct stone, though its price will be much less than 1 ct stone. This way you will get your desired diamond and that too within your budget.
On similar lines, a 2 ct stone will not cost twice as much as a 1 ct stone. Rather it could easily be three to four times costlier. In the same way a 5 ct stone may be ten times or even more expensive than a 1 ct stone of same quality.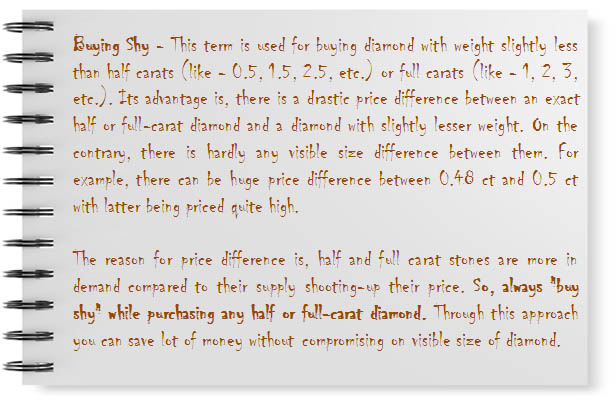 Share with me Your Any Jewelry Buying Experience and read what other visitors have said.
20 Percent Rule
If you're looking at two diamonds of the same shape and quality, how much larger does diamond B has to be than diamond A to look bigger?
Well the answer is that when you have 2 diamonds of the same shape and quality and want one of them to look noticeably bigger than the other one, it must be minimum 20% more in carat weight. This is called the 20 Percent Rule.
You may also read Diamond Buying Tips which should be handful to you at the time of purchasing diamond.
Conclusion
We can say that rate at which price of diamond increases is higher than the rate of increase in its weight. But note that, this comparison holds true only if other quality parameters i.e. cut, color and clarity of diamonds in question are same.
Having said that, diamond pricing based on carat weight involves many complex factors - from stone size to market demand and supply. However, as a normal buyer you should follow below guidelines in order to get the best buy:
Always compare the cost-per-carat instead of total cost.
Always do the carat price comparison of same quality (cut, color and clarity) diamonds.
Return to Diamond Jewelry Homepage
I hope you'll not mind sharing this on Twitter, Facebook and with everyone else :)
Feel free to share if something is in your mind and want it to be covered on this site.

My Newsletter

Did you liked this article? Sign-up my FREE weekly newsletter and I'll send you more awesome new additions on this website along with latest jewelry happenings around the world, and download my Jewelry Design Album for FREE!