<!- google_ad_section_start ->
Navaratna Jewelry - Signature of Royalty

Navaratna Jewelry - Pulsation of Rhythm and Life
"Navaratna" (meaning Nine Gems) in Indian culture is associated with lot of astrological significance. Symbolic of luck and prosperity, a colorful and vibrant navaratna jewel blends with all colors and compliments all skin tones.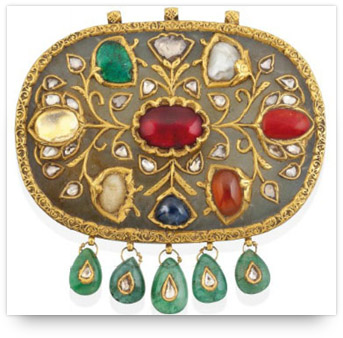 <!- google_ad_section_end ->
Even if you are not fully aware of the meaning associated with navaratna jewel, I am sure you will still appreciate its vivid-colored shimmering stones that can bring life to even your dull pastel colored outfits.
Also, do you know, when only one gemstone is worn, its effect is limited to only that corresponding planet or a specific problem. On the other hand, wearing a navaratna ornament results in positive energy of all nine planetary gemstones.
Astrological and Therapeutic Significance
Navaratna jewelry is conceptualized around Solar System with ruby in the center (representing the Sun) encircled by 8 planetary gemstones, the combination of which is considered very scared and regal.

These days many buyers are showing inclination towards navaratna pieces because of their colorful, trendy and stylish looks. However, many of those buyers are completely ignorant of its astrological benefits.
For example, a friend of mine wanted me to design a navaratna bracelet with blue sapphire in the center - as it's her favorite gemstone - which is completely wrong. In fact, she was totally unaware of the astrological significance of a navaratna jewel and how important it is to place each stone in its predefined location.
Therefore, be mindful of the position of each stone in navaratna piece. This is because, irrespective of any navaratna jewelry piece, if placement of gems is not same as shown in the below image, wearer may face adverse results.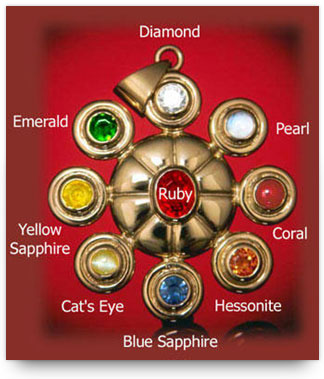 Position of 9 gems in a navaratna piece

Following are the 9 gemstones of navaratna jewelry along with their symbolic meaning and therapeutic relevance:
Ruby (Sun): Health, wisdom, wealth and love.
Diamond (Venus): Name, fame and creativity.
Pearl (Moon): Strength to heart.
Red Coral (Mars): Courage and cure of blood related diseases.
Hessonite or Garnet (moon's ascending node, i.e. "Rahu" in Hindu mythology): Fulfills ambitions, improves social relationships and protects from sudden misfortune.
Blue Sapphire (Saturn): Wisdom and purity, and protects from evil effects of Saturn.
Cat's Eye (moon's descending node, i.e. "Ketu" in Hindu mythology): Protection from enemies, mysterious dangers and diseases.
Yellow Sapphire (Jupiter): Success in career and stability in love-life.
Emerald (Mercury): Protection from illnesses, physical danger and evil.
Also, remember if astrological reason is your prime objective behind wearing a navaratna ornament, then ensure that gemstones are not color-enhanced or heat treated, and there are no cracks.
Another important consideration that you must give in case of a navaratna ring is the position of blue sapphire. This gem should be placed such that it points towards the body on the ring finger.
Modern Acceptance
Historically speaking, navaratna jewels were mostly worn as a good-luck charm in either pendants or rings. However, these days navaratna is popular in all kinds of  jewelry - be it necklaces, rings, bracelets, earrings, bangles or pendants with navaratna rings, pendants and necklaces being the most sought-after.
With the passage of time and changing sentiments of jewelry buyers, navaratna jewelry has evolved from being royal embellishment to the present day contemporary styles. From being set in typical heavyweight jadau, it can be now seen in lightweight modern look with prong settings.
While earlier, navaratna jewels were mostly common among Asians, blend of authentic traditional concept and contemporary feel has led to its popularity across buyers from various cultures and countries.
Trend of statement jewelry, i.e. single eye-grabbing jewelry piece is in vogue these days, and this is where an elaborate and bold look of navaratna necklace makes it a perfect statement piece adorning neckline.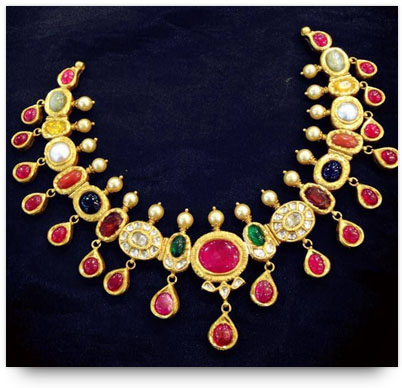 Navaratna Necklace

This lightweight navaratna kalgi (below image) from Jewels Emporium India has a traditional feel while being keeping up with modern taste and requirement.
It has a dual pin so that it can be converted into a brooch after the wedding. It can be also worn as two different pendants making it more versatile and functional.
Finally, a navaratna jewelry can be donned by anybody - male or female - and of any age group without even consulting any astrologer and without worrying about any adverse effect. So, this makes a navaratna piece a very good gifting option for all kinds of life occasions.
Return from Navaratna Jewelry to Indian Jewelry page
Return from Navaratna Jewelry to Diamond Jewelry Homepage
I hope you'll not mind sharing this on Twitter, Facebook and with everyone else :)
Feel free to share if something is in your mind and want it to be covered on this site.

My Newsletter

Did you liked this article? Sign-up my FREE weekly newsletter and I'll send you more awesome new additions on this website along with latest jewelry happenings around the world, and download my Jewelry Design Album for FREE!