<!- google_ad_section_start ->
Three Stone Jewelry
Three Stone Jewelry (generally a ring, necklace or pendant) is the perfect anniversary or special occasion gift that expresses the timelessness of your love.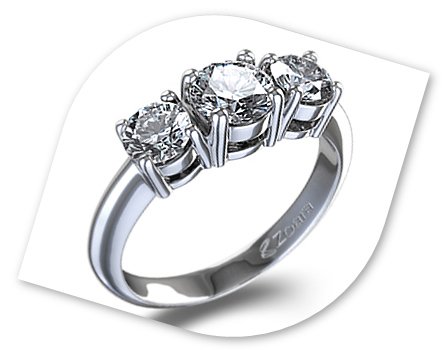 <!- google_ad_section_end ->
After all jewelry is usually purchased or given as a token of love or affection or to celebrate a special event.
3 stone diamond rings also make stunning engagement rings. Generally, associated with ever-lasting love and devotion, the three-stone diamond engagement rings are beautiful and meaningful alternative to the expensive solitaire diamond engagement rings.
Since, smaller diamonds are priced (per carat) low compared to bigger diamonds (read price v/s carat relationship), money spent on three diamonds might come out to be much less than a single piece of solitaire.
The three-stone diamond engagement ring (also called Trilogy or Trinity Ring) represents the ultimate expression of true love and a strong faith in the future with the rarest, most durable and most precious of all gems. The brilliance of a fine diamond ring is the symbol of your joy and commitment to your loved one.
Symbol of Three Stone Diamond Jewelry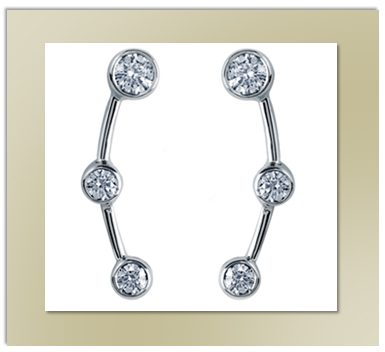 The three-stone diamond jewelry can have different meaning to different people. The most widely accepted significance of the three-stone diamond jewelry is, its three diamonds represent the past, present and future of a couple's relationship. Three stones also represent always, now, and forever.
These interpretations of three-stone jewelry have made it a popular gifting item. Gifting a three-stone ornament is a memorable way to honor one's relationship. It is the ideal way to say "I've always loved you", "I love you now", and "I'll love you forever".
Three-stone ornaments also carry religious significance. With the three diamonds symbolizing Father, Son, and Holy Ghost, to many Christians it may represent the Holy Trinity.
Occasions for Gifting Three Stone Jewelry
Three Stone Jewelry was first introduced as an anniversary gift. Later, with three-stone diamond rings, it became a popular choice for engagement ring. Today, the three-stone rings are treated as a romantic way to celebrate engagement, wedding or anniversary day.
Many parents gift their kids a past-present-future ring when they graduate from university. The three stones represent the past (childhood), the present (adulthood) and the bright prospect of future.
Sometimes, parents of a new-born are also presented with three-stone jewelry with the center stone representing the new-born baby and the side stones as parents.
Other special events such as Valentine's Day, Christening or a special birthday are just as appropriate for gifting a three-stone diamond ring.
Variety in Three-stone Diamond Ring
The three stone diamond rings can be set with a variety of combinations of diamond cuts and designs that allow for a wide range of options for you.
In terms of size, the most common arrangement is for all diamonds to be of equal size. However, they can also be arranged with a larger diamond set in the middle of two smaller matching diamonds. This signifies the value of the occasion on which the ring is being gifted.
The most commonly used diamond shapes for the three stone diamond engagement ring are the round or princess as they fit together smoothly. Other common shapes of diamonds in the 3 stone rings are oval, emerald, asscher, and marquise.
While, it is more typical for all three stones to be of the same shape, but it is possible to blend different shapes in the same piece of jewelry. For example, an emerald shape can be combined with two trilliants, or a princess with two trilliants set on either side.
However, it is less likely for a heart-shaped stone in a three-stone ring as it does not fit well with other cuts. But, 3 hearts set horizontally in a ring looks extremely beautiful.
Three Stone Jewelry is a great way to remember those abstract moments in time - it helps capture the memory of an engagement, a marriage, a birth or an anniversary.
Buyer's Checklist of Three Stone Jewlery
Below are some guidelines that should be followed before you buy three-stone diamond jewelry:
If all diamonds are white, the color grade difference between side stones and center stone should not be more than one. Some brilliant cut side stones appear brighter than others, so take this into account during color grade selection for your three-stone diamond jewelry.
If side stones are smaller than center stone, then a good rule of thumb is: the width of the side stone should be 2/3rd to 3/4th the width of the center stone.
If you are not sure of what type of 3-stone diamond ring you would like or have questions about the best size of side stones for your three-stone diamond ring, feel free to contact me, I would be more than happy to answer your questions.
Return from Three Stone Jewelry to Diamond Jewelry Homepage
I hope you'll not mind sharing this on Twitter, Facebook and with everyone else :)
Feel free to share if something is in your mind and want it to be covered on this site.

My Newsletter

Did you liked this article? Sign-up my FREE weekly newsletter and I'll send you more awesome new additions on this website along with latest jewelry happenings around the world, and download my Jewelry Design Album for FREE!