<!- google_ad_section_start ->
Color Grading Scale of White Diamonds
Diamond grading comprises of evaluation and grading of diamond based on its color, clarity, cut and carat. This article is about diamond color grading scale. For clarity and cut grading, you may read diamond clarity grades and diamond cut grades.
<!- google_ad_section_end ->
The Gemological Institute of America (GIA) and the American Gem Society (AGS) grading systems are the most commonly used diamond grading systems. The other grading systems are:
Scandinavian Diamond Nomenclature (Scan D.N) is often used in Scandinavian countries (like Finland, Norway, and Sweden).
System developed by CIBJO (the international Confederation of Jewelry, Silverware, diamonds, Pearls, and Stones).
HRD is another system applied by the Belgian Diamond High Council.
Before GIA developed color grading scale, there were other grading systems that were practiced. Each system had different approach in terms of usage of grading scale, like - Roman (I, II, III onwards), numeric (1, 2 and 3 onwards) or alphabets (A, B and C).
Among all these systems, GIA grading system is the most popular and widely used. GIA International Diamond Grading System was developed in around 1950's.
In this system, diamonds are graded from "D" (colorless) to "Z" (off-white diamonds). GIA started fresh with alphabet D as it was not associated with top quality diamond in other earlier systems.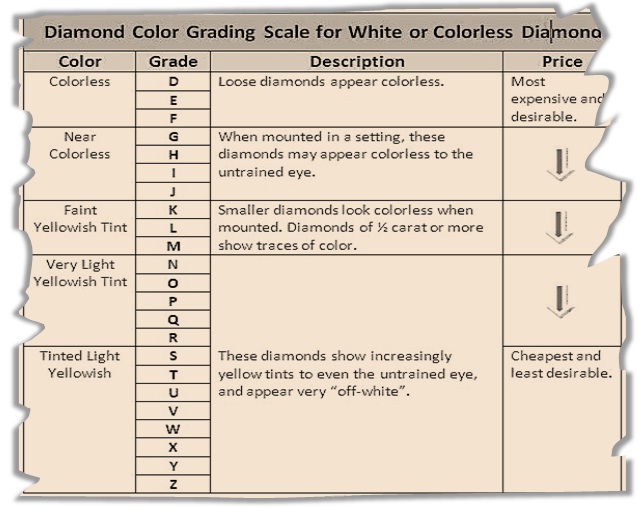 Even slight difference in color of diamond can affect its price significantly. You can read what to consider when selecting color grade to find more about it.
Color grading is taught in various institutions world over. Some of the institutes and laboratories are:
Gemological Institute of America(GIA)
Indian Institute of Gemology
International Gemological institute(IGI)
American Gem Society
Canadian Institute of Gemology
European Gemological laboratory
Swiss Gemological Institute
You can check color grade of your diamond from any professional grading organization or any individual appraiser who is affiliated with such professional organization.
Color Typing
Before explaining you Color Typing, my question to you is: shouldn't two diamonds of the exact same carat weight, clarity, color, proportions, non-fluorescent, purchase date, lab grading report date, cost the same? Well, if you ask the labs or check with any of the major price guides like Rapaport, the answer would definitely be a Yes.
But, if you visit your local jeweler or surf the web, I promise you that you'll find replicas that are not of the same price. In fact, in some cases, they're not even close. You'll even find two identical diamonds at the same location with totally different prices. Why? How is it possible?
The answer is in the color. What the industry has been aware of, but hasn't shared with the rest of the world, is color typing. In 1999, a gemological color-grading device (Gran Fall Spectrum Colorimeter DC2000fs by Gem Instruments) hit the market. For the first time, we can actually prove that not all Hs, Gs, or Fs color grades are equal.
This new device is so precise that one can actually break down each color grade into five color types. For instance, instead of asking someone what color a diamond is, one should ask what its color and Type is. Example: an F can be sub-divided into F(1), F(2), F(3), F(4), and F(5), with (F(1) being the best borderline E, while F(5) is a borderline G color). When you combine colors and types, two diamonds can have the perception of being the same, but be from different parts of the rainbow.
So, the question is when will the labs start breaking down each color into types? No one knows! Naturally an F(1) should cost more than an F(5). But if the labs won't tell you, how can you determine a diamond's color and type without their help?
You can ask the jewelry store to run a colorimeter tape and attach it to the jewelry appraisal report, so you will know if your specific color grade is a strong or a weak one. As the buyer, you have every right to know a diamond's color and type. You have to just ask.
Return from Color Grading Scale to Color of Diamond page
Return from Color Grading Scale to Diamond Jewelry Homepage
I hope you'll not mind sharing this on Twitter, Facebook and with everyone else :)
Feel free to share if something is in your mind and want it to be covered on this site.

My Newsletter

Did you liked this article? Sign-up my FREE weekly newsletter and I'll send you more awesome new additions on this website along with latest jewelry happenings around the world, and download my Jewelry Design Album for FREE!