<!- google_ad_section_start ->
Right Hand Diamond Rings

Right Hand Diamond Rings are quite in trend these days. However, they are often confused with Diamond Cocktail Rings which are much different from right hand rings. So, on this page I have explained these two types of ring styles in detail which should help you in differentiating between these 2 ring types.
Right Hand Rings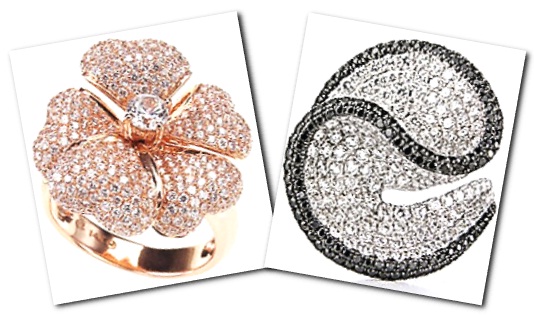 <!- google_ad_section_end ->
Diamond rings are no longer meant only for the left hand (an indication of engagement).

Nowadays, the over-sized diamond cocktail rings have been replaced by contemporary Right Hand Diamond Rings. Women desire for these rings to instantly upgrade their wardrobe and for making a style statement.
Right Hand Diamond ring is the choice of an already-married woman with an engagement and wedding ring in her the left hand and this ring in her right hand.
It's also desired by an independent, working, single or divorced woman who doesn't want a left-hand ring but want a diamond ring in her right hand.
Right hand diamond rings have become a great way for women to express their individuality, fashion and style. Right hand rings are a gift to women from themselves. It's a well-deserved reward as it celebrates one of the most special people in your life: Yourself!
So, these rings have become a good gifting option for a guy as well, as he can easily gift it to a woman who he admires and that too without getting into any relationship commitment.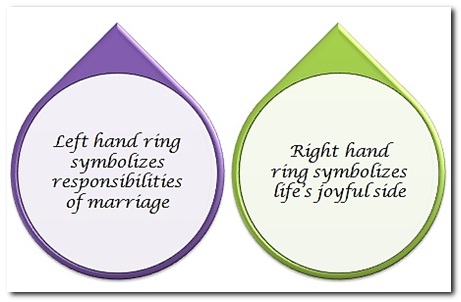 You may also like to read about Fancy Shaped Diamond Engagement Rings and Fancy Colored Diamond Engagement Rings.

Cocktail Rings
Cocktail rings are also termed as "statement rings" and come in both fine jewelry and costume jewelry variations, and have become a jewelry essential. Diamond cocktail rings come in variety of shapes and settings, ranging from fancy to classic to edgy. Flower and animal motif rings have become especially popular.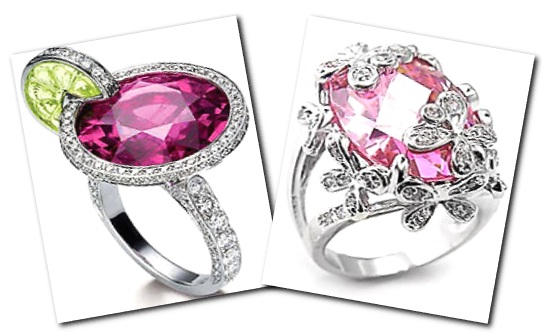 Don't get confused between these two types of stylish rings
Let me list down some basic difference between cocktail rings and right hand rings.
| Cocktail Ring | Right Hand Ring |
| --- | --- |
| Usually big, clustery and designed to be worn occasionally. | More contemporary in looks, more negative (empty) space and designed to be worn on regular basis. |
| Has a large stone as center piece. | Generally, set with multiple small stones. |
| This ring style is characterized by prong setting. | Different setting techniques (bezel, channel, pave and prong) can be used. |
How to choose a Right Hand Diamond Ring?
Now when you know the basic difference between these two ring styles, here are certain points that should be kept in mind while considering buying a right hand diamond ring. Before making the final decision, ask yourself these questions, which will help you in making the right choice.
What should be the right size for my right hand diamond rings?
Keep in mind that your finger width changes with weather. So, you must consider the weather (hot or cold) in which you are buying the ring. In hot weather finger swells, so choose a tighter fit ring so that it doesn't get loose in cold weather. Similarly, in cold weather go for a slightly loose ring, so that it will have space to fit properly in hot weather.
This will avoid unnecessary resizing of your ring. So, take your time and choose the right size in the first time itself.
Which gemstone is best suited for my right hand ring?
Diamonds are the most popular choice for right hand rings. But, these rings are also available in a wide variety of other gems. Since a right hand ring is meant for everyday wear, less harder stones like topaz, pearl, opal, citrine, peridot, amethyst and garnet aren't ideal choices because they are more prone to damage.
So, mostly sapphires (including pink sapphires and blue sapphires), rubies and diamonds are used as they are much harder and more scratch resistant than other gemstones.
What should be the width of my ring head?
The width of your right hand ring head depends on your choice, comfort and length of your fingers. If you have petite fingers, a large headed ring may look a little too heavy and huge on your finger. But, if you are blessed with long fingers then you can choose whichever head width you like. However, as long as it's comfortable to wear, you can choose any width that appeal you.
Which design to choose?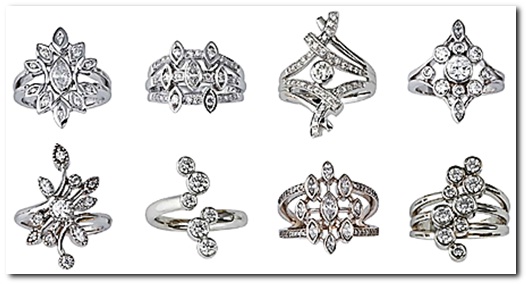 The design of the right hand ring will normally be quite different to the engagement ring designs. Right hand rings are more modern and extravagant in their design than many engagement ring styles.
Diamond right hand ring is for you and chances are that's it by you! So, just go ahead and choose whatever suits you best from the available options. However, keep in mind that you should choose a right hand ring that suits your lifestyle and taste.
How often will I wear my right hand ring?
As a right hand ring is usually a strong reflection of you, your taste and style, it should be worn as often as possible. How often you will wear your right hand ring will depend on the ring design including the stone setting and gemstones that you have chosen for your ring. If you plan to wear your ring most of the time, it's important to choose a ring which has a secure setting with strong and durable gemstones.
Don't want to spend too much?
Don't worry, you don't have to spend too much to present yourself a right hand ring or a cocktail ring. There is always the option of pocket friendly simulated diamond jewelry.
You can find a wide variety of cubic zirconia right hand rings and cubic zirconia cocktail rings in market.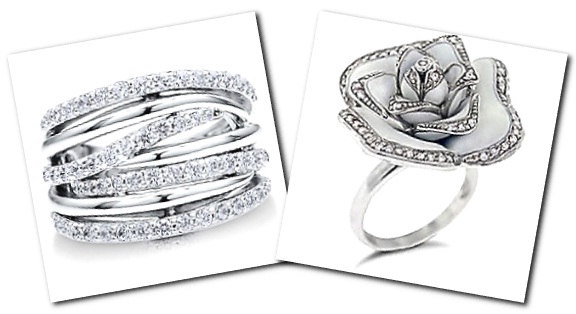 Cubic Zirconia Right Hand Ring (left) and Cocktail Ring (right)

There is also the option of moissanite right hand rings and moissanite cocktail rings.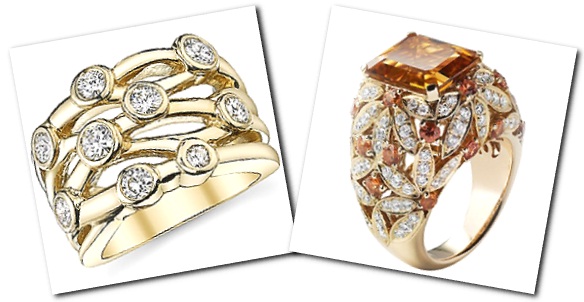 Moissanite Right Hand Ring (left) and Cocktail Ring (right)

Since, these diamond simulant rings are available at reasonable price, it will allow you to experiment with your looks. You may also like to read about cubic zirconia engagement rings and moissanite engagement rings.

Various jewelers are selling CZ and moissanite right hand rings and cocktails rings online. But before purchasing online, do check pros and cons of online jewelry buying. Always, read reviews of the different companies in order to find one that matches your need and criteria.

So just go ahead and celebrate yourself! And be stylish!
Return from Right Hand Diamond Rings to Diamond Jewelry Homepage
I hope you'll not mind sharing this on Twitter, Facebook and with everyone else :)
Feel free to share if something is in your mind and want it to be covered on this site.

My Newsletter

Did you liked this article? Sign-up my FREE weekly newsletter and I'll send you more awesome new additions on this website along with latest jewelry happenings around the world, and download my Jewelry Design Album for FREE!