<!- google_ad_section_start ->
Cuts of Diamond - Don't confuse it with Diamond Shapes

Cuts of diamond - the most important characteristics, but sadly the least understood aspect. It is the "Cut" that has the maximum impact on its sparkle. Diamond being big, clear and white is just not enough.
A diamond cannot be truly attractive unless it sparkles, and it won't sparkle unless it's properly cut.
<!- google_ad_section_end ->
However, before delving further, let me tell you that do not get confused between diamond's "shape" and it's "cut". Diamond shape implies its overall geometrical shape while the Cut means how a diamond is faceted.
To start with, you may also read Diamond Facets and Parts of Round Brilliant Cut that will help in strengthening your basics with respect to anatomy of diamond.
In this article, explanation is based on example of Round Brilliant Cut, because it is the most widely used cut.
Different Types of Cuts of Diamond
Following diagram will give you a high level picture of various forms of diamond cuts. Meanwhile, here the term 'Brilliant' (in orange box) is synonymous to 'Diamond', while in green box (i.e. Round Brilliant Cut) it implies one of  the basic cutting styles.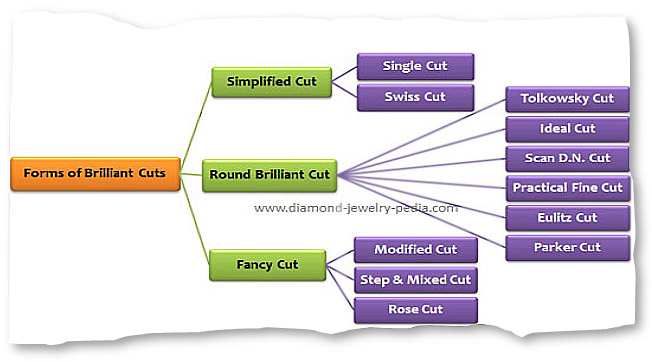 Types of Diamond Cuts:


Round Brilliant Cut


Fancy Cut
Cut Quality of Diamond
The way a rough stone is cut has a huge effect on its brilliance and sparkle. So, check significance of cut quality of diamond in order to learn about importance of diamond cut. Hearts and Arrows Cut is the best example of high cut quality of diamond.
Cut quality of diamond is determined by:
Diamond Cutting Process
While going through diamond cuts, it is quite pertinent to talk about what considerations are given at the time of cutting a diamond. So, check Diamond Cutting Process where you will also learn about technique used for cutting and polishing of diamond.
Conclusion
Cut of diamond is the most important factor that affects its value. Don't confuse it with shape of diamond. Shape is the outer boundary of diamond (like, round, oval) while cut of diamond refers to how the diamond is faceted.
If cut quality of diamond is good, it will make an average diamond look brilliant with high amount of sparkle. On the other hand, if the cut of diamond is not good, it will definitely be priced lower as compared to same quality diamond with good cut.
Return from Cuts of Diamond to Diamond Jewelry Homepage
I hope you'll not mind sharing this on Twitter, Facebook and with everyone else :)
Feel free to share if something is in your mind and want it to be covered on this site.

My Newsletter

Did you liked this article? Sign-up my FREE weekly newsletter and I'll send you more awesome new additions on this website along with latest jewelry happenings around the world, and download my Jewelry Design Album for FREE!