<!- google_ad_section_start ->
Hearts and Arrows Cut Diamond
Hearts and Arrows cut is the best cut a cutter can produce. This cut is superior to even ideal cut diamond in terms of optical symmetry and facet proportions.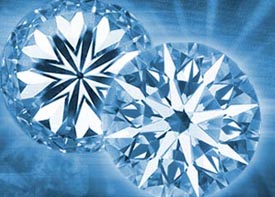 <!- google_ad_section_end ->
This cut has got its name because of perfect pattern of 8 symmetrical Arrows and 8 symmetrical Hearts.
When diamond is viewed from top (Table area) Arrows are visible and when it is viewed from bottom (Pavillion area) Hearts are visible.
Prominence of hearts and arrows pattern can only be seen if diamond is polished perfectly. High polish grade and facets symmetry allows more light to reflect through diamond thereby creating more brilliance and sparkle in diamond.
Viewing Hearts and Arrows Pattern
Hearts and Arrows can be viewed through Fire Scope (Heart & Arrow Viewer). This device will help you to judge the physical proportion, symmetry, contrast and alignment of facets of a diamond. It directs incident light at set angles and reflects it back from specific facets. Use of this device is very simple and even an untrained eye can see how well or poor a diamond is cut.

Hearts and Arrows Viewer

How to choose Hearts and Arrows diamond?
Following images will help you in differentiating between perfect and imperfect hearts and arrows diamond.
Perfect Hearts and Arrows Diamond
As you can see in the image, there is perfect pattern and symmetry of hearts and arrows which are of equal shapes and sizes.
Perfect Arrows (viewed from Table)
Perfect Hearts (viewed from Pavilion)
Courtesy diamondideals.com
Imperfect Hearts and Arrows Diamond
Hearts and arrows are improperly aligned and are of distorted shapes.
Imperfect Arrows (viewed from Table)
Imperfect Hearts (viewed from Pavilion)
Courtesy diamondideals.com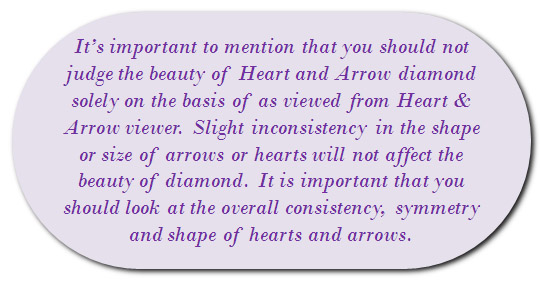 Price of Hearts and Arrows Cut Diamond
Diamond with hearts and arrows pattern comes with premium price tag. This is because such a pattern requires lot of time and there is greater loss of carat weight as compared to any other cut. Also, the overall cut quality of such a diamond is very high.
Return from Hearts and Arrows Cut Diamond to Cuts of Diamond page
Return from Hearts and Arrows Cut Diamond to Diamond Jewelry Homepage
I hope you'll not mind sharing this on Twitter, Facebook and with everyone else :)
Feel free to share if something is in your mind and want it to be covered on this site.

My Newsletter

Did you liked this article? Sign-up my FREE weekly newsletter and I'll send you more awesome new additions on this website along with latest jewelry happenings around the world, and download my Jewelry Design Album for FREE!