<!- google_ad_section_start ->
Indian Bridal Jewelry Tips

Wedding means lots of preparation and if it's an Indian wedding then the list of to-do things can become even longer. However, if planning is not proper, it doesn't take long for things to go awry. So, if tasks are carried out in a planned and systematic manner it does make the wedding work simpler and manageable.

<!- google_ad_section_end ->
Same holds true for purchase of wedding jewelry as well. For example, if you want to combine your bridal-wear with heirloom jewelry, examine those heritage pieces for any repair work in advance.
You have to keep in mind that wedding clothes can be altered, but when it comes to reshaping jewelry, things may become quite cumbersome. For instance, resizing of rings or bangles is a tedious task and sometimes it is not even possible.
In short, if your bridal jewelry is well-thought and planned beforehand, it will save you a lot from last minute hassles and hasty shopping at exorbitant price.
What's the budget?
First and foremost, discuss well-ahead with your family the total budget allocation for jewelry and then do a judicious distribution of jewelry for different events (including cocktail party and sangeet). Here I will suggest to earmark maximum fund for final wedding ceremony.
Pair your jewelry and dress
Get hold of your wedding dress - lehnaga, saari or whatever it is - first, and then accordingly go for matching jewelry. Remember, if your dress has silver work on it, then diamond jewelry will blend with it. While, with antique sequence work - quite popular these days - Kundan and antique finish jewelry will combine really well.
One Jewelry for Multiple Occasions
For the urban multifaceted woman of today, it's very important that jewelry pieces are versatile with detachable concept. It means that jewelry should be detachable at several points, so that it can be transformed into various independent pieces, and then can be re-combined to its original statement-piece form.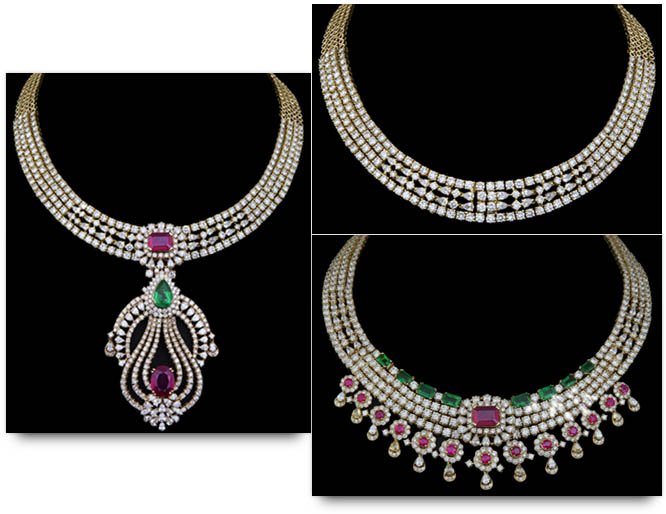 Detachable necklace in different forms

This allows flexibility and will enable you to enjoy the same jewelry with different designs at various occasions. Otherwise, the heavy and chunky wedding jewelry would be of limited use and would just grace your locker.
Varuna D Jani (with the World Product Patent for her jewelry VOW - "Very Own Wish") is one of the first designers in the world to come up with "multi-wear modular jewelry". Its USP of adaptability perfectly echoes the style of present day women.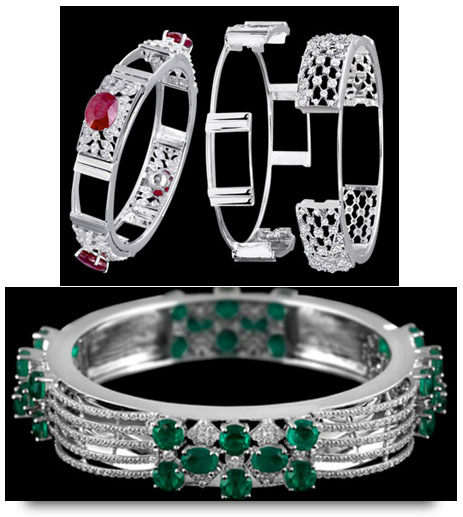 Detachable bangle designed by Varuna D Jani

Just One Bold Statement
Everything is getting bigger and grander from big nath to lofty statement neck-pieces. However, what's the point of having all your jewelry as statement pieces.

Instead, wearing only one statement piece - be it necklace, earrings or head jewelry - and keeping the rest of jewels subtle in comparison is good enough. This is because too many bold pieces take away the grace and delicacy, and will make you no better than a showpiece out for display.
Gold is not synonymous to yellow glitter
Stay away from glittering jarring gold! Instead go for dull-polish, antique black-look gold jewelry.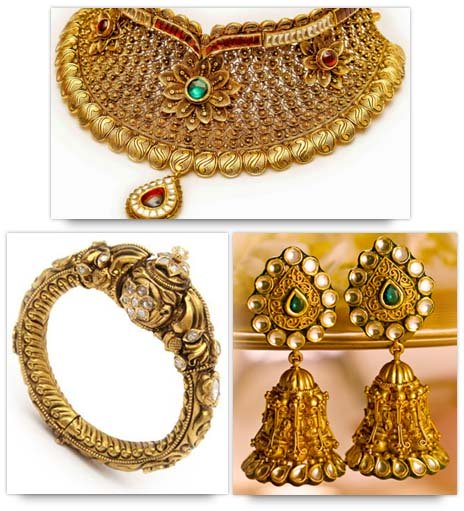 Dull Finish Gold

You must also explore different finishes in gold, like rose gold, which is very much in trend and has quite a contemporary look to it. No doubt, today's bride want gold jewelry, but modern designs with minimalistic look is preferred more.
Rose Gold Earrings

Go beyond Gold
Earlier, Indian bridal jewelry was all about gold. Story started and ended with traditionally-designed heavy-weight gold jewelry. However, now choices and preferences have evolved and light-weight modern designs are favored, as light-weight and sleek-designed jewelry can be worn in day-to-day basis and blend with modern dressing.
Hot Kundan
These days brides love to experiment with diamond and kundan jewelry too. A kundan piece looks elegant when paired not only with traditional outfits but with contemporary clothing too.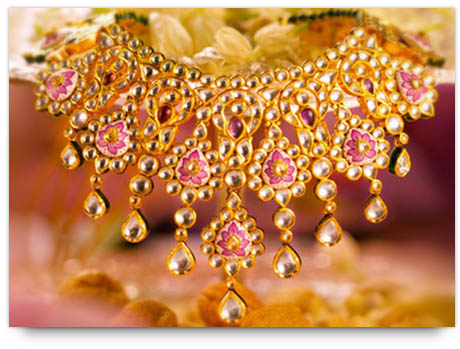 This beautiful neck-wear set from Tanishq is inspired from lotus flower (lotus is an integral element of the Indian wedding ceremonies). The uniqueness of this intricate glass kundan piece is the rare and detailed pink and white enamel work.

Be Offbeat
When the discussion is about engagement or wedding rings, it's the classic round diamond rings that come first to our mind. However, if you want to clothe an unconventional look, go for fancy shaped diamond engagement rings - like princess or marquise cut - for that distinct look.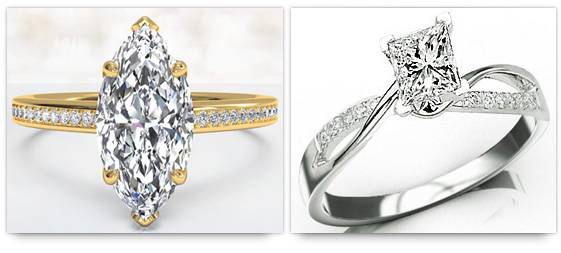 Marquise and Princess cut engagement rings

Research well
These days, there is no dearth of personal stylists and bridal grooming professionals who are there to give expert opinion on bridal styling and dressing, with each piece of jewelry being given special attention.
Do you know, earlier nath or bajubandh were just a part of bridal trousseau, but in current times special research is done on these pieces as well, like - what are the options available and which style will look the best.
So, try in advance what will look good on you. Like, whether a mathapatti will go well or a maangtika or a jhoomar will complement your tresses. For example, if you have a broad forehead then go for a heavy maangtikka with a mathapatti, otherwise opt for a small tikka. Likewise, if  you have wide shoulder, then avoid wearing a brooch or an armband. You may also like to read different options in traditional Indian jewelry.

You can always mix and match, and add your personal touch and sense of styling that will reflect your unique personality. Also, why not strike a balance of old world charm and new age trends with contemporary yet traditional overall look!
Last but not the least, being in trend is good, but whatever you are wearing, it should look flattering on you. For example, if you don't enjoy sporting waistband then stay away from it. It's your comfort and preference that should be the deciding factor.
Return from Indian Bridal Jewelry Tips to Indian Jewelry page
Return from Indian Bridal Jewelry Tips to Diamond Jewelry Homepage
I hope you'll not mind sharing this on Twitter, Facebook and with everyone else :)
Feel free to share if something is in your mind and want it to be covered on this site.

My Newsletter

Did you liked this article? Sign-up my FREE weekly newsletter and I'll send you more awesome new additions on this website along with latest jewelry happenings around the world, and download my Jewelry Design Album for FREE!