<!- google_ad_section_start ->
Asscher Cut Engagement Ring
Asscher Cut Engagement Ring should be your choice if you are looking for a stylish and exclusive engagement ring (unlike traditional round or oval cut engagement rings), and not wary of walking a less-traveled path. Asscher cut diamond speaks for itself and grabs all attention with its extremely distinctive shape.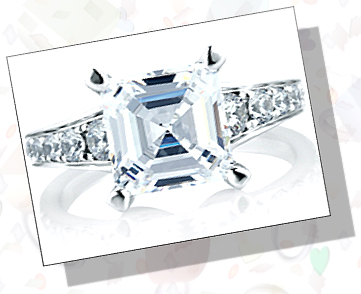 <!- google_ad_section_end ->
About Asscher Cut
Asscher Cut diamond was first developed by Joseph Asscher in 1902, and its design was patented in name of Asscher Diamond Company.
In 2001 - after almost 100 years - Edward and Joop Asscher introduced the Royal Asscher Cut, the design of which is again protected by an international patent.
Royal Asscher Cut was conceptualized on top of Traditional Asscher to enhance the brilliance of polished stone. The improvisation to traditional design gave a fresh momentum to popularity of asscher diamonds in market.

Besides maximizing the brilliance of stone, Royal Asscher utilizes rough more efficiently. Due to this, it looks larger for its weight face up because of less total depth.

When viewed from top, modern asscher resembles a regular octagon due to its deep truncated corners. Royal Asscher has wider corners and additional pavilion facets leading to 74 facets as against 58 facets of Traditional Asscher. Read more about Asscher Cut.
Ring Settings for Asscer Cut Diamond

Setting has an enormous impact on the final beauty of any jewelry piece and it is no different for an asscher engagement ring as well. So, select the setting of your preference wisely from the options available.
Asscher cut is such an extraordinary shape, that it is never advisable to spoil its beauty by mixing too many elements. The bold and clean lines of this cut are strong enough to make you stick out in crowd. Key is to keep it simple!
4 prong setting looks beautiful, in which diamond is little elevated that attracts more light leading to more sparkle. Just make sure prongs are not too wide to cover the corner, as the beauty of this cut lies in its corners. Also, shrouding of corners will cause the diamond appear smaller.
Prong Set Asscher Stone (left) Pave Set Side Stones (right)

If the stone your choice is small and you want a bigger look, then mix it with small round diamonds mounted in pave setting. Small round diamonds set in a band in pave setting enhance the unique shape of the center asscher cut diamond and makes it appear bigger at the same time.
Asscher diamonds are good choice for antique setting engagement rings. You can find asscher cut diamond engagement ring in antique setting particularly in Art Deco inspired style. It's a good option if you like art deco style jewelry, as classic heirloom designs never go out of fashion.You need to have patience if you are looking for a vintage asscher cut engagement ring, because it may not be easy to find a perfect vintage asscher cut engagement ring.
Art Deco Style (left) Vintage Style (right)

2 Princess Shaped Side Stones
Things to Remember
Price

– Asscher cut diamond engagement ring is associated with alluring beauty, so it comes with a premium price tag. Asscher cut has a very rare cut pattern and commands higher price as compared to other diamond shapes.

Clarity

– Large facets of Asscher cut causes even the small inclusions to appear quite prominent. It has to be kept in mind that asscher cut is not as brilliant as round shaped diamond, due to which there are less chances of inclusions getting diminished by brightness of diamond. So, always keep a close eye on clarity while doing selection of asscher cut stone.

Certificate

– Never miss on insisting standard diamond lab certificate – like GIA – accompanied with your Asscher diamond. This hold especially for antique or vintage asscher cut engagement ring. Get it checked by an independent and reputed appraiser to know the real value of ring.

Setting

– Don't ever get an Asscher stone set in bezel. This will completely ruin its elegance, and will reduce the extraordinary Asscher cut engagement ring into an ordinary ring. This cut is just not meant to be set in bezel.

Limit you creativity

– Don't mix too many elements with an Asscher cut diamond. This may kill the originality of an Asscher cut diamond ring. Whatever you want to try, make sure it complements the Asscher stone.
I will suggest following for Asscher cut stone:
Finally, compare, compare and compare! Never forget this important mantra while buying an engagement ring, especially while buying an asscher cut engagement ring. Keep different pieces side by side, and compare them with respect to their prices and other parameters. Then choose the one which appeals you the most, and not the one salesperson is trying to sell you.
Don't hurry, take your own sweet time to think and decide, and don't shy away from asking questions. It's you who is buying and it's you who is spending, so you are IMPORTANT!
Return from Asscher Cut Engagement Rings to Fancy Shaped Diamond Engagement Rings
Return from Asscher Cut Engagement Rings to Diamond Jewelry Homepage
I hope you'll not mind sharing this on Twitter, Facebook and with everyone else :)
Feel free to share if something is in your mind and want it to be covered on this site.

My Newsletter

Did you liked this article? Sign-up my FREE weekly newsletter and I'll send you more awesome new additions on this website along with latest jewelry happenings around the world, and download my Jewelry Design Album for FREE!