<!- google_ad_section_start ->
Art Deco Engagement Rings

Art deco engagement rings have become a popular choice among couples looking for something unique with blend of an old world charm. Bold streamlined-geometric look is the main ingredient if Antique Art Deco jewelry.
<!- google_ad_section_end ->
Brief History

Art Deco era got its name after the 1925 International Exposition of Modern Industrial and Decorative Arts, held in Paris, France.
The economic and social pressures that followed the First World War, brought with it a new style of jewelry. The art deco style first became popular in France during the interwar period of the 1920's - 1930's.
Technology was emerging, and Art Deco was part of the new "modern" look. It was an age of the machinery, the Jazz and the exploration.

Initially, Art Deco style influenced designs of buildings and structures, and later on it's effect was found on everything around - be it automobiles to clothing to jewelry.

But, the financial crash of 1929 accompanied by worldwide depression and Second World War led to untimely end of this popular jewelry style. As, due to these events, little was left with people to spend on luxury items of jewelry. However since the 1980's, art deco jewelry has revived and has found new liking among people.
Inspiration
The art deco style was inspired by the art and architecture of the native Americans, ancient Egyptians, Asians, Greeks and Romans.Women's suffrage movement and the machine age influenced the designing of jewelry in that time. Women were independent and taking their own decisions, and this new found voice clearly reflected in jewelry.
Sleek, bold, clean cut and streamlined forms in jewelry conveyed elegance and sophistication. Bright, colorful and bold art deco jewelry was totally in contrast to pale and neutral Edwardian designs. Unlike Victorian engagement rings, there was nothing fancy or too much details or intricacies required in making art deco rings.
Motifs
Art Deco jewelry motifs include geometric, Egyptian, Oriental, little bit of floral and abstract designs but with a balance look. Circles, triangles, squares and rectangles are creatively blended to create intricate beautiful designs.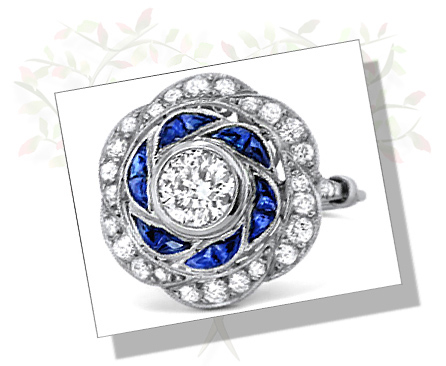 Floral Motif Engagement Ring

An art deco ring looks unique with a plain motif in a simple setting. It stands apart with blend of non-traditional colors of gemstone, and abstract and linear geometric patterns.
Gemstones and Metals
Art deco jewelry was experimented with many metal and gemstones. The most popular gemstone during art deco period was solitaire diamond. Ruby, emerald and sapphire were also very popular - be it genuine or synthetic.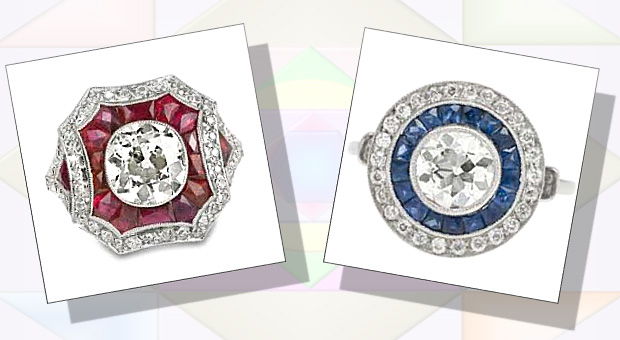 Diamond and Ruby Engagement Ring (left) Diamond and Sapphire Engagement Ring (right)

Diamond and Emerald Engagement Ring (left) Antique Diamond and Ruby Chandeliers (right)

Black onyx, mother of pearl, coral, ivory, jade, quartz, turquoise and lapis lazuli were used along with diamonds to create contrasting effect.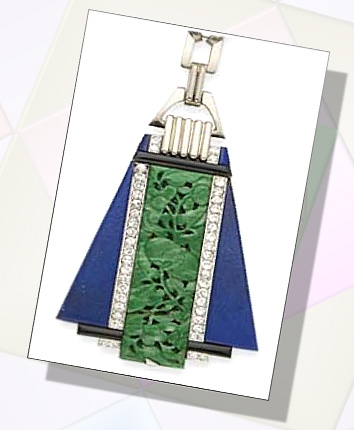 Lapis Lazulli Onyx Diamond Pendant

Silver and platinum were preferred as compared to yellow gold. However, yellow gold had its own place, and you can find wonderful antique art deco jewelry in yellow gold with detailed use of enamel. Platinum was a new metal and especially preferred for art deco engagement and wedding rings.
New diamond cuts - baguettes, emeralds, triangles - were produced and used in art deco jewelry. These cuts blended well with geometrical designs of art deco jewelry.
Channel setting and bead setting were used to make handmade jewelry. Engraving and mille grains were used extensively to create simple yet stunning jewelry. The jewelry was well finished and polished not only from front, but also from back part. Couples engraving personal symbols on art deco engagement rings was a known trend, and which still continues today.
Typical Characteristics of Antique Art Deco Jewelry

A very popular trend of Art deco Jewelry of 1920's is Lavallieres. Lavalliere is a pendant with two clusters hanging from chains of different lengths. Designers have revived this trend time and again with some modern twist and are popular even today.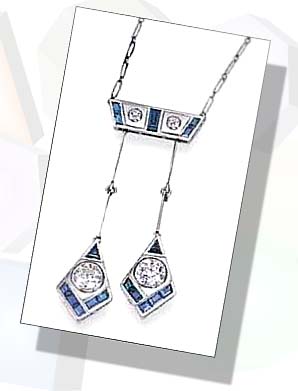 Antique Lavallier

Art deco rings were often set with a large central cabochon stone surrounded by small round diamonds or baguettes.
Irregular polished emerald beads were strung as necklaces accompanied by carved emerald, sapphire or ruby pendants. These pendants or brooches were carved into leaves and flowers of Asian motifs and framed by small round diamonds. Here original jade carvings were often incorporated with delicate borders of diamonds and geometric bands of black onyx.
Bangles of ivory and glazed wood inspired by African culture were common trend.
Anatomy of Antique Art Deco Engagement Ring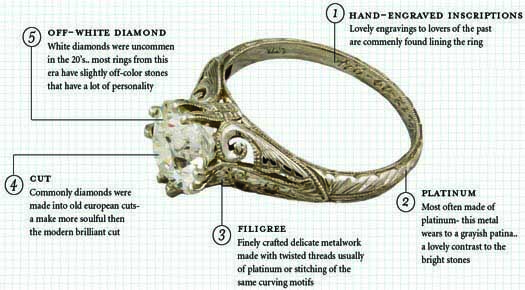 Hand-engraved inscription: Hand engraving was a common trend; lovers inscribed their personal messages on the shank of ring - something personal like their engagement date, or their birth date.
Platinum: Platinum was mostly preferred for engagement rings or wedding rings. It was a new found metal and looked beautiful with bright gemstones like ruby, emerald or sapphire.
Filigree: Filigree or carving on the band was done to enhance the beauty of art deco ring. These detailing on the band gave the ring, little delicacy as compared to other bold characteristics of art deco rings.
Cut: Round diamonds in old European cuts were used. So, if you find an antique art deco engagement ring with modern round brilliant diamonds, be careful as it's not a genuine antique art deco engagement ring. Baguettes and emerald cut diamonds and gemstones were used as they blended beautifully with art deco designs.
Off-white diamond: In those times, our modern day criteria of 4c's of diamond was not in use. Off-white diamonds with slight yellowish tint were preferred.
Things to Remember
Make sure that antique art deco engagement ring that you are considering, belongs to actual art deco period of 1920's - 1930's. It should not be confused with vintage art deco engagement rings from another period like the 70's or 80's.
A true antique art deco piece is one that was made when art deco style originated (i.e. during 1920's - 1930's). Difference of period can influence the price to a great extent. A vintage art deco engagement ring will be priced much less than an actual antique art deco engagement ring.
You can also create your own unique art deco engagement ring by personalizing it. You can draw basic essence of art deco jewelry, like opt for geometrical pattern or bold contrast of color, and mix it with your personal taste. Many jewelers provide option to personalize, this way you can get an antique look and feel with your contemporary personal touch.

I hope reading about art deco engagement ring will help you in choosing a perfect engagement ring for your love, and I'm sure she will certainly notice and appreciate the extra effort you have put in finding the perfect ring for her.
Return from Art Deco Engagement Rings to Vintage Diamond Engagement Rings

Return from Art Deco Engagement Rings to Diamond Jewelry Homepage
I hope you'll not mind sharing this on Twitter, Facebook and with everyone else :)
Feel free to share if something is in your mind and want it to be covered on this site.

My Newsletter

Did you liked this article? Sign-up my FREE weekly newsletter and I'll send you more awesome new additions on this website along with latest jewelry happenings around the world, and download my Jewelry Design Album for FREE!