<!- google_ad_section_start ->
Victorian Engagement Rings - Elegance Personified

Victorian engagement rings are becoming a popular choice among couples who are drawn to antique aesthetics.
<!- google_ad_section_end ->
Nowadays, more and more people are looking for something other than mainstream contemporary engagement rings.
A Victorian era engagement ring is attributed with elegance and romance, and makes a profound statement for itself. This surely makes the wearer stand out in crowd.

If you love the look of a Victorian era ring, but want to add your personal touch to it, you can very well do so. You can select an original Victorian ring and add a contemporary gemstone or a bigger diamond to it.
As Victorian rings were designed to emphasize smaller diamonds, so if you have a limited budget and are not in mood to spend on solitaire engagement ring, then Victorian inspired engagement ring will be a wise alternative.
Trail of History

This style of engagement ring got its name after "Victorian Era" - named after Queen Victoria of England, who reigned from 1837 - 1901. Queen had an exquisite taste and style of jewelry. Jewelry she wore, set the trend of jewelry pieces in those times.
True love and her happiness with her husband - Prince Albert of Germany - are truly reflected in jewelry pieces of early Victorian era. These engagement ring also symbolizes the successful love story of queen Victoria.

Styles and Patterns

There are many styles and patterns associated with Victorian rings and one can't pick a particular ring and say, "Oh! this is the true Victorian era ring".
Symbolic and romantic motifs, made particularly in yellow or rose gold with smaller diamonds are the hallmarks of the Victorian era jewelry.
Now, let's discuss some characteristics of Victorian era jewelry, that will help you in choosing a perfect Victorian era engagement ring.
Motifs
Interlacing hearts, bows, initials, romantic motifs - like flowers, serpents symbolizing eternal love - are various motifs that symbolized love in Victorian era.
Of all the motif inspired engagement rings, snake engagement rings were the most popular ones. Queen Victoria also wore a serpent ring in which two serpents were intertwined. Two serpents symbolize eternity, and true and forever love of bride and groom.
Snake engagement ring is a popular trend this year, as Chinese are celebrating the Year of Snake, and you can see jewelry stores are keeping various snake engagement rings. You may read about Chinese New Year 2013 Trends.
Metal
Nowadays, white metal has become more popular in engagement rings - be it white gold or platinum. However in Victorian times, yellow gold and rose gold were mostly used.
But, towards the end of that era, platinum and silver-plated jewelry had started appearing. Nevertheless, white gold was not used during Victorian period.

Pink color (color of love) of rose gold makes it a perfect choice for engagement rings. Towards the end of Victorian era, engagement rings were also seen in platinum and silver.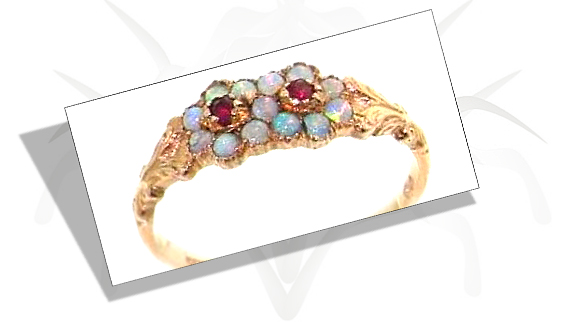 Rose Gold

Gems and Diamonds
Due to scarcity of diamonds in Victorian days, mostly gemstones - like sapphire, ruby, emerald, opal and pearl - were used. Use of diamonds gained momentum with discovery of diamond mines in South Africa. However, diamonds found were still small in size. You may like to read about diamond history.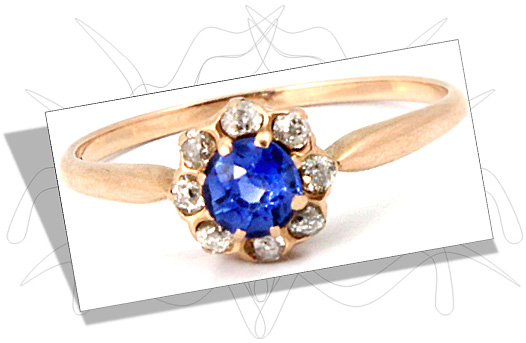 Sapphire as center stone

Old mine cut diamonds along with gemstones were popularly used. You may have noticed that some of the Victorian rings have only gemstones, with no diamonds at all. Also, small diamonds may be set in such a way to emphasize the large colorful center gemstone.
You might be surprised to know that 3-stone engagement ring is not the new trend. This style can very well be seen in Victorian rings as well. During those days, 3-stone trend was to set diamond in center, accented by two smaller bold colored gemstones like ruby or sapphire. You may also read about Three Stone Jewelry.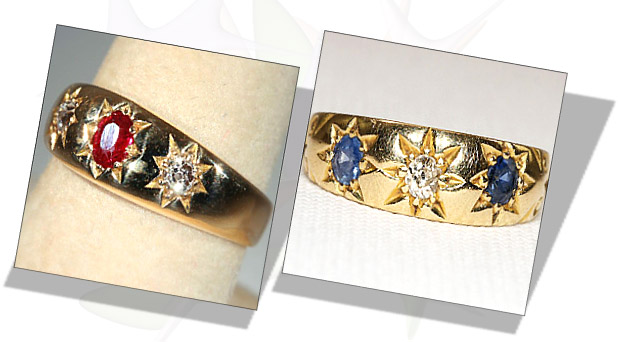 3-stone

Gold Techniques
Gold was available in plenty and at a low cost. This allowed jewelers to use various techniques in gold to enhance the beauty of jewelry pieces.
They expanded their artistry with detailed techniques, like fluid engraving, filigree work and dark colored enameling. Some couples engraved words like "love" and "dearest" on the shank to make their love more eternal. These were not just words, but their commitment for life time.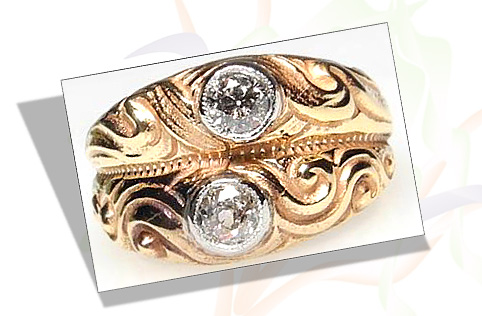 Gold Engraving

Aren't we losing these lovely charms in buying ready-made rings from the counter? The thought process in that era to make a special and lovely engagement ring - that's full of love - just amazes me.
5 Reasons for Proposing with a Victorian Engagement Ring

Romantic

It is the symbol of love and has a romantic felling attached to it. Its choice itself expresses your deep love. Think about you expressing your love with an engagement ring that is already a symbol of love.
If it's an heirloom piece of your family, it makes it all the more special and priceless, just like your love. Don't think she will consider you miser that you are not spending on your engagement ring. If Prince Williams can do it so why not you!
Unique
It makes the owner stand out in crowd, after all not everybody walks down the aisle in Victorian engagement ring. One can add personal touch and make it all the more unique.
However, I personally don't believe in playing around much with the antique heirloom pieces, as they are special and holds sentimental value.
In my opinion, antique jewelry  should be enjoyed as they are - of course until and unless you can't do without modification. So, be glad to posses an original Victorian engagement ring and enjoy its authentic beauty.
Good Diamond Alternative
If your lady doesn't love diamonds, and you are not able to choose between diamond alternative engagement rings, then Victorian engagement ring will be the perfect choice for you. As you can easily find a beautiful Victorian engagement ring with smaller gemstones.
Less Expensive
If you don't want to spend too much on solitaire diamond engagement ring, then fall on Victorian engagement ring. Victorian engagement rings were intricately crafted to emphasize the size of smaller diamonds.
Taste for Antiquity
If your beloved has got a taste for antique pieces and has a more classic and traditional style, then think no further than Victorian engagement rings.
If your lady appreciates vintage timeless pieces and you have seen her wearing antique jewelry, then I'm sure she will love Victorian era engagement ring. You can even have an antique-inspired engagement ring.
Victorian engagement ring will give you lot of choices to choose from. You will notice that each Victorian engagement ring is different from other. However, they have few common elements that give them Victorian era feel.
Return from Victorian Engagement Rings to Vintage Diamond Engagement Rings
Return from Victorian Engagement Rings to Diamond Jewelry Homepage
I hope you'll not mind sharing this on Twitter, Facebook and with everyone else :)
Feel free to share if something is in your mind and want it to be covered on this site.

My Newsletter

Did you liked this article? Sign-up my FREE weekly newsletter and I'll send you more awesome new additions on this website along with latest jewelry happenings around the world, and download my Jewelry Design Album for FREE!