<!- google_ad_section_start ->
Filigree Engagement Rings - Coming together of Past and Present

Filigree Engagement Rings - Twist of heritage with intricate craftsmanship
Nowadays, there is a huge demand of engagement rings with detailed craft-work and one-of-its kind looks.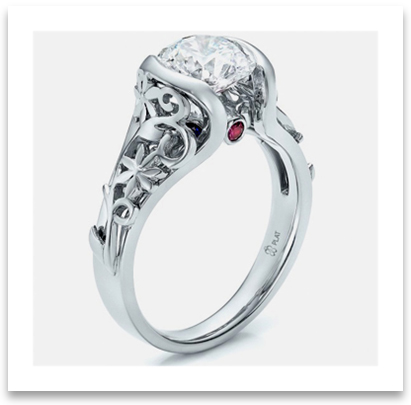 <!- google_ad_section_end ->
Style enthusiasts are not hesitant to stroll the vintage lane, and the true admirers of antiquities feel proud to adorn fashion and designs that were the highlight of bygone era.
This is why engagement rings with filigree work is quite prominent among vintage jewelry lovers. However, before the engagement ring discourse, first thing first...
What is Filigree?
Filigree, popularly known by Persian term "Tarkashi" is one of the ancient metalwork techniques for jewelry that features soldered wires of gold or silver on surface of metal in decorative and delicate patterns.
Widely used in jewelry, in this craft-work technique, bendable threads and beads of precious metal are twisted, pleated or curled, and then soldered on jewelry in form of pattern of beautiful motifs with lace-like designs.
Regarded as one of the oldest known jewelry crafting techniques, its prevalent motif designs are - delicate flowers, vines, leaves, buds, hearts, waving hair, swirls and spider webs. The combine of fine motifs and gorgeous lacy pattern gives shape to a intricate filigree work.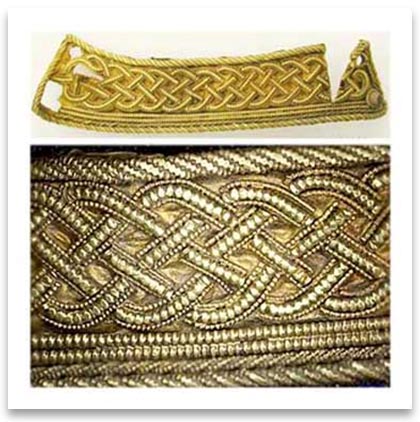 Filigree work with interlace design (bottom image is the enlarged view of top image - courtesy stafordshirehoard.org.uk)
Not knowing History is Knowing Nothing
The term "filigree" is derived from combination of two Latin words - filum (meaning thread or wire) and granum (meaning seed). This ancient art form can be witnessed on ancient Greek and Mesopotamian jewelry, dating as far back as 3000 BC. Its presence can also be found on jewelry from around the world, like - India, Egypt, Mediterranean and Northern Europe.
Filigree artwork got a renewed momentum at the turn of the 20th century, and was at its peak during Edwardian era, when jewelry with delicate and curving designs was the essence. The fine metal work can also be seen in geometric motifs and abstract shapes of Art Deco jewelry.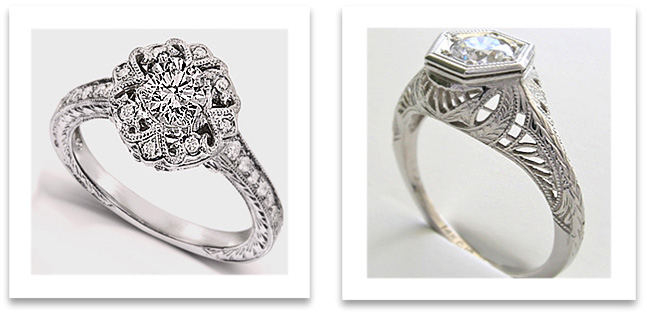 Edwardian (left) and Art Deco (right)

Choosing Filigree Engagement Rings
I will choose engagement ring with filigree work for following reasons, and I am sure your vintage taste-bud will agree with this.
Inexpensive Embellishment: Precious metals are comparatively less expensive than gemstones and diamonds. So, the decoration of ring with filigree work will come at a lesser price while maintaining the scrumptious looks of engagement ring. With filigree, even smaller primary or accent diamonds get the attention. Secondly, filigree creates a negative space (hollow-open space) in jewelry which results in light weight jewelry with heavy and big appearance.
Exceptional: The intricate filigree pattern gives a special flavor to an engagement ring. You can customize and choose the motif of your liking to create a unique filigree engagement ring.
Classic Appeal: Filigree being an ancient metalwork technique, so even if you pick a new-age filigree ring, it will still epitomize old world charm with a classic and timeless allure. You may also like to read vintage diamond engagement rings.

Can I have filigree engagement ring in metal of my choice?
Certainly, why not! Filigree work can be done on almost all kinds of precious metal with sufficient hardness and durability.
Platinum: It is more hard and durable than gold, so certainly a good choice for engagement ring with filigree work. However, if you are tight on budget, then you can explore other options, as platinum is even more expensive than gold.
24K gold: It's the highest purity gold and also very soft. So, not a good option for filigree jewelry. Due its softness, metal can disfigure and stones may fall.
10K - 18K gold: You can choose between these range, with gold (mixed with other metals) being hard enough to sustain filigree metalwork, and also cheaper than pure gold. You may also go for rose gold or white gold filigree engagement rings.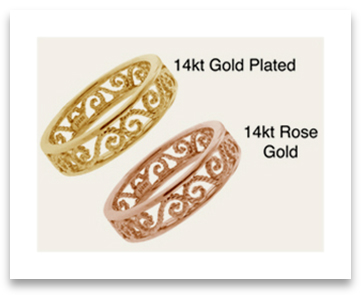 Sterling silver: Due to volatile gold price, sterling silver is fast becoming a popular alternative of gold in engagement rings. It's strong enough for delicate filigree pattern to be carved out of it.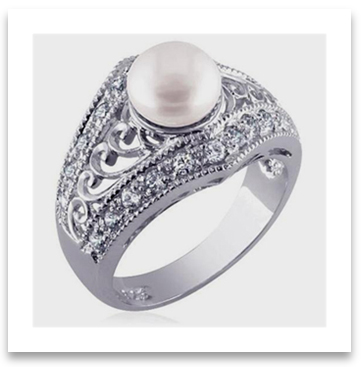 Where to buy Filigree Engagement Rings?
If you want an extraordinary and exclusive looking filigree work engagement ring, then I will suggest you to consider antique or vintage piece. This is because, nowadays filigree rings are often mass produced with similar design patterns. While, antique pieces were hand-made, so usually have unique patterns.
You can find antique filigree engagement rings at antique stores, pawn shops, estate sales and online vintage jewelry retailers (like - Lang Antiques, Ten Two Three etc.). Since, antique jewelry is one-of-a-kind, you may have to search hard to find the ring of your choice, as collection of these stores keep moving.
What else should I remember?
Filigree is an intricate and delicate work, so ensure the sturdiness of ring. Even a single damaged wire will make the whole ring fragile and prone to further damage.
Inspect carefully the symmetry and uniformity of design. Unbalanced design will kill the look all together.
Last but not the least, while buying an antique jewelry, make sure it's accompanied with reputed lab certificate. Also, you must receive in writing about condition, age and size of the ring. If you are a first time antique buyer, then my suggestion will be to deal only with a reputed jeweler.
Return from Filigree Engagement Rings to Engagement Ring Articles page
Return from Filigree Engagement Rings to Diamond Jewelry Homepage
I hope you'll not mind sharing this on Twitter, Facebook and with everyone else :)
Feel free to share if something is in your mind and want it to be covered on this site.

My Newsletter

Did you liked this article? Sign-up my FREE weekly newsletter and I'll send you more awesome new additions on this website along with latest jewelry happenings around the world, and download my Jewelry Design Album for FREE!