<!- google_ad_section_start ->
Edwardian Engagement Rings

Edwardian engagement rings with delicate and intricate designs are a very good engagement ring option. The unique design of an Edwardian era engagement ring makes its wearer standout in crowd. If you ask me in few words to describe engagement rings from Edwardian era, then I'll say - simple, elegant, light-weight and feminine with the mark of refinement.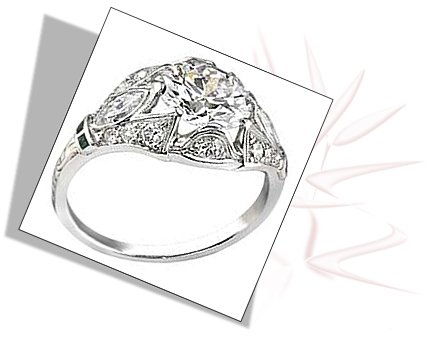 <!- google_ad_section_end ->
If you are an admirer of intricate and extraordinary craftsmanship with the taste for sweet romantic motifs, then let me assure you, an Edwardian era engagement ring will never betray you.

Edwardian Jewelry
Edwardian era (1901 - 1920) was named after King Edward of Britain. The era - also called "Belle Epoch" or "Beautiful Era" - was the period of luxury and opulence, with lightweight, airy and elegant jewelry being its focal point.
The Edwardian jewelry were in demand right through till 1920. Later on Art deco period took the center stage, when delicate and exquisitely detailed settings of the Edwardian era were taken over by bold geometric forms Art Deco.
In the Edwardian period, technology was advance and platinum was the new found metal. Platinum was used in jewelry for the first time in this era and strength of platinum opened the avenues for creative designs and settings.
Advanced technology and use of platinum pushed the jewelry-making to an all together new heights during Edwardian period. You won't find Victorian engagement rings in platinum, as it was discovered in Edwardian era.
The oxyacetylene torch was introduced, that produced high temperature required for mounting jewelry in platinum. Strength of platinum enabled use of less metal in gemstones settings, resulting more delicate designs with less visibility of metal and more spotlight on gemstones and diamonds.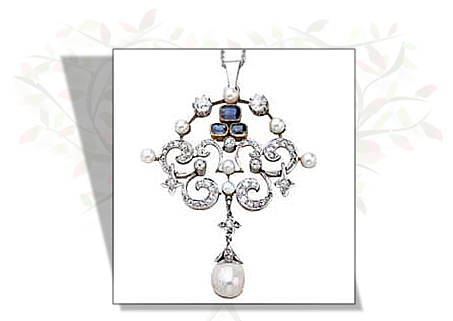 Diamond Pearl Sapphire Pendant with less visible metal

People increasingly opted for platinum as it blended beautifully with diamonds and enhanced their color and sparkle. Detailed lacy and very feminine patterns were made with intricate techniques like filigree, millegrain and scroll-work.
Edwardian jewelry used to be very delicate and light weight with superb craftsmanship. Jewelers created wonderful lacy looks by applying threads of different metals - like yellow gold and platinum - to the surface of the setting. Simple, classic, traditional and romantic motifs and palettes were used to showcase the original beauty of the gemstones.
Tassels, bows, laurel wreaths, garlands of flowers, and scrolls were the highlights of jewelry styles illustrating the richness of that the era superbly. Complementing them was the hit combination of diamonds, pearls and platinum.
Pearl and Diamond Engagement Ring crafted in Platinum

The white-on-white look was considered elegant, sophisticated and classic. Platinum was used to set colorless diamond in invisible setting to achieve this white-on-white look.
Features of Edwardian Engagement Rings
Edwardian rings beautifully represent romance and love with elaborate detailed craftsmanship. Each Edwardian engagement ring is unique, and there are few common features will that help you in identifying a true antique Edwardian ring.
Edwardian engagement rings are characterized by delicate filigree and open-pierced work on bands and crowns of rings.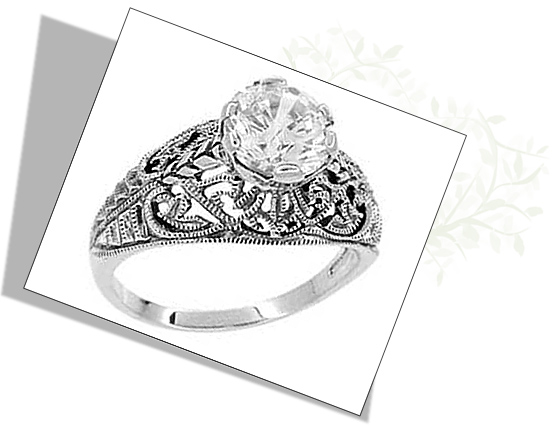 Engagement Ring with Filigree Work

Designs incorporating gentle curves and scrolled patterns to blend with exquisite filigree work. The overall look of an Edwardian engagement ring is airy, light-weight, lacy and feminine. Diamonds and sapphires were used together to create contrast along with scroll-work on setting.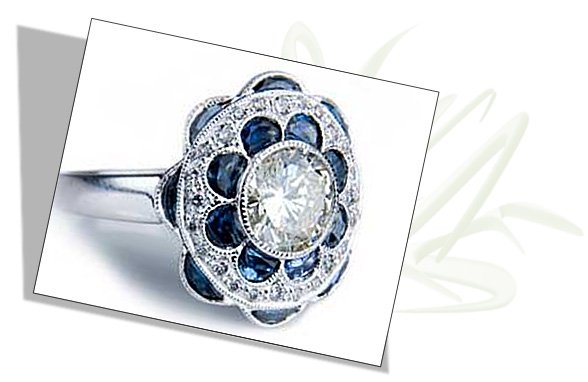 Diamond and Sapphire Ring with Scroll-work

Beautiful carvings of sweet romantic motifs - like hearts, bows, flowers and birds - along with filigree pattern is a prominent feature of engagement rings from Edwardian days.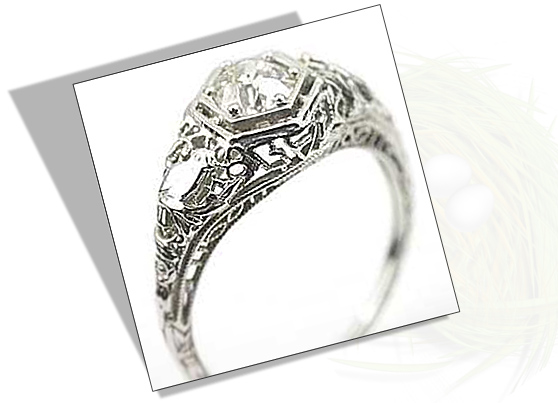 Bird Motif

More emphasis was given to gemstones with simple engagement ring settings. This was done to highlight gemstones more. Prong, pave, bezel and invisible setting were the commonly used setting styles.
Fine millegrain work created exquisite edging surrounded by small accent stones.
Simple and basic diamond shapes were used; round shaped diamonds including rose cut diamonds were the most popular. People often used cushion cut diamonds or emerald cut diamonds in their engagement rings.
Sapphire (left) and Aquamarine (right) engagement rings

People preferred their engagement rings with diamonds set in silver or platinum, as white-on-white look was the hot favorite.
In Edwardian era the trend of bridal set was not in practice, as people believed that each engagement ring is unique and its beauty should be cherished. Adding a wedding ring to existing engagement ring would not do justice to the engagement ring.
So, if your sweetheart loves the light weight and delicate antique jewelry, then don't think twice. Just go for an Edwardian engagement ring. Be rest assures, it will perfectly match with her taste, specially if she has given a hinted for platinum engagement ring.
Return from Edwardian Engagement Rings to Vintage Diamond Engagement Rings
Return from Edwardian Engagement Rings to Diamond Jewelry Homepage
I hope you'll not mind sharing this on Twitter, Facebook and with everyone else :)
Feel free to share if something is in your mind and want it to be covered on this site.

My Newsletter

Did you liked this article? Sign-up my FREE weekly newsletter and I'll send you more awesome new additions on this website along with latest jewelry happenings around the world, and download my Jewelry Design Album for FREE!