<!- google_ad_section_start ->
Abstract Design Diamond Rings - Are these Regulars?

Abstract design diamond rings - Is it the concept of absurdity?

I was browsing through my old designs and coincidentally stumbled upon a design that was conceptualized  after attending my friends pre-wedding ceremony. It was her mehandi ceremony and she was all decked-up in ornaments made of natural flowers. Watching natural flower ring on her finger triggered my imagination to design this particular ring.

Top sketch view of my design

<!- google_ad_section_end ->
So, the idea kindled to why not write an article on diamond rings with abstract designs.
But, was just wondering what to write. So, checked with few of my friends (not from jewelry field) about their understanding on this topic. Apart from not being aware of true meaning of "abstract design", basic question was - why an abstract design ring?
Therefore, decided to write a page on "what's" and "why's" of abstract design diamond rings.
What do you mean by Abstract Design?
You might be wondering abstract design ring is nothing but a ring with some really unique design pattern. Dictionary meaning of the word "abstract" is conceptual or theoretical. So, an abstract design can be said to have a thought process behind it. It's not like regular design, there is an idea, a picture of something in the mind of designer that brings to life something unique.
As a designer I can say, a conceptual jewelry piece narrates its own story, its unique story. There is some idea or inspiration behind the creation. It's the imagination of designer and words of the final piece that play in tune with each other.
Frankly speaking, there are times when a jewelry designer designs just for the sake of it, just to complete the work assigned. However, there are also times when it is the vision and picture in the mind of designer that take shape on paper, and finally come out as a finished piece. So, it will not be wrong to say, there is always a creative genius behind an abstract piece.
An abstract design ring is not another category of ring. It can play any role, be it right hand ring or engagement ring, like the ring below which is an abstract designer piece that can be comfortably worn daily. However, note that unlike other routine jewelry items, you may not find these designer pieces easily available over the counter.

Why an Abstract Design Diamond Ring?
Now, you might be thinking why someone will go for a diamond ring with abstract design. Question may arise, does it really matter to comprehend the idea and concept behind a diamond ring. Well, then I must tell you that there are plenty of admirers of abstract design rings and abstract jewelry in general.
Abstract design diamond rings are for contemporary women who are all in game to experiment and try meaningful jewelry. There are mainly two kinds of buyers:
The regular buyers who strive really hard to add exclusive pieces to their existing jewelry collection. They won't buy what others are buying from typical jewelers. These folks simply don't want to be in a situation when someone point out - "isn't it the same ring that you wore in the last party". You would have got my point. These socially active ladies work really hard to make a flattering appearance in every party and events. So, an abstract design diamond ring is perfectly suitable for them. Being one-of-its-kind, these rings are capable enough to make that big impact!

Intellects who want their jewelry piece to have some meaning or story associated with it. They are actually not jewelry buyers, instead they are art-collectors. A friend of mine can actually tell the story and symbolic essence behind her each jewelry piece. I must say she has an enviable jewelry collection. Keeping her taste and inquisitive nature in mind, I have to be extra careful while designing jewelry for her. I have to always explain her my thoughts and inspiration behind my creation.
Below rings from Van Cleef & Arpels (left) and Crivelli (right) are the perfect examples of abstract design rings.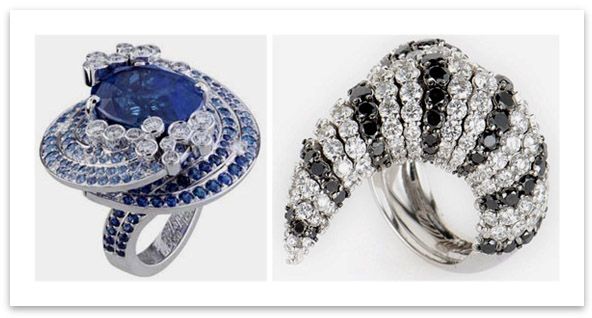 Cocktail Ring vs Abstract Design Ring
Abstract design rings and cocktail diamond rings are both attention-seekers, but quite different in approach. In case of cocktail ring there is nothing hidden. Everything is out there in open with big and bold gemstones. You may not stop appreciating its gaudy color combination and flashy design pattern.
On the other hand, an abstract piece may grab attention in a very subtle and refined manner, like - onlooker will secretly and continuously gaze at the ring and may finally question the USP of ring and its obscure interpretation.
This abstract yellow beryl black diamond ring (below image) - just like a cocktail ring - has a big gemstone and black diamonds, but the shape of beryl gemstone and placement of black diamonds will surely raise the curiosity of the onlooker regarding the concept of this design.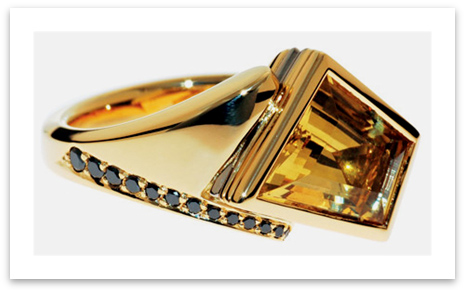 Finally, don't assume abstract design diamond ring has to be expensive and grand in size. Only requirement to qualify for abstract ring is to have a great concept. It should be the reflection of an imaginative thought.
Return from Abstract Design Diamond Rings to Designing Jewelry page

Return from Abstract Design Diamond Rings to Diamond Jewelry Homepage
I hope you'll not mind sharing this on Twitter, Facebook and with everyone else :)
Feel free to share if something is in your mind and want it to be covered on this site.

My Newsletter

Did you liked this article? Sign-up my FREE weekly newsletter and I'll send you more awesome new additions on this website along with latest jewelry happenings around the world, and download my Jewelry Design Album for FREE!