<!- google_ad_section_start ->
Pear Shaped Engagement Rings

Pear shaped engagement rings are the perfect mix of round shaped and marquise shaped diamond engagement rings. This is because, pear engagement ring has one end pointed (like - marquise) and other round.
<!- google_ad_section_end ->
If you are reckoning a solitaire engagement ring, then pear diamond engagement ring can be an option between traditional round and geometrical square shapes.
After all, one can walk the traditional line with some trendy element too.
Pear shaped diamond is beautiful and unique, and makes a beautiful engagement ring.
The best part of a pear shaped diamond is that its price is comparatively lesser than round shaped diamond.
This is because there is less wastage of stone while cutting pear shape, leading to high recovery ratio.
So, for the same price you can definitely get a bigger pear engagement ring.
Things to Remember
Length-to-width Ratio
The most classic and traditional length-to-width ratio of pear shaped diamond is in the range 1.45 - 1.75. So, I suggest to play within these limit to have a stunning pear shaped engagement ring. Delicate and slimmer pear shape looks good in chandelier earrings but not in engagement rings.
Ring Settings of Pear Diamond
A good diamond setting can turn an ordinary looking solitaire engagement ring into extraordinary beautiful engagement ring. While, a poor setting can kill the look altogether, no matter how much you have spent on it. So, it's extremely important to choose a good and suitable setting for your diamond engagement ring according to your life style.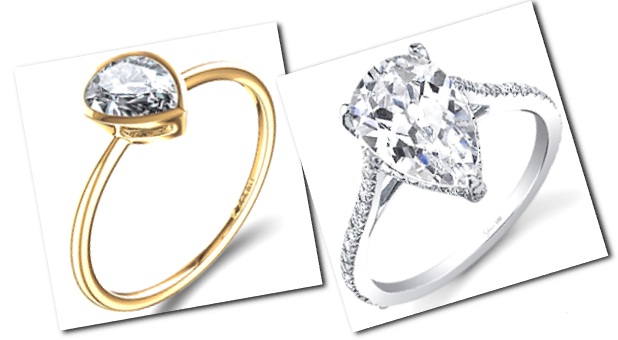 Bezel (left) and 3 Prong (right) settings

If you have an active lifestyle and it involves heavy handwork, then I would suggest bezel setting. This setting will cover your stone from all sides and provide it a good protection.
However, my personal favorite in pear shaped engagement rings is prong setting. After all, this setting doesn't take away any attention from the center stone and highlights its unique shape.
If you want a bigger look, but not in mood to spend too much, opt for pear shaped engagement ring set in pave setting. Small round diamonds set around your main center diamond will give your ring a much bigger and bolder look at much lesser price.
Pave Setting (left) and 3-stone style (right)

You can also choose 3 stone engagement ring style. Center pear diamond set with two accent pear diamonds in horizontal position is very popular. However, big accent stones are not suggested with pear shape due to its unbalanced shape.
Diamond Certificate
Generally, a pear shaped stone has 58 facets. Excellent or Very Good cut is essential to enhance the sparkle of a pear engagement ring. So, make sure that the ring that you are contemplating to buy is accompanied with a standard lab certificate (like - GIA certificate).
Certificate will have the details of 4 C's of diamond and the value of the diamond can be determined on basis of that. This way you will know what you are paying for.
Cutting Flaws
The pear shaped stone is subject to 2 cutting flaws:
Bow Tie Effect - It adversely affects the overall brilliance and clarity of diamond.
High or Uneven Shoulders - It reduces the beauty and value of diamond.
Both these flaws are unfortunately not mentioned in the certificates, but an expert can easily figure these out even through unaided eyes. So, make sure to get approval of an expert before buying a pear shaped ring.
In case of pear shape there is no fixed rule on how you should wear pear shaped engagement rings (like - should pointed end be towards fingernail or towards wrist). Although, it's said that wearing the ring with pointed end towards the fingernail creates illusion of slimmer fingers, but honestly saying, it all depends on you. After all, it's your ring, wear it the way it suits you the best!
Return from Pear Shaped Engagement Rings to Fancy Shaped Diamond Engagement Rings
Return from Pear Shaped Engagement Rings to Diamond Jewelry Homepage
I hope you'll not mind sharing this on Twitter, Facebook and with everyone else :)
Feel free to share if something is in your mind and want it to be covered on this site.

My Newsletter

Did you liked this article? Sign-up my FREE weekly newsletter and I'll send you more awesome new additions on this website along with latest jewelry happenings around the world, and download my Jewelry Design Album for FREE!