<!- google_ad_section_start ->
Chandelier Earrings
Chandelier Earrings - The Timeless Classic!
Seasons come and go, but just like Three stone jewelry and right hand diamond rings, these earrings have always been in trend. I am sure if you would be having the slightest interest in trendy jewelry, then you will definitely not ignore these magnificent earrings.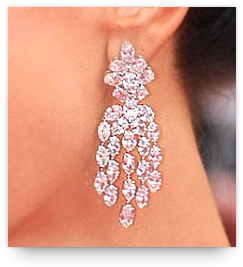 <!- google_ad_section_end ->
Origin of its Name

Earlier, chandelier earrings resembled ornate chandeliers lights with delicate dangling cut glass crystals. On the parallel lines, earrings had multiple levels of design and stones and diamonds sparkled with the slightest movement. Thus, this style of earrings got its name.
Designs and Styles
Chandeliers are popular with different styles and varying lengths. They can be short and end just below your earlobe, or be a showstopper piece almost touching your shoulders. However, don't worry even if it's a larger piece, it won't stretch your earlobe as these earrings are designed to be light weight.
Earlier chandelier designs had major influence from both the Art Deco and Middle Eastern styles, but with passage of time design patterns evolved and became in sync with contemporary trends.
Your Look
Choose your chandeliers keeping in mind what look you want and the occasion for which you have to dress up. Remember, chandeliers are not like stud earrings which you can wear anytime and anywhere. Chandeliers are NOT suitable for a professional environment and definitely will NOT blend with your business attire.
Keep your diamonds dangling earrings for traditional occasions like – wedding, or big get-together parties or whenever you need to get all dressed-up and grab attention.
You can even blend your chandeliers with trendy casual chic daytime look. But, try to keep height of earrings under 2". Also, don't go all bling-bling with sparkling diamonds, instead choose semi-precious stones like aquamarine, peridot or amethyst, jade to name the few.

Face Type
If you have a broad and round face or even if little bit of double chin:
My advice – Stick to slicker, slimmer and longer Chandelier earrings. Longer earrings cwill make your face appear elongated. Imagine someone looking at you in long Chandelier earrings, his eyes will linger till your shoulders not just focus on your ears.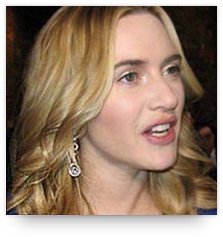 Chandeliers with round face

If you have a very long and thin face:
My advice – Just do the opposite, choose medium length broader earrings. Chandelier should be broad at the end, may be more drops or hangings towards the bottom in the design. Broader diamond dangling earrings will create an illusion of broader face and balance out your look.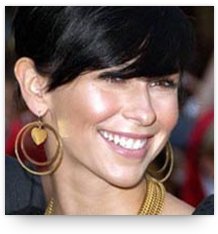 Chandeliers with long face

If you have very short hair:
My advice – If you have short hair or if high ponytail then wear earrings that end at your jaw line. Anything longer will not look good and short-hair look may get spoiled.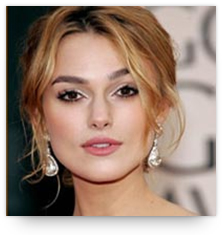 Chandeliers with short hair

If you have shoulder-length or longer hair:
My advice – With longer open hair, you can try long diamond dangling earrings, as it creates vertical illusion. Shorter earrings disturb the illusion and makes your face appear broader.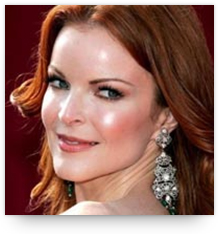 Chandeliers with long hair

If you are not comfortable with long earrings, then try short earrings with single big diamond drop or pearl.
Golden Rule
Never ever do the mistake of sporting earrings longer than your neck! Because weight of such long earrings will be too much for your earlobes to handle. Have some mercy on them!
Also, if earrings are dangling below your shoulders while standing then when you will sit, they may dangle around your cleavage. So, to avoid such embarrassing situation, always choose earrings which end up at least 1 inch above shoulders. The ideal height of Chandelier earrings should be between 2.5" to 2.75" depending on your face.
As chandeliers are themselves huge attention grabbers, don't mix them with elaborate necklace. Keep your neckline empty so that when someone looks at you in a party, center of focus is your beautiful dazzling chandelier earrings. However, if you still want to add another piece of jewelry then it's better to wear matching bangles or bracelets or a ring.
Chandeliers can take you to all together different level of elegance while completing your whole look. And important word of caution: Get use to handling lots and lots of attention when wearing these stunning earrings!
Return from Chandelier Earrings to Earrings page
Return from Chandelier Earrings to Diamond Jewelry Homepage
I hope you'll not mind sharing this on Twitter, Facebook and with everyone else :)
Feel free to share if something is in your mind and want it to be covered on this site.

My Newsletter

Did you liked this article? Sign-up my FREE weekly newsletter and I'll send you more awesome new additions on this website along with latest jewelry happenings around the world, and download my Jewelry Design Album for FREE!