<!- google_ad_section_start ->
Emerald Cut Diamond Engagement Rings

Emerald Cut Diamond Engagement Rings - For Confident and Risk Lovers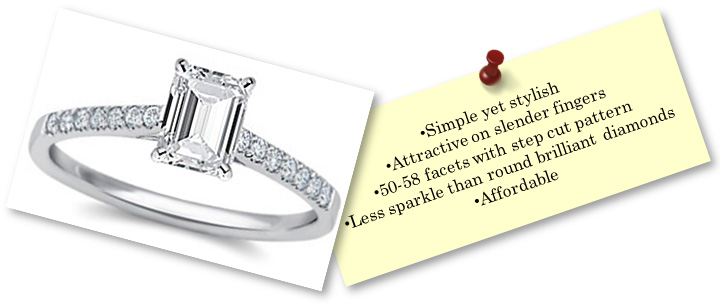 <!- google_ad_section_end ->
If love is knocking the door and you are looking for the best engagement ring that blends with her personality and style, then there is no better choice than a diamond engagement ring. After all this is the piece of jewelry that your beloved will wear and cherish for life.
Emerald Cut Engagement Ring Meaning

If you want something bold as well as elegant, then emerald cut engagement ring should perfectly fit the bill. I can assure you that among all solitaire engagement rings, emerald cut is simple yet extraordinary and stylish in its own way.
There is an aura around emerald cut engagement ring - semblance of confidence and oomph. Frankly speaking,  I will not say that anyone can wear an emerald cut diamond ring. One needs to have a personality to possess and wear an emerald cut engagement ring.
What I mean here is that, marquise diamond engagement ring or oval cut engagement ring generally blends with all personalities, and usually not associated with a particular trait. However, with emerald cut engagement rings, it's not so.
Just try to imagine, someone all shy and demure with an emerald cut engagement ring. Emerald cut diamond rings combine perfectly with those who are upbeat, stylish, elegant, simple in taste, and who don't try to seek attention and are self-assured in their approach.
Emerald cut engagement ring looks extremely appealing on slender and long fingers. So, if you think your love has these personality traits then take my words - emerald cut diamond is just the right choice!
Emerald Cut Facets Arrangement

The emerald cut diamond has 50 to 58 facets incorporating step cut pattern, with its crown and pavilion being shallow as compared to round shaped diamond. Due to this, it will be wrong to identify an emerald cut diamond ring with exquisite luster and sparkle.
Nonetheless, an engagement ring with emerald cut diamond as its center stone looks extremely graceful and charming. An emerald cut diamond may have less sparkle, but its facets arrangement add to the clarity and color of the stone.
Therefore, I will not recommend you to go for an emerald cut diamond, if you are inclined more towards bling and sparkle of the rock, than the beauty and elegance.
Ring Settings for Emerald Cut Stones

Slightly truncated corners of the emerald cut make it safe and secure. This allows the stone to be set in number of settings making it very versatile.
Prong setting showcases the unique shape to its maximum, because of minimum covering of stone with metal. 4 prongs are generally used in emerald cut diamond engagement ring, with no. of prongs increased depending on size of the stone.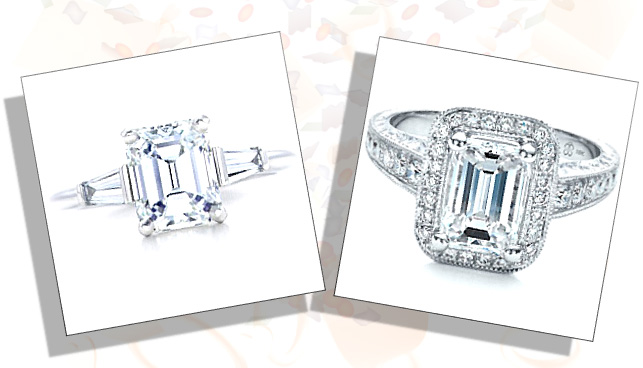 Prong Set Center Stone (left) and Pave Set Side Stones (right)

I personally don't like emerald cut diamond engagement rings surrounded by stones in pave setting, as it steals away the beauty of center stone (above right image). If you are going for pave setting, considering it will add extra bling to your engagement ring, then emerald cut engagement ring should not be your choice.If you want bling-bling and sparkle, then instead go for oval cut engagement ring or pear shaped engagement ring.
Three stone ring setting looks classic and meaningful. You can set two emerald cut stones side by side to the center emerald cut stone, and it will look very classy and eternal.

3 Emerald Cut Stones

Beauty of emerald shape lies in its simplicity, so avoid spoiling it by mixing too many elements. You can mount your center piece with side tapering baguettes to create a handmade unique engagement ring. Such a mounting was popular in art deco period (during 1920's and 1930's), when geometrical shapes were quite in demand.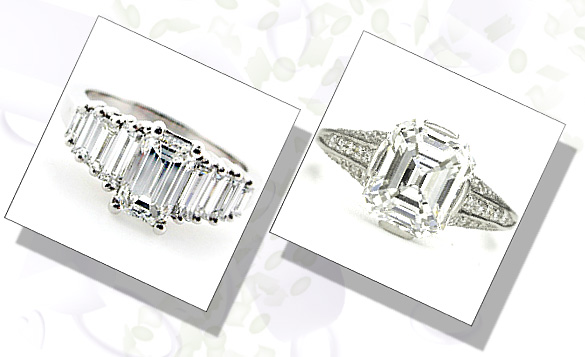 Tapered Baguettes (left) Vintage Setting (right)

For admirers of antiques, emerald cut diamond engagement ring can be set in vintage setting (above right image). Emerald cut diamond looks very graceful in vintage setting. You can easily find emerald cut diamond engagement rings in designs inspired by 1950's and 1970's era.
Is it affordable?

Apart from grace, emerald cut diamond engagement rings are affordable too. It can be a suitable choice, if you are on a limited budget, but don't want to compromise on style quotient of ring.
Thanks to the ample supply of large emerald rough stones, and its low cutting cost, emerald shaped diamonds are generally priced lower than similar quality round diamonds. This will permit you to spend on side stones or designer band rather than just spending on center stone.
As compared to other diamond shapes, the elongated shape of emerald diamond creates an illusion of bigger stone than its actual carat weight. You can compare the price of round brilliant and emerald cut stone of the same carat weight and quality; and you will undoubtedly find the latter at a lesser price.
Suggestions and Tips
You should check the length to width ratio of stone. The classic emerald diamond has length to width ratio of 1.50. Salesperson may try to influence you to pick a nearly square-shaped emerald cut diamond. But think this way, if you have to go for square shape then why not buy a princess cut engagement ring or an asscher cut engagement ring. Remember, for an emerald cut diamond engagement ring, criterion should be its lovely original shape.
Color and clarity are the most important parameters when choosing an emerald cut diamond engagement ring. Select the best color and clarity that you can afford. I will suggest you to compromise on its carat weight, but never on its color and clarity.
In all circumstances, your engagement ring should be accompanied by standard laboratory certificate (like - GIA certificates). Certificate will mention the details of 4 C's of the diamond and the value of the diamond can be determined accordingly. This will ensure that you don't overpay.
Last but not the least, emerald cut diamond engagement rings are worn by both men and women. For men, ring will have masculine and simple band, while ladies' version will be more ornate with a feminine touch to it.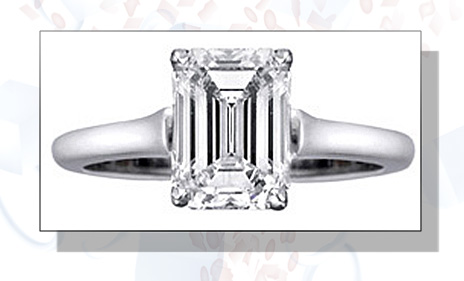 Men's Ring

So, now you should be ready to pick the best engagement ring for your love. Keep the important points related to emerald cut diamond in mind, and I am sure you will take a knowledgeable and intelligent decision while shopping for an emerald cut engagement ring.
Return from Emerald Cut Diamond Engagement Rings to Fancy Shaped Diamond Engagement Rings
Return from Emerald Cut Diamond Engagement Rings to Diamond Jewelry Homepage
I hope you'll not mind sharing this on Twitter, Facebook and with everyone else :)
Feel free to share if something is in your mind and want it to be covered on this site.

My Newsletter

Did you liked this article? Sign-up my FREE weekly newsletter and I'll send you more awesome new additions on this website along with latest jewelry happenings around the world, and download my Jewelry Design Album for FREE!